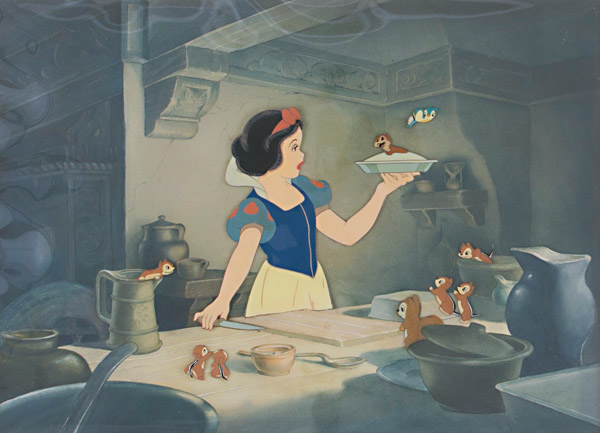 A celluloid film of Snow White and the Seven Dwarfs. [Photo provided to China Daily]
From Mickey Mouse and Bambi to Dragon Ball and Astro Boy, whatever their taste, cartoon fans are in for a treat at a Beijing expo, Wang Kaihao reports.
For fans of animation films, the National Library of China in Beijing could turn into an unexpected shrine this summer, with the opening of the Key Animation Expo.
The exhibition began on Saturday at the National Museum of Classic Books, an affiliate of the National Library of China, juxtaposing more than 400 key exhibits of animation scripts, drawings and original celluloid productions from Walt Disney Studios and works by Japan's most talented animators.
Most of the exhibits have never been displayed in China before, but their names hardly need introduction in the country.
From Mickey Mouse to Astro Boy, the salvo of American and Japanese cartoon stars may not only bring a warmth but also sweet childhood memories to many visitors.
"People often label animated films as 'childish'," says Cheng Xu, curator of the exhibition. "However, we view them as highly expressive and sensational in their artistic styles."
Cheng adds that using film as a platform, animation grows old with people, one generation after another, and this makes it a unique genre of art with few linguistic or cultural barriers.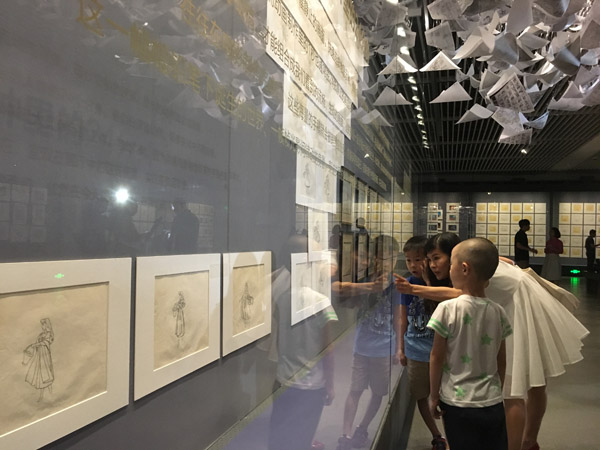 Visitors in front of the original scripts of the animation film Sleeping Beauty. [PHOTO BY WANG KAIHAO/CHINA DAILY]
The Walt Disney Studios section of the exhibition, which covers from 1937 to 1995, demonstrates how the animators were able to create such colorful worlds out of simple pencil drawings.
Sketches of early images of Mickey Mouse show how the world's most famous rodent was born.
And popular animation films from Snow White and the Seven Dwarfs (1937), Pinocchio (1940), Bambi (1942), Alice in Wonderland (1951) and Peter Pan (1953), are among the kaleidoscopic selection of exhibits that reveal how the brilliant ideas in the minds of the animators vividly leapt onto paper to become globally recognized cultural icons.
Two stills on display-one from Alice in Wonderland (1951) and one from Lady and the Tramp (1955)-were even personally drawn by Walt Disney and bear the animation guru's signature, something that Cheng considers as rare.
One section of the exhibition hall has been decorated to recreate the style of a 1930s animation studio to provide visitors with a more "immersive" experience.
According to Cheng, the Walt Disney Studios pioneered the introduction of celluloid in the animation process to improve production efficiency. Animators would draw the scenes onto layers of disposable film placed over a static background-normally painted using watercolor.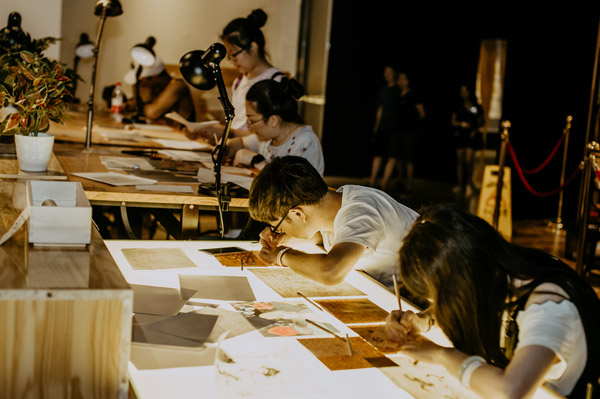 The exhibition offers a section for visitors to produce their own cartoon works. [Photo provided to China Daily]
However, the vast majority of celluloid film sheets have not remained intact today, he says.
"Celluloid is a consumable item that is highly flammable," the curator explains. "So, Walt Disney Studios deliberately didn't keep them in large numbers, making these surviving exhibits very precious."
The most recent celluloid sheets on display come from the 1995 Disney production, Pocahontas. And since the animation industry embraced the digital age after this point, this portion of the exhibition feels more like a homage to a bygone era.
But thanks to a few private collectors, we still have the physical evidence to remember them by.
Most of the exhibits coming to the Beijing show are on loan from individual collections. For example, 84 of the works on display were collected by Vaytch Robin, an animator who worked at the Walt Disney Studios in the 1930s, and were loaned to the national library by his daughter.
This is also true for the majority of Japanese exhibits.
Several collectors teamed up to try and recreate a world full of the most fantastic animated characters to come out of Japanese studios over the past three decades.
Manga fans will no doubt be gripped by nostalgia when they see the yellowing sketches of their childhood idols, be it Detective Conan from the Case Closed franchise, Son Goku from the Dragon Ball franchise or images from the Lupin III saga or the ongoing One Piece series.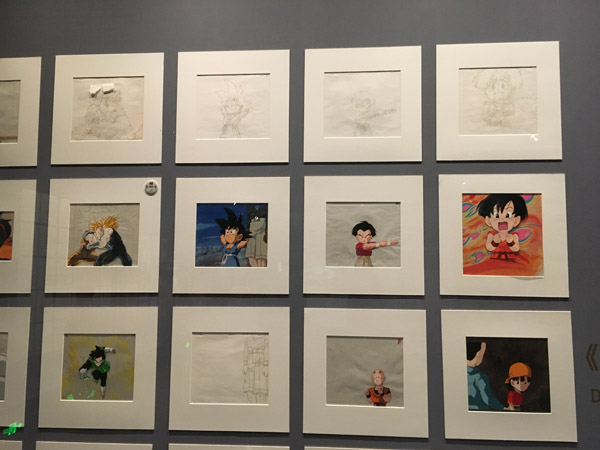 Exhibits on classic Japanese animation. [PHOTO BY WANG KAIHAO/CHINA DAILY]
If visitors feel the need to join in after admiring the masterpieces, they can go to the interactive section of the exhibition and try their hand at painting or graffiti.
While it's not common for an institution with such a serious public image to display cartoons, Cheng says he is planning to take the exhibition to other cities in China.
"We have a huge collection of handwritten scripts from ancient China in our library and many of them are also on display here," says Gu Heng, the NLC's exhibition director. "It will create a magical dialogue if we show animation scripts from abroad as an example of our cultural exchanges."
He adds that the library is also a place to educate young people.
"We see many common themes in the animation works displayed, like the pursuit of your dreams and love," Gu says. "These refined works teach children about what is good, kind and beautiful through their diligence and precision."
If you go
Key Animation Expo
Through Oct 14, closed on Mondays. National Museum of Classic Books, 33 Zhongguancun Nandajie (south avenue), Haidian district, Beijing. 100 yuan ($14.8) on weekends and 80 yuan on weekdays; 60 yuan for children less than 1.2-meter-tall.