One of Qi Baishi's paintings on show features fish and chicks. [Photo provided to China Daily]
Qi Baishi's works are on display at the Palace Museum, in a rare show of a modern Chinese artist at the venue, Wang Kaihao reports.
While Qi Baishi (1864-1957) is a household name in China, an exhibition of his paintings was last held at the Palace Museum in Beijing, or the Forbidden City, 64 years ago.
The museum, which was the seat of the royal court in imperial China from 1420 to 1911, is hosting Prosperity in Tranquility: The Art of Qi Baishi, a show on the modern artist, with some 200 of his paintings and seals exhibited at the Meridian Gate Gallery since last week. The exhibits are both from the museum's own collection and that of the Beijing Fine Art Academy.
For the general public, Qi's best-known works are his paintings of shrimps, due to the many legends on how he created them. As a result, many of his paintings of shrimps, crabs and fish are on display at the ongoing exhibition.
In 1960, Baby Tadpoles Look for Their Mother, China's first ink-and-water animation film that was inspired by Qi's other paintings, won praise abroad.
"In his early years, Qi drew shrimps to mostly learn from ancient painters," Xue Liang, a researcher with the Beijing Fine Art Academy, says. "But he later developed a personal style by using shades of dark ink to reflect the texture of a shrimp's body, giving its antennas an almost real-life feel."
Nevertheless, Qi's works went beyond aquatic life.
"Qi Baishi is the representative artist of Chinese art in the 20th century," says Wu Hongliang, deputy director of the Beijing Fine Art Academy.

One of Qi Baishi's paintings on show. [Photo provided to China Daily]
Be it landscapes, birds, flowers or figures, Qi's paintings are high on expression and detail, Wu says. He is also known for his seal carvings, poems and for setting art school trends.
Qi was prolific even in his 70s. In a group of paintings that are now on show, Qi drew some insects in the corners, leaving parts of the images blank. According to Lyu Xiao, another researcher at the Beijing Fine Art Academy, Qi did so because he wanted to fill in the parts later while focusing on the finer details first, before his eyesight became weaker.
"He had planned to fill these spaces with flowers later on, when he thought he wouldn't see as clearly as he did while painting the insects," Lyu explains.
After New China was founded in 1949, Qi was widely hailed as a "people's artist".
Wang Yamin, curator of the ongoing exhibition, says: "He was not only diligent, but also had a taste that was close to the grassroots."
A native of Xiangtan, Hunan province, Qi used to be a carpenter. He first learned painting from folk artists and later sold paintings for a living in Shanghai and Beijing during the period of great social upheaval in the country. That was also a time when he met some influential painters. Such life experiences made him understand different social strata, rather than catering to only high tastes.
Among his other paintings exhibited are flowers with blessings for prosperity, vegetables indicating harvests and farming tools to express his nostalgia for his hometown.
"People love these paintings because they remind us of the mountains and waters in the countryside, and remind us where we come from," Wang says.

One of Qi Baishi's paintings on show. [Photo provided to China Daily]
The words on more than 100 displayed seals at the museum also reflect Qi's introspection of his own life: He started as a carpenter and became a famous artist but kept looking for larger goals, especially as he got older. When many other Chinese artists retreated from social life at an old age, Qi wanted to take on more social responsibilities.
In his painting, Qingping Fulai (prosperity in tranquility), which is a source of the exhibition title, an old man is seen holding a vase, with a fruit bat hovering over him. The vase symbolizes "peace" in Chinese culture and the bat "happiness", following the Mandarin pronunciations of the words.
"That painting reveals he expected a stable and harmonious life," Wu says. "That's a common Chinese person's wish, too."
After World War II had ended, Qi also called for global peace.
"Actually, his art echoes a modernist trend in the world at the time. Yet he expressed it in a typically Chinese way," Wu explains.
The pigeon is another common theme in Qi's art during his later years, showing his wish for world peace, just as Pablo Picasso did. In 1956, the World Peace Council bestowed the International Peace Prize on then-nonagenarian Qi.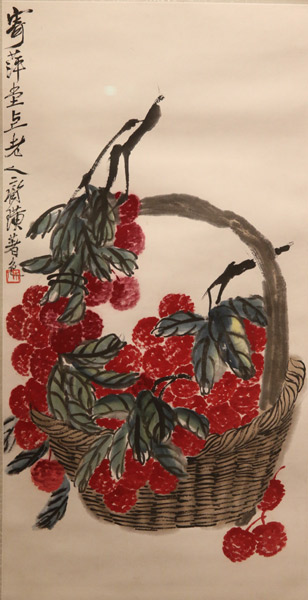 One of Qi Baishi's paintings on show. [Photo provided to China Daily]
In his message to the awards ceremony, Qi said: "I love my hometown, the beautiful and prosperous lands of my country and all lives there. I've spent my lifetime integrating the ordinary Chinese people's emotions into my paintings and poems. In recent years, I have realized that what I pursue is world peace."
In the past, many people focused on Qi's paintings because of their high values at auction, Shan Jixiang, director of the Palace Museum, says.
"We want to show his spirit and cultural significance through this exhibition, especially at a time when mutual learning and coexistence of different civilizations are advocated."
Though the Palace Museum is dedicated to housing ancient art, it also has about 6,000 pieces of modern art, including 400 of Qi's works, most of which have rarely been exhibited before.
Earlier this year, the museum held an exhibition for Wu Changshuo's (1844-1927) work, with one calligraphy piece promoting Qi's paintings as a highlight.
Still, the museum needs more space to hold exhibitions for eminent individual modern Chinese artists.
Shan, the director, reveals that a new branch gallery of the museum will soon be established near the Forbidden City, which will be used entirely to display modern art.
If you go
Prosperity in Tranquility: The Art of Qi Baishi
Central gallery (through Aug 12) and western wing (through Oct 8) of the Meridian Gate Gallery, Palace Museum, 4 Jingshan Qianjie, Dongcheng district, Beijing (entry via southern gate only).
60 yuan ($8.9) for tickets to the museum; online reservations through en.dpm.org.cn.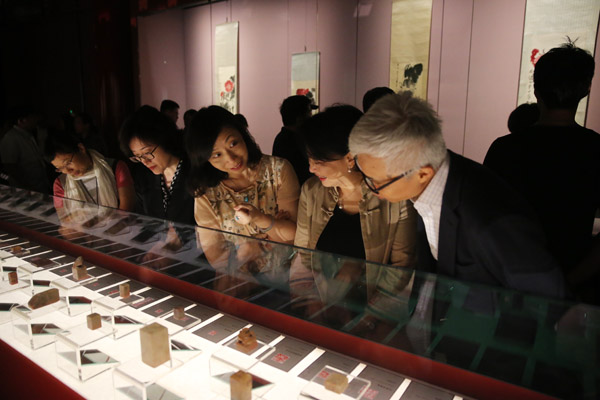 The Palace Museum in Beijing is hosting Prosperity in Tranquility: The Art of Qi Baishi, a show on the Chinese master artist, with some 200 of his paintings and seals exhibited at the Meridian Gate Gallery. [PHOTO BY JIANG DONG/CHINA DAILY]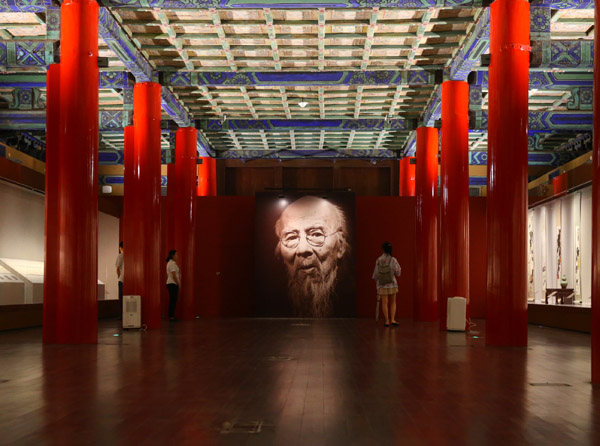 The Palace Museum in Beijing is hosting Prosperity in Tranquility: The Art of Qi Baishi, a show on the Chinese master artist, with some 200 of his paintings and seals exhibited at the Meridian Gate Gallery. [PHOTO BY JIANG DONG/CHINA DAILY]