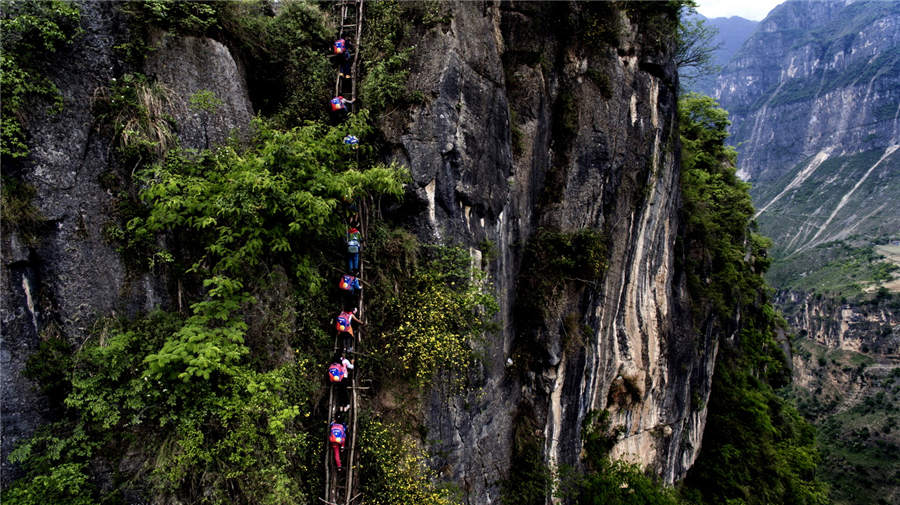 Accompanied by some parents, the four daughters of Chen Guji and his son, Chen Muhei, along with 15 children from the cliff village, climb a section of rattan ladder on the mountain that is almost vertical and stretches more than 50 meters, May 14, 2016. [Photo by Chen Jie/photoint.net]
Atuleer village in Zhaojue county, Liangshan Yi autonomous prefecture of Southwest China's Sichuan province is a genuine "cliff village", 800 meters above the ground. The altitude of the village is more than 1,400 meters and 72 families live here.
Until last year, the only way to the outside world from the village was to climb down 17 rattan ladders, among which were two linked vertical rattan ladders 100 meters long. The precipices without rattan ladders were the most dangerous. According to locals, about eight people have died on the "road" - some were villagers and some were visitors, while there were more people who fell and were injured.
Among those who climbed the high rattan ladders almost every day were 15 village children who attend the primary school on the lower mountain.
Chen Jie, a photographer and a journalist, released the report, A Village on a Cliff on May 24, 2016, which revealed the precarious situation. This aroused concern from the central government and the local government, and a steel ladder was promised to solve the village's safety problem.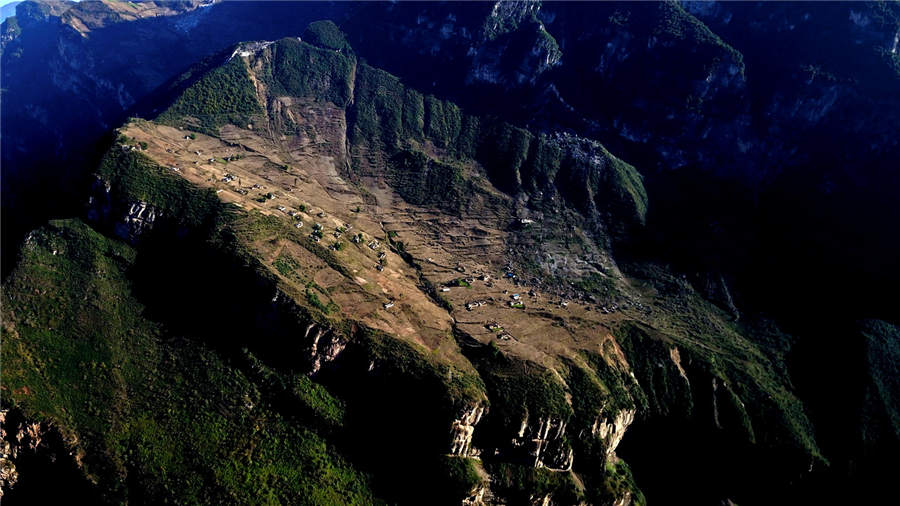 An aerial view of Atuleer village in Southwest China's Sichuan province, where more than 400 people in 72 families live. [Photo by Chen Jie/photoint.net]
The steel ladder was completed in November 2016, and 19 similar cliff villages in Liangshan Yi were surveyed. More than 2,900 students from 19 cliff villages were eligible for free boarding at the school.
In June 2017, the cliff village started to see tremendous changes. The newly renovated Le'er primary school was about to be finished; a 300 million yuan ($44 million) tourism industry investment contract was signed and a 4G network was introduced to the village.
The cliff village is a typical example of poverty in Liangshan. In the future, as the tourism industry develops, the local villagers will relocate or stay in the village as travel service personnel, which will lead to completely wiping out poverty there.
Chen Jie, a journalist for 18 years, is the chief correspondent of Beijing News. He is a four-time winner of the China News Award and won third prize in World Press Photo Award as well as other honors.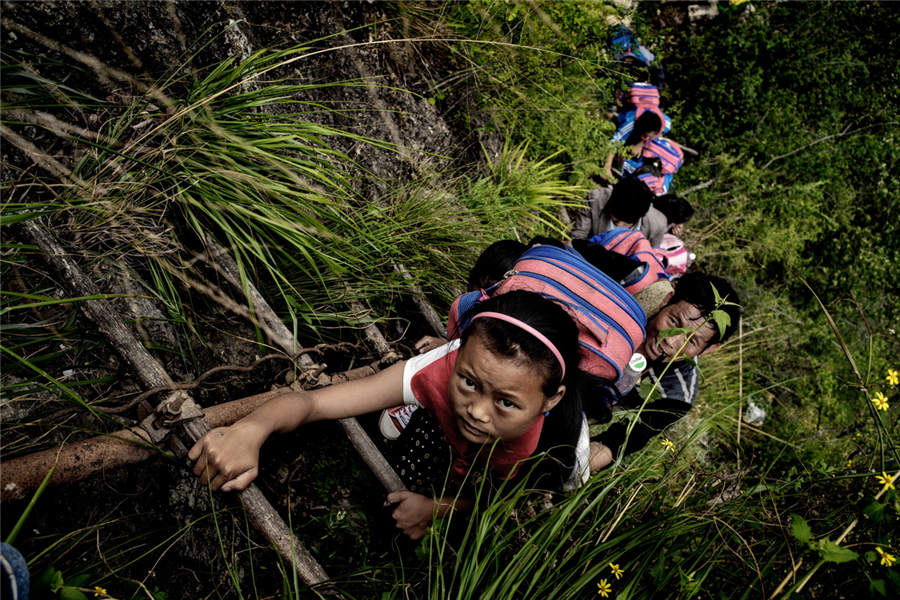 Chen Rezuo, the third daughter of Chen Guji, climbs a high ladder on her way back home, with other children from the Atuleer village, May 14, 2016. The 15 school children are mostly girls and it takes two hours to make the trek. [Photo by Chen Jie/photoint.net]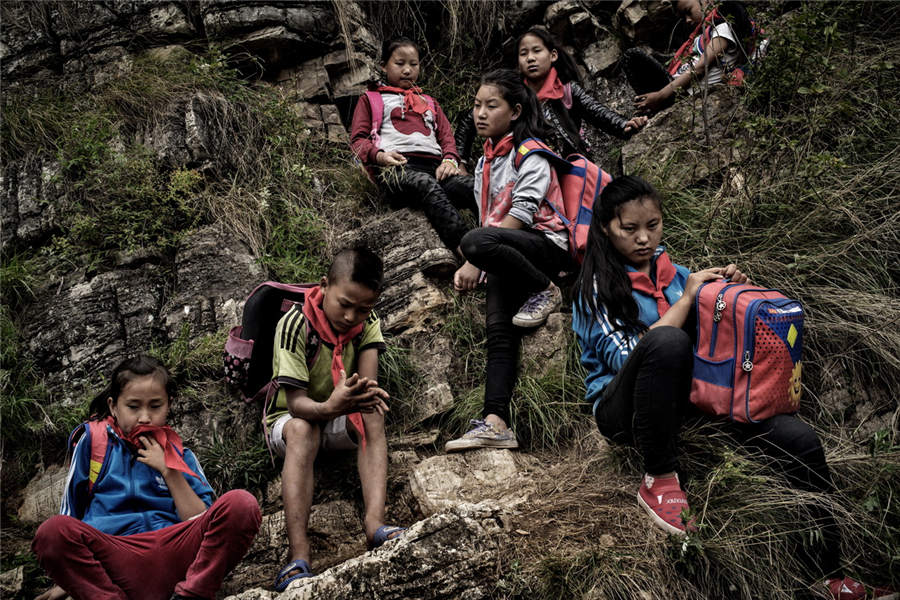 School children rest at a precipice on their way back home to Atuleer village, May 14, 2016. [Photo by Chen Jie/photoint.net]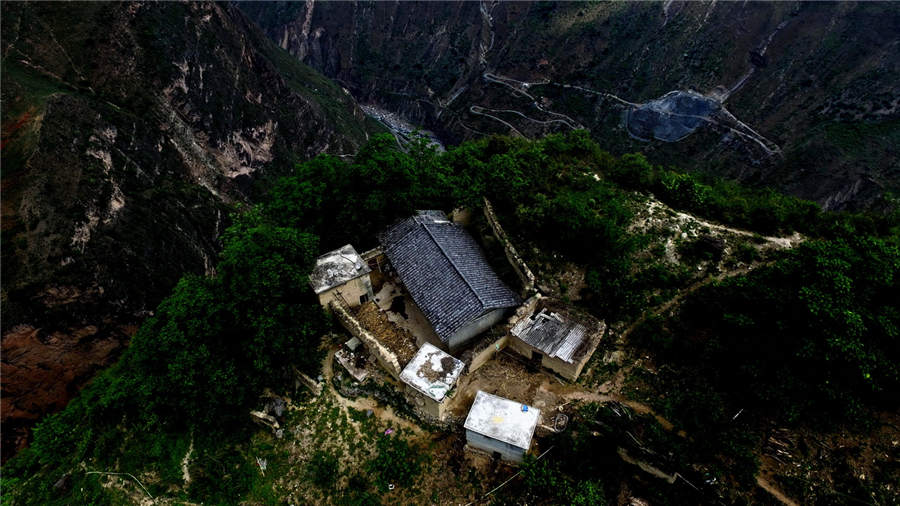 An aerial view of a villager's home, which is on the brink of a cliff at the highest point of the entire village, May 13, 2016. [Photo by Chen Jie/photoint.net]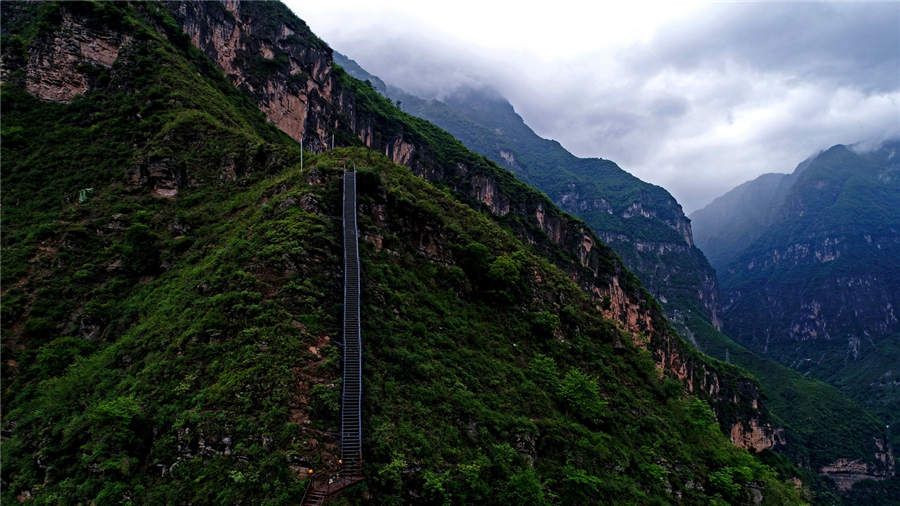 Work to replace the old rattan ladder to the cliff village with a steel ladder started in August 2017, and the new ladder was finished in early November 2017. [Photo by Chen Jie/photoint.net]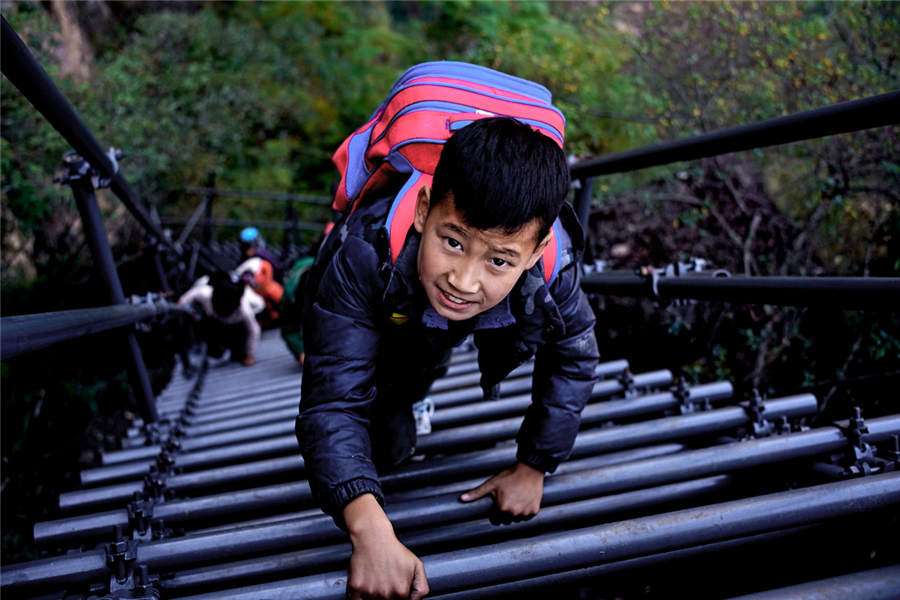 An agile primary school student climbs the iron ladder for the first time on Nov 19, 2016. [Photo by Chen Jie/photoint.net]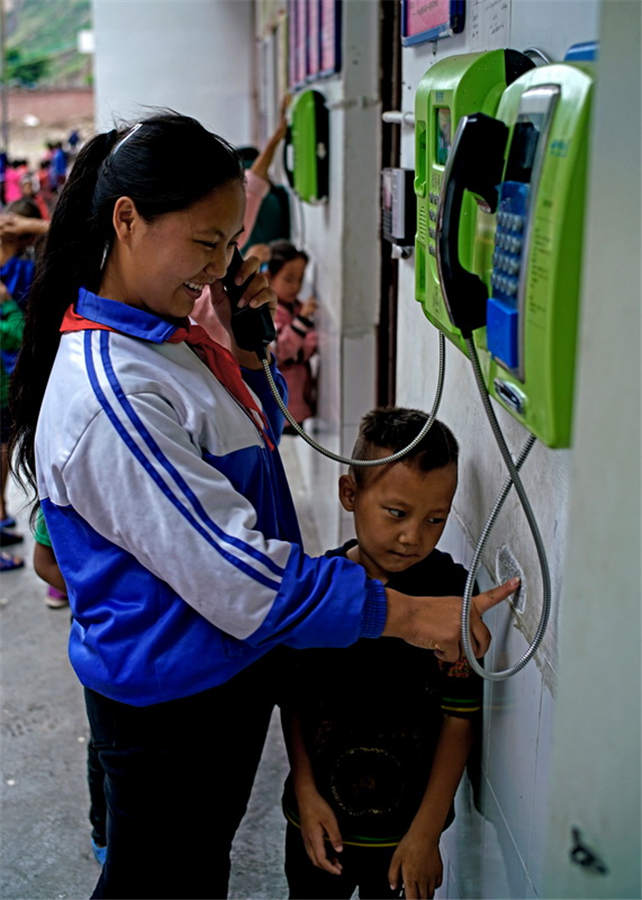 Chen Xinming calls his father in the cliff village on the phone. The cliff village said goodbye to the age of no communication. With mobile phones, native products can be easily sold on the market. [Photo by Chen Jie/photoint.net]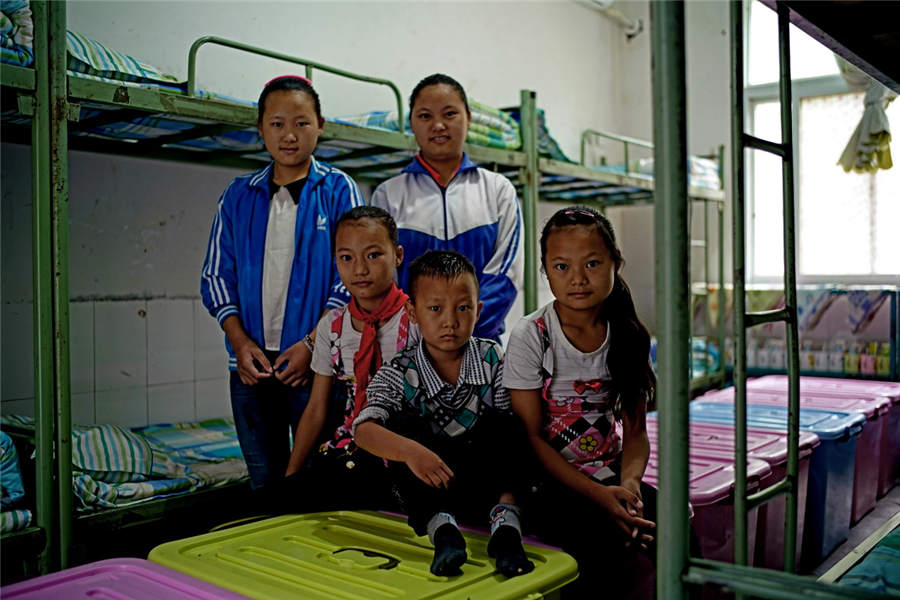 The five children from Chen Guji's family take a group photo in the dormitory at the Le'er primary school, June 17, 2017. [Photo by Chen Jie/photoint.net]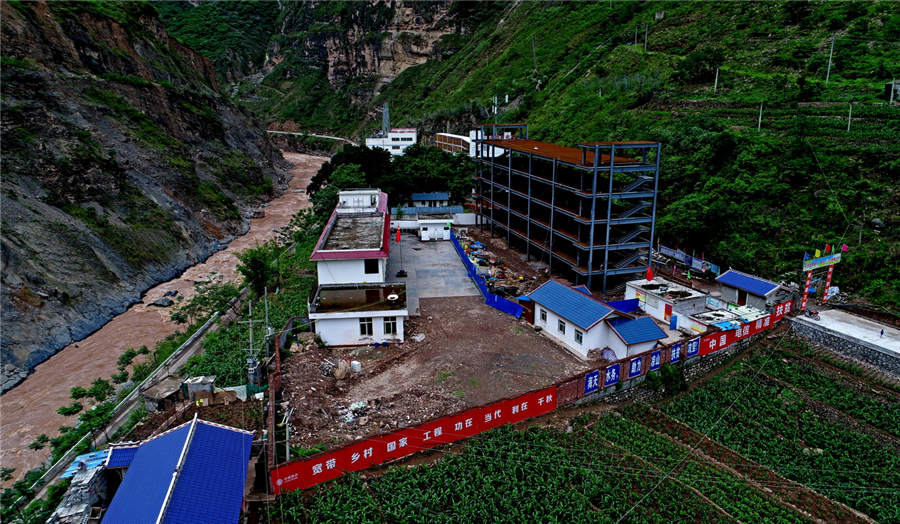 The Le'er primary school is under renovation and a new teaching building and new dormitory will be constructed. The students will each have one bed, instead of two sharing one bed, and they will have dining hall and shower room. [Photo by Chen Jie/photoint.net]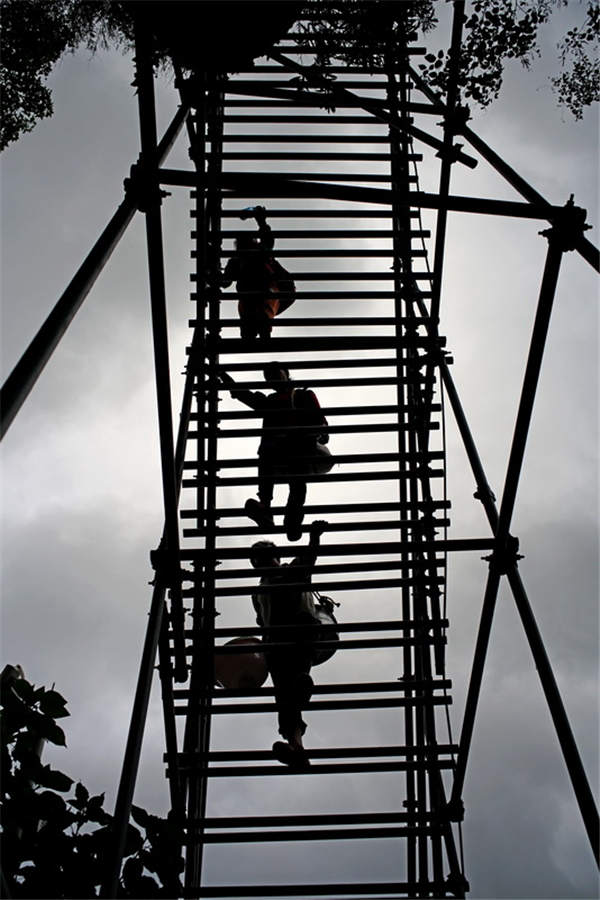 Chen Guji and his daughters pick up visitors and help them carry luggage when climbing the high ladder during the National Day holiday in 2017. [Photo by Chen Jie/photoint.net]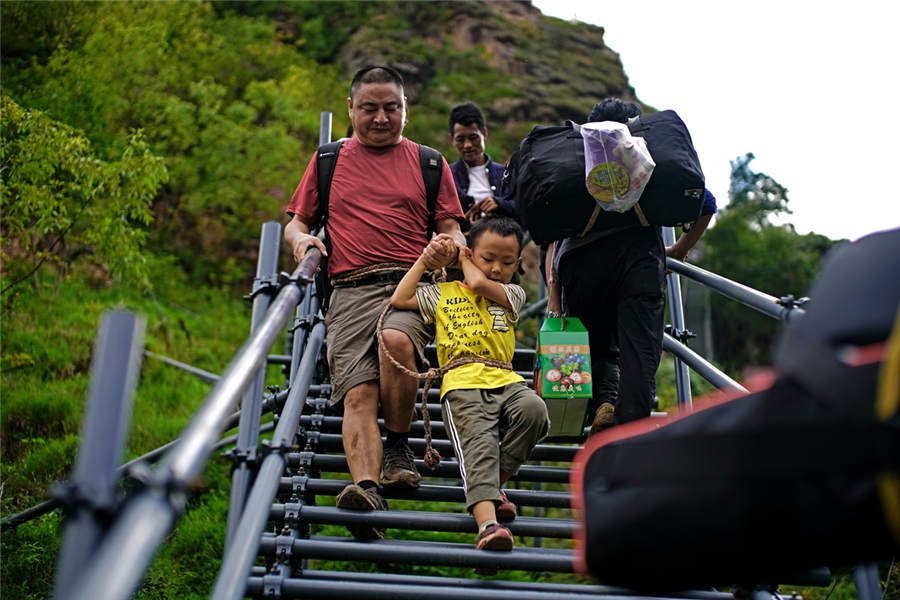 A tourist from Chengdu takes his son, both with safety ropes around their waists, down the mountain on the new ladder, Oct 3, 2017. During weekends and holidays, the cliff village will welcome some tourists who want to experience life there.  [Photo by Chen Jie/photoint.net]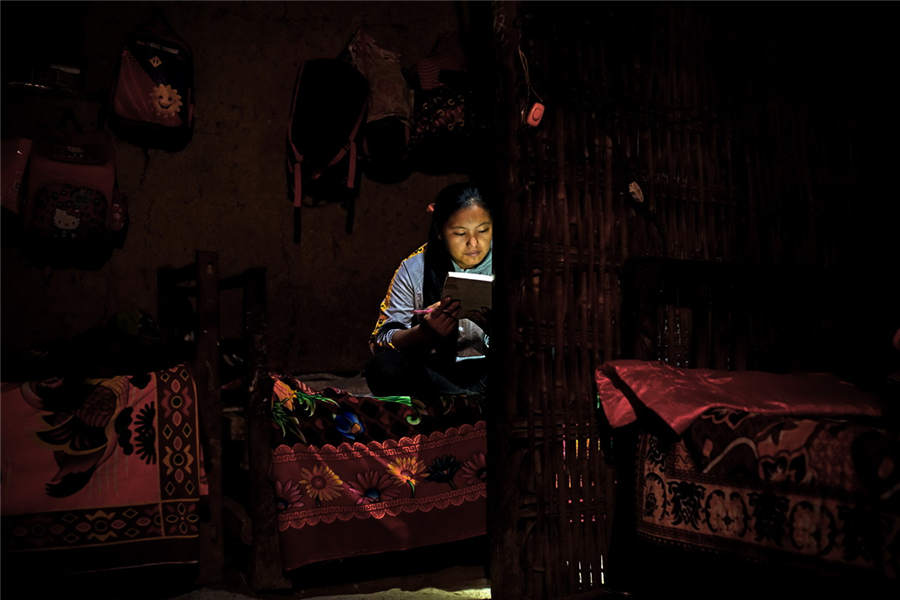 Chen Xinming reads under a dim light on the bed, Oct 3, 2017. As the cliff village still has limited access to power, villagers can't use electric appliances, such as a washing machine and refrigerator. The local electric network will be transformed in the next few months. [Photo by Chen Jie/photoint.net]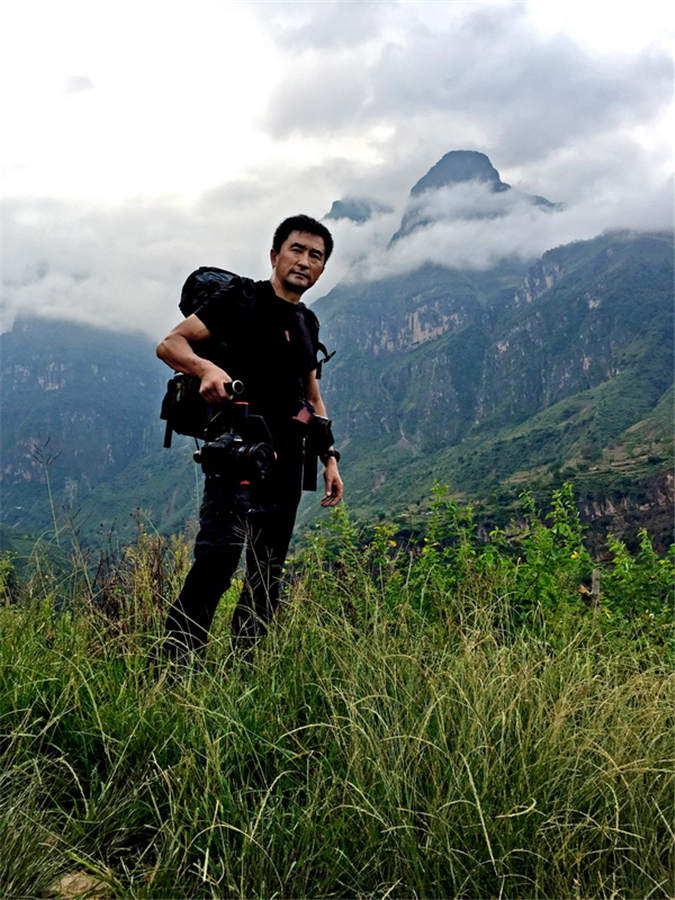 Photographer Chen Jie poses for a photo at the cliff village. [Photo by Chen Jie/photoint.net]