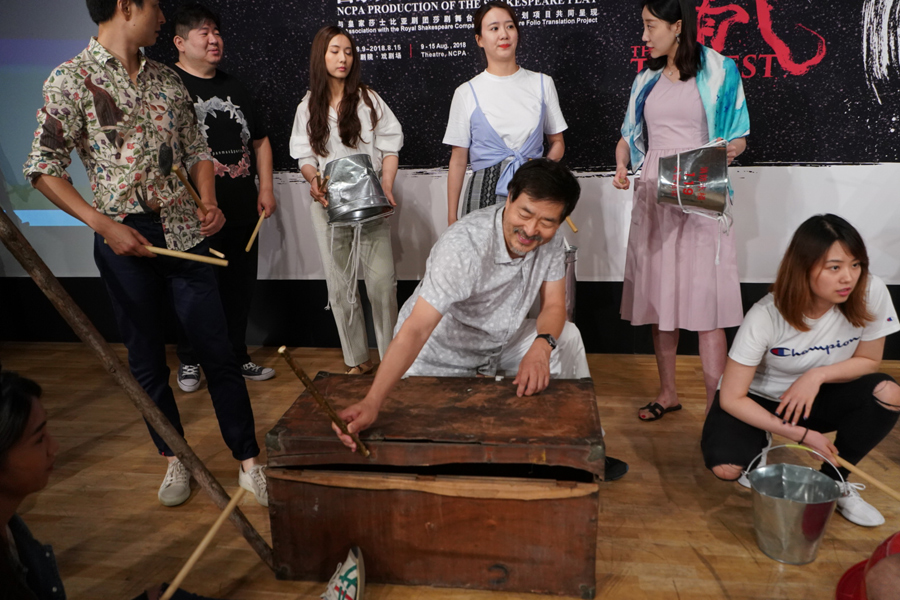 Chinese actor Pu Cunxin (middle) [Photo/China Daily]
After A Midsummer Night's Dream; Hamlet; King Lear and The Merchant of Venice, the National Centre for the Performing Arts is to stage another of William Shakespeare's plays, The Tempest, which will make its debut at the NCPA from Aug 9 to 15.
British theater director Tim Supple, who has worked with the Royal National Theatre and the Royal Shakespeare Company, will direct the play.
Speaking about the performance, he says: "It's a wonderful play full of wonder and surprises. We will keep it simple and clear.
"We must not treat The Tempest as a classic play. We must treat it like a new play we've never seen or read before.
"The Tempest shows us ourselves onstage. It makes us feel the true reality of life. It makes us feel the hand of death. It makes us recognize that all of us are of equal value."
The five-act play, considered as Shakespeare's last play written in 1611, follows Prospero, a king and his daughter, Miranda, who have been stranded on an island for many years after Prospero's brother Antonio jealously deposes him.
With the help of an elf, Ariel, Prospero conjures a spell causing a terrible storm, which brings his enemies, including Antonio, to the island.
Giving her take, Katie Ebner-Landy dramatize on the play, says: "The Tempest is a simple story, so simple that you may think of it as a fairytale. And like all simple stories, it brings a new world, which is full of emotion, philosophy, politics and drama.
"All the characters, including the sailors, lords and kings, all think they are going to die. The storm brings all the people to an island, where they receive tests and realize who they are.
"It may or may not be Shakespeare's last play but it's his structural masterpiece. Each scene is like its own play. They parallel and marry each other.
"It offers us with a story of transformation. Theater is a place that transforms us too."
According to Supple, one of the important elements of making the play fresh for the audience is a new script translated by Hong Kong scholar So Kwok-wan.
The Tempest is a part of a project of the Royal Shakespeare Company, called Translation Plan for Shakespeare, which was launched in 2015.
So, who is the associate program director at Hong Kong Arts Festival, translated Henry V, the first Shakespearean play in the project, which premiered at the Shanghai Dramatic Arts Centre in November 2016.
The Tempest is the second Shakespearean play translated by him.
His third translation is Twelfth Night, which will premiere at the Guangzhou Dramatic Arts Centre in October.
Music is also "revolutionary" in the play, which brings it to life onstage.
Giving details, music director and composer of the play, Barry Ganberg, who is the head of musical studies at the London-based Rambert School of Ballet and Contemporary Dance, says: "We explore strange and rarely heard music, leaving behind musical cliches that are traditionally expected.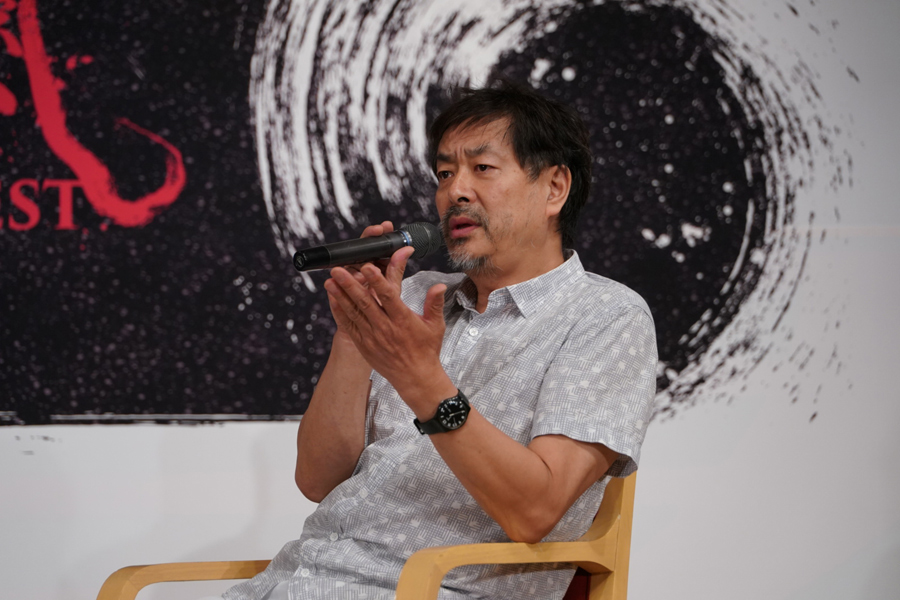 [Photo/China Daily]
"Many of the musical instruments are unusual, exotic or played in nontraditional ways.
"For example, the traditional gong is rubbed with different materials rather than struck as you would normally expect.
"These sounds capture our imagination and take us far away," says Ganberg.
The creative team also brings together Chinese artists, including set designer Liu Xinglin, costume designer Zhao Tong and choreographer Wang Yabin.
Chinese actor Pu Cunxin plays the lead role of Prospero.
In 2017, Pu has played the title role in NCPA's play King Lear.
Speaking about his role, Pu, 65, who is also the chairman of the China Theater Association and vice-president of the Beijing People's Art Theater, says "Shakespeare may have died more than 400 years ago but his works and characters are still living on today around the globe.
We prepared for nearly a year for this production. It was not easy because we put our past acting experience aside and started over again as new actors under the guidance of (Tim) Supple."
Chinese actress Li Xiaomeng plays Miranda, and actors from the NCPA Drama Ensemble comprise the rest of the cast.
If you go
7:30 pm, August 9 to 15. NCPA, No. 2 West Chang'an Avenue, Xicheng district, Beijing. 010 6655 0000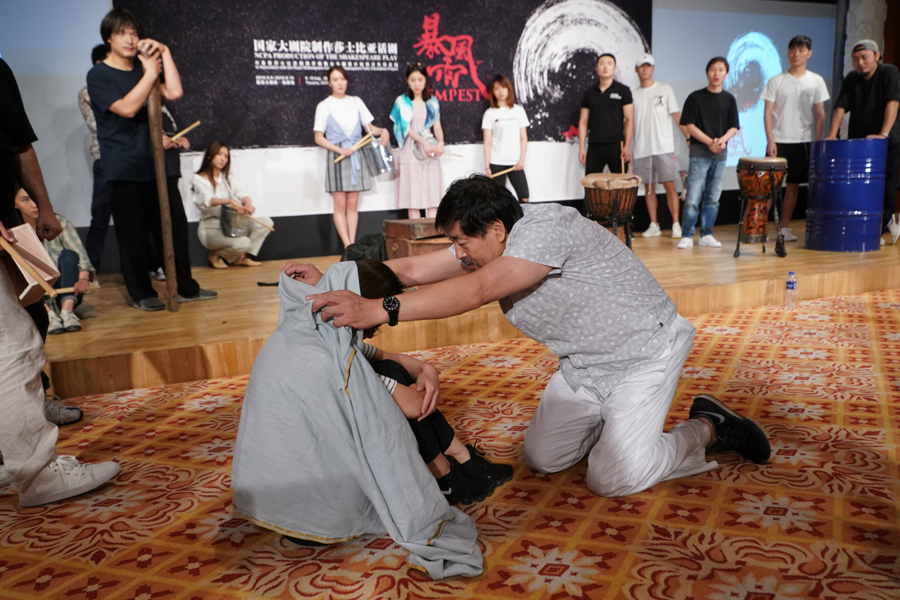 [Photo/China Daily]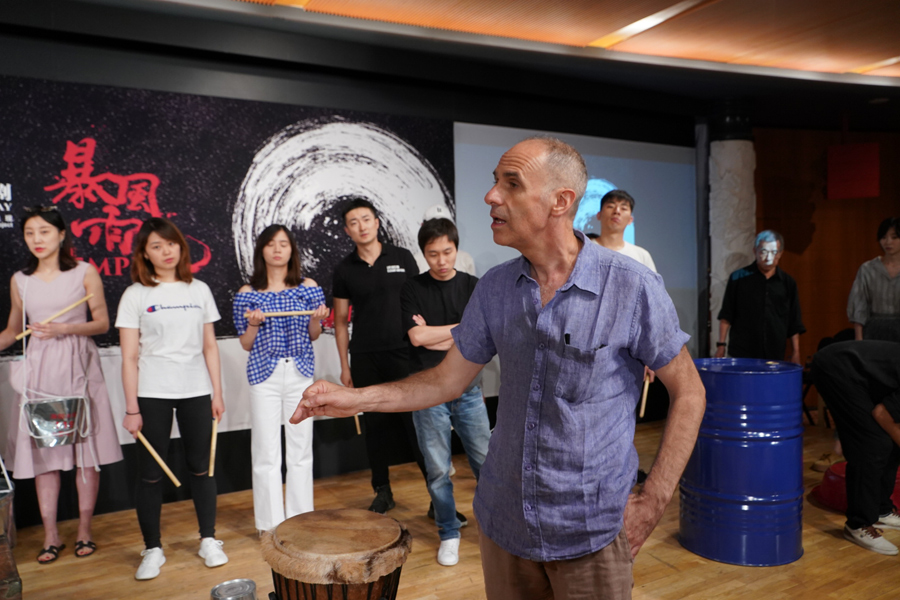 [Photo/China Daily]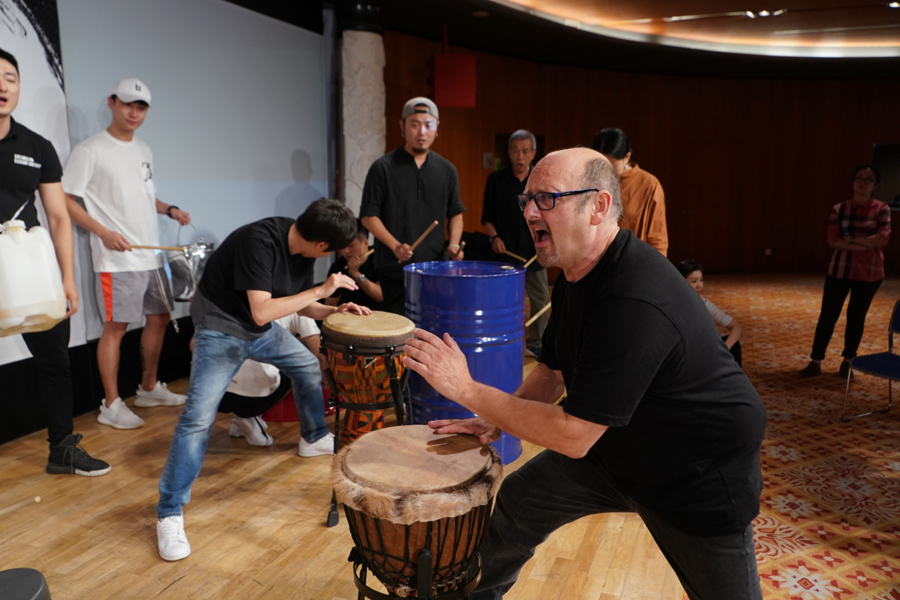 The music director and composer Barry Ganberg. [Photo/China Daily]