International pieces exhibited at National Art Museum
Updated: 2018-07-06 10:46:23
( chinadaily.com.cn )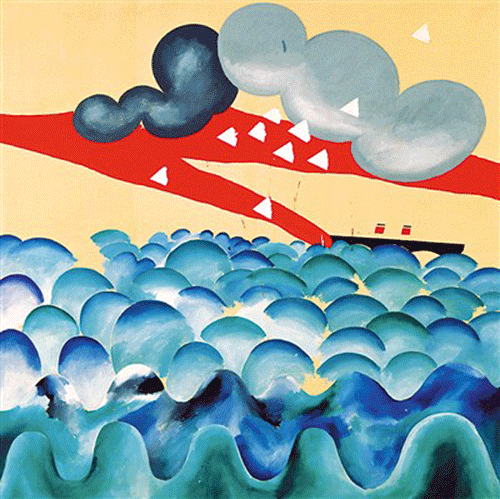 A painting by British artist David Hockney from 1937. [Photo/People's Daily]
Sharing Beauty of All Nations, an exhibition of international arts collected by the National Art Museum of China, opened on June 27 and will last until July 8. This is the first time in the history of the museum that 224 works of art from 61 countries are exhibited at the same time.
At the exhibition, people can appreciate artwork from famous masters from the world, like Pablo Picasso, Kaethe Kollwitz and Katsushika Hokusai.
Museum director Wu Weishan said it is a hall that can accommodate different beauty, different styles of artists and different human arts. The exhibition is a place where viewers can appreciate the radiance and greatness of humanity in art.
According to the museum, it has collected more than 110,000 pieces of Chinese and Western art, of which 3,500 are international art collections, including oil paintings, prints, sculptures and photography. These works come from 61 countries, mainly from generous donations of artists and collectors at home and abroad since 1990s.
These donations form the basis of the international art collection of the museum, and initially were used to set up collections of Western art in the 20th century. "This artwork from the 61 countries is far from the collection goals of National Art Museum of China," Wu said.
The exhibition is a review and presentation, but also an attempt to attract more international artists and collectors.
If you go
Museum hours: 9:00 am-5:00 pm (No Entry after 4:00 pm) 
Closed on Mondays
Museum Admission Ticket: Free
National Art Museum of China
1 Wusi Dajie, East District, Beijing


Presented by Chinadaily.com.cn Registration Number: 10023870-7
Copyright © Ministry of Culture, P.R.China. All rights reserved