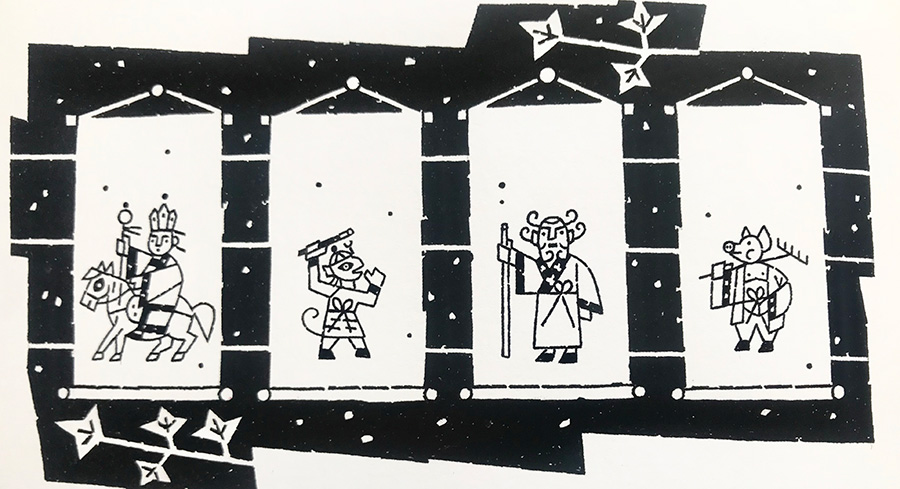 An illustration depicting the four protagonists in Journey to the West from Sklenar's Monkey King series. [Photo provided to China Daily]
Puppetry troupes from across China staged a performance in Beijing in 1955, and in the audience was the Czech artist Zdenek Sklenar, who passed away in 1986. He was enthralled by the show that centered around the Monkey King, the powerful protagonist from the 17th-century Chinese classic Journey to the West.
In the novel written by Wu Cheng'en, the Monkey King and his fellow disciples protect their master, Buddhist monk Xuanzang, on a hazardous undertaking to obtain sacred sutras.
Decades since its publication, the mythological book, as well as its theater and folk adaptations, have accumulated a huge following.
That April, after the puppet show, Sklenar had also watched a Peking Opera performance of the story. He drew several sketches as he enjoyed the show.
Months later, Sklenar returned to Prague where he taught at the Academy of Arts, Architecture and Design. He developed the sketches he had made in China into a complete album, with 24 colorful and 80 ink illustrations, in 1961. At the time, Chinese people knew little about Sklenar's interpretation of Journey to the West.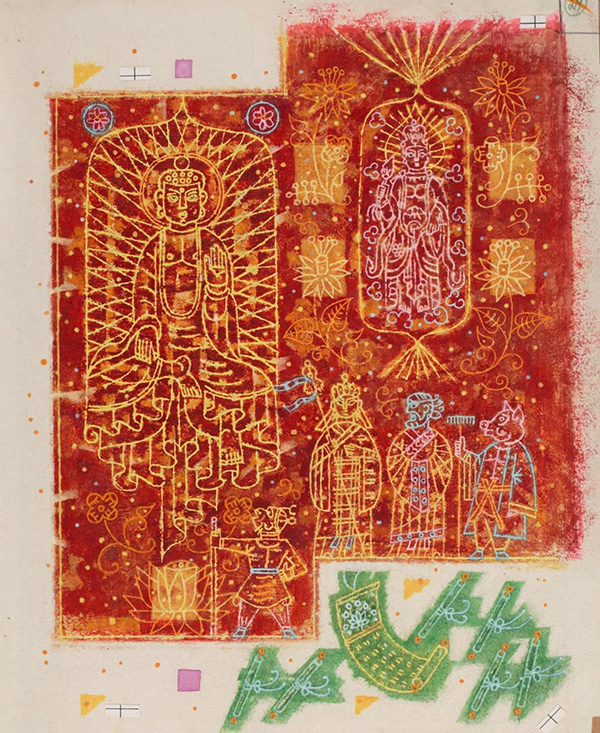 Monkey King: How Our Pilgrims Arrived in the Western Heaven and Got the Sutras, 1961. [Photo provided to China Daily]
Now, 14 pieces from this Monkey King series are on display at an ongoing exhibition at Prince Kung's Palace in Beijing. The exhibition is dedicated to Sklenar's drawings and lithographs from the 1930s to the '80s, and the exhibits are from the collection of the Zdenek Sklenar Gallery in Prague.
Sklenar's art made its China debut in 2009, when a retrospective exhibition was held at the National Art Museum of China, where the Monkey King illustrations were also shown. They were also part of the Czech national pavilion during the 2010 Shanghai Expo.
The Chinese audience, which is familiar with the figures and scenarios of Journey to the West, has found Sklenar's graffiti-style presentation of the story appealing.
Fan Di'an, who heads the Central Academy of Fine Arts, says the late artist's production embodies "a strong modern touch" by incorporating his impressions of Chinese culture with European visual traditions in a "smart and innovative" way. Fan had curated Sklenar's debut China exhibition.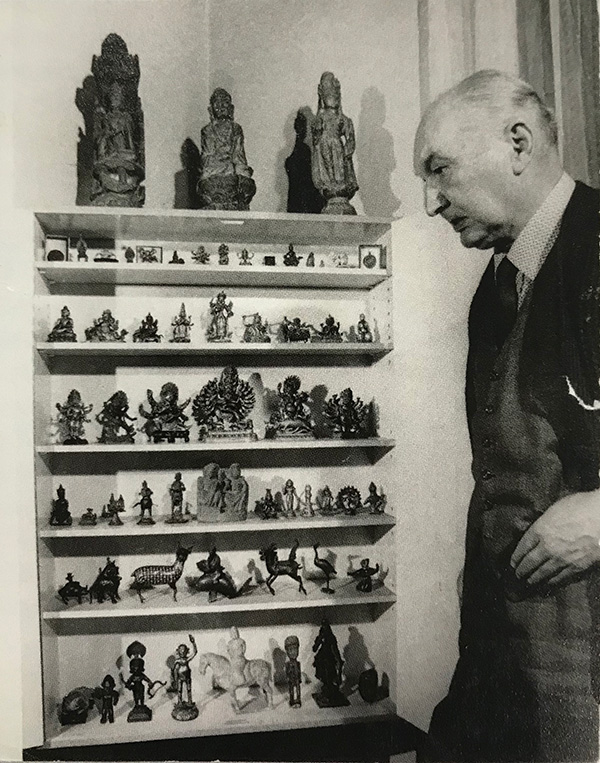 Zdenek Sklenar and his collection of Asian antiques [Photo provided to China Daily]
One of the Monkey King's magical powers, as described in the novel, is his ability to transform into 72 creatures and objects.
Sklenar's series has been hailed in China as the "73rd transformation of the Monkey King".
But the Monkey King was not the only gain for Sklenar during his three-month stay in China in 1955.
As a member of a visiting delegation from former Czechoslovakia, Sklenar participated in an expo showing the achievements of socialist society in Beijing and Shanghai. He also seized the opportunity to explore the country's artistic and cultural heritage, something he had wanted to do even as a student.
In his memoir, Sklenar wrote that his professor, Karel Sourek, had ignited his interest in Chinese culture and suggested that he buy two books on Chinese art history, which cost him the bulk of his monthly living expenses back then. And while the books hit Sklenar's wallet, he wrote, they gave him much pleasure throughout his life.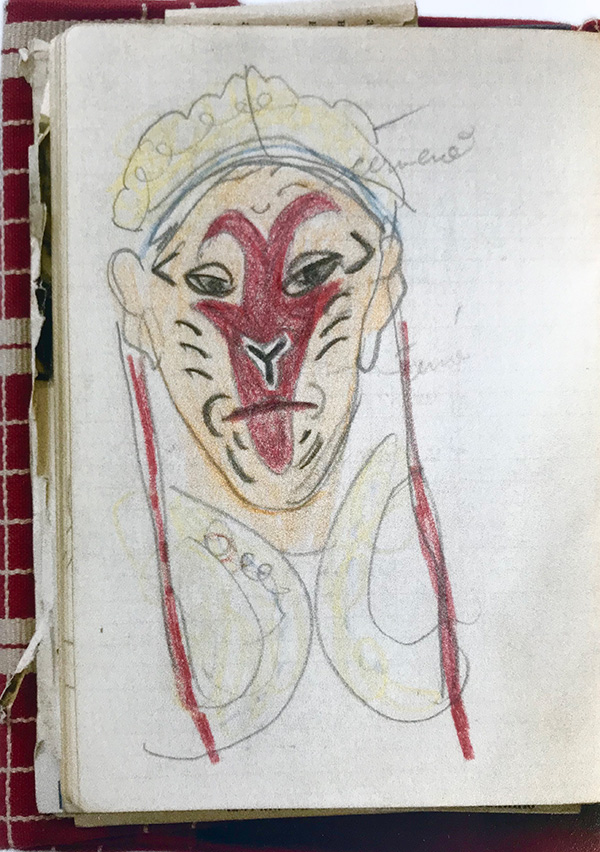 in Sklenar's China diary, a sketch of a lamp used in Peking Opera, 1955 [Photo provided to China Daily]
He kept a diary recording his travels in China, put together with many sketches of the landscapes he saw. These texts and drawings inspired his creation of lithographs themed on China in the late 1950s, and some from this series of prints are also on show at the ongoing Beijing exhibition.
Lucie Olivova, an associate professor of Chinese studies at Masaryk University in the Czech Republic, says the artist beautifully drew Beihai Park, his most-visited place in Beijing, and the streets with antiques stores in neighborhoods such as Liulichang and Longfusi. Olivova has studied Sklenar's diary.
Sklenar drew whatever he found interesting, such as the decorative patterns on palace pillars, window frames and lamps when visiting the Forbidden City-he went there at least three times-as well as the shapes of rice fields he saw from flights and the napkins folded like blossoms in glass cups when he ate at restaurants.
Olivova says Sklenar studied Chinese pictorial elements for years, and was an early artist in Czechoslovakia to present Chinese imagery in oil paintings.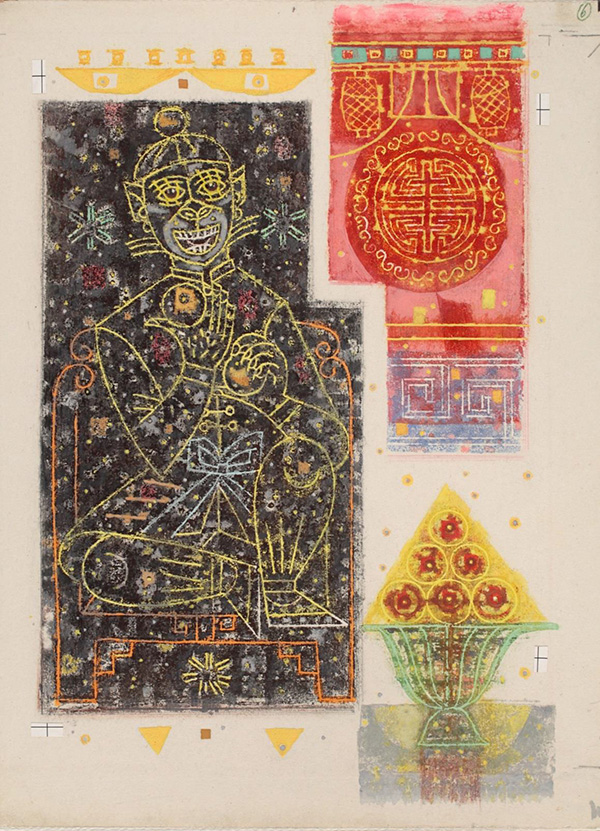 Monkey King-HOW THE CELESTIAL ARMY SURROUNDED FLOWER FRUIT MOUNTAIN, 1961 [Photo provided to China Daily]
Sklenar deepened his understanding of Chinese culture by meeting literary figures in China, such as eminent painters Li Keran, Wu Zuoren, Ye Qianyu and Hua Junwu, and author and historian Guo Moruo, with whom he discussed the inscriptions of Chinese characters on ancient bronze ware.
Sklenar enriched his own collection by buying antique pieces, Buddhist statues and paintings by Li and Qi Baishi, a master of classic Chinese art who was 92 at the time of Sklenar's visit. Qi held a red walking stick, wore clothes in the colors of grapes and a black hat, and had a mole under his left eye, Sklenar later wrote of his encounter with the Chinese painter.
Sklenar also visited prominent painter Lin Fengmian's studio in Shanghai and purchased three paintings on behalf of the National Gallery in Prague.
The fragmented sentences and drawings in Sklenar's diary allow people today to picture a passing world that is extraordinary, Olivova says, and his Chinese series glitters in the context of modern Czech art.
"I've fulfilled the dream," Sklenar once said about his China trip.
If you go
8 am-5 pm, daily, through Sunday. Anshan Hall, Prince Kung's Palace, 17 Qianhai Xijie, Xicheng district. Beijing. 010-8328-8149.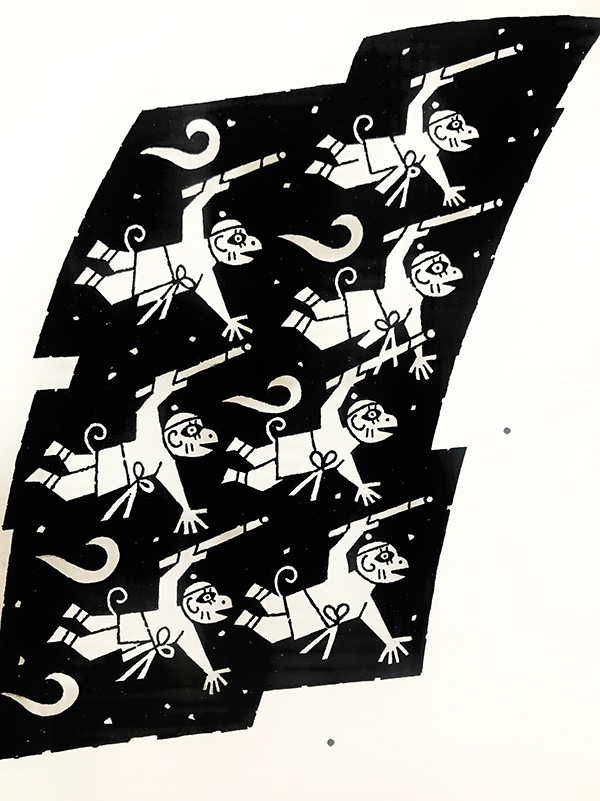 An illustration from Sklenar's Monkey King series [Photo provided to China Daily]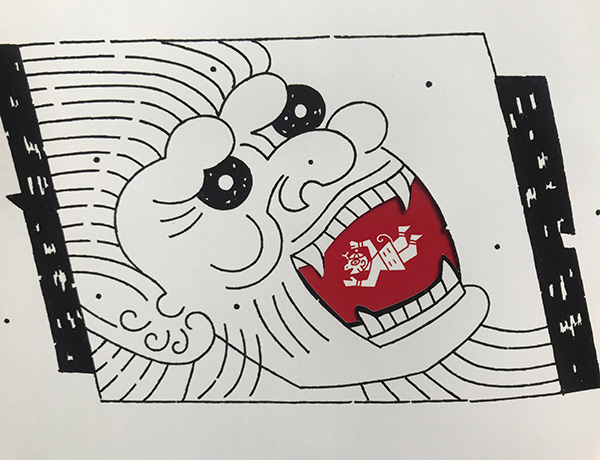 An illustration from Sklenar's Monkey King series [Photo provided to China Daily]
Book cover of Sklenar's Monkey King series [Photo provided to China Daily]