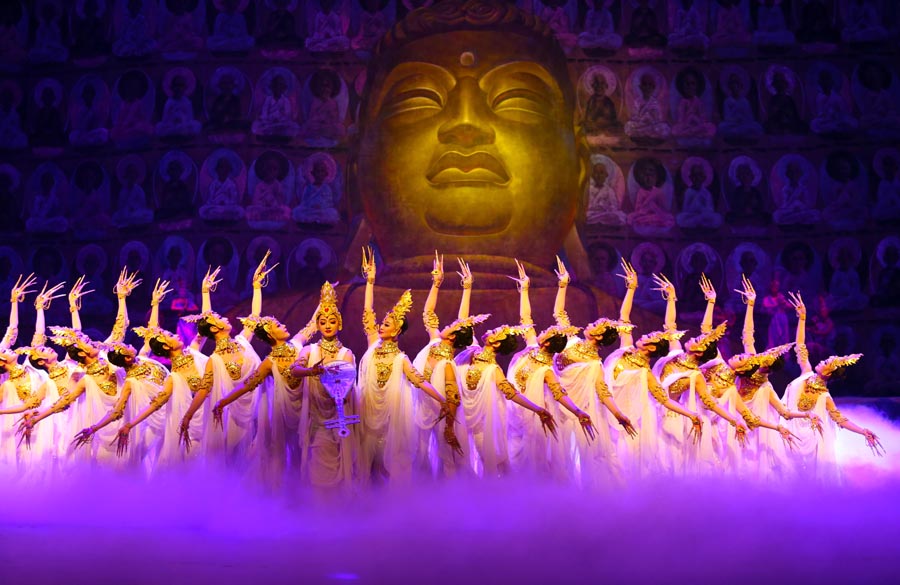 A stage photo of  Silk Road, Flower Rain. [Photo provided to chinadaily.com.cn]
As the Silk Road weaved its way through Asia during the Tang Dynasty (618-907), linking a myriad of cultures through trade, so too does the dance drama set during the peak of this historical period. Silk Road, Flower Rain, a spectacular set of folk dances first performed in 1979 to celebrate the 30th anniversary of the founding of the People's Republic of China, makes use of Chinese and Persian motifs to tell a story of love, adventure and discovery.
The Silk Road I saw was part of the Meet in Beijing arts festival, a month-long cultural celebration fêting countries participating in the Belt and Road Initiative, which was announced five years ago. With its broad, inclusive themes of connectivity and friendship, the dance drama was a perfect encapsulation of the festival's theme and an excellent use of the Tianqiao Performing Arts Center's space.
Performed in eight parts including prelude and finale, Silk Road follows painter Zhang Shenbi, his daughter Yingniang and the Persian merchant Yunus in their travels and tribulations along the titular trade route. Zhang comes from Dunhuang, a place we now know thrived in the Tang period as a center for art and innovation. The beautiful frescoes from the region's Mogao Caves serve as inspiration for the dance drama, and during one act it is revealed Zhang created these works while serving out an unfair sentence - his art flourishing in incalculably difficult circumstances. Zhang and his daughter move gracefully in the show, letting their bodies serve as conduits for their artistry.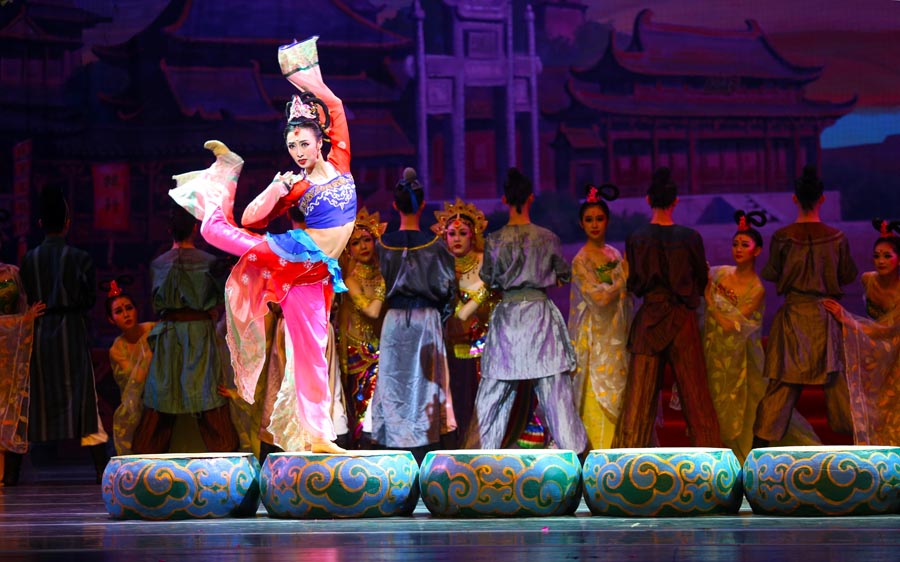 A stage photo of  Silk Road, Flower Rain. [Photo provided to chinadaily.com.cn]
Heart-stopping acts of athleticism and skill characterize much of Silk Road, but the opening is far more muted than the scenes that follow: a group of dancers emerges in fog, serving as living, breathing versions of the Buddhist art from the period. White-robed dancers move as one, enmeshing and separating in an act that flows like water, only to finally come together as one multi-armed waxwork - the famous Thousand-Hand Bodhisattva. It's a subdued opening, with flashes of gold breaking through purple clouds as a hint of the grandeur to come.
As the main action of the piece begins, the scenery and costumes get far more polychromatic. Since the historical Silk Road blended so many disparate cultures, it's only natural for a work showcasing that era's splendor to explode with color. But it can, at times, be a little much. Moments where the scenery and costumes clash, however brief, distract from the choreography - something you really don't want. Luckily, these instances are rare and don't detract from the overall impact of the show.
As Yingniang, Kang Qi stands out in an already stellar cast. Her flexibility is impressive; on several occasions it is put to the test, and audiences see just how far she is able to stretch. Wang Zihan's Zhang Shenbi is no slouch, either, and supporting players acquit their parts well; an evening at Silk Road is full of leaps, stretches and precisely controlled movement. It's a feast for the eyes and ears, culminating in an epilogue bursting with charm and character. In that vibrant climax, taking place after the main plot, pink petals fall from the ceiling in a celebration of the many different peoples found along the old Silk Road. It's a moment where an audience can feel overwhelmed by the diversity of nations on display, and though this Benetton interaction is surely heightened to create that warm, fuzzy feeling, it is no less striking an image.
Some of the most remarkable feats are reserved for the curtain call; this is fairly common, but it never fails to astound me when performers go through the rigor of a full recital but keep enough juice in the tank to wow the crowd one last time. That energy level is sustained throughout Silk Road, just as it was for hundreds of years on a route that brought the world together as one. It was a community bound together not just by commerce, but by brotherhood and camaraderie. A ballet can only go so far in depicting such a complex set of relations, but this one does a fine job anyway.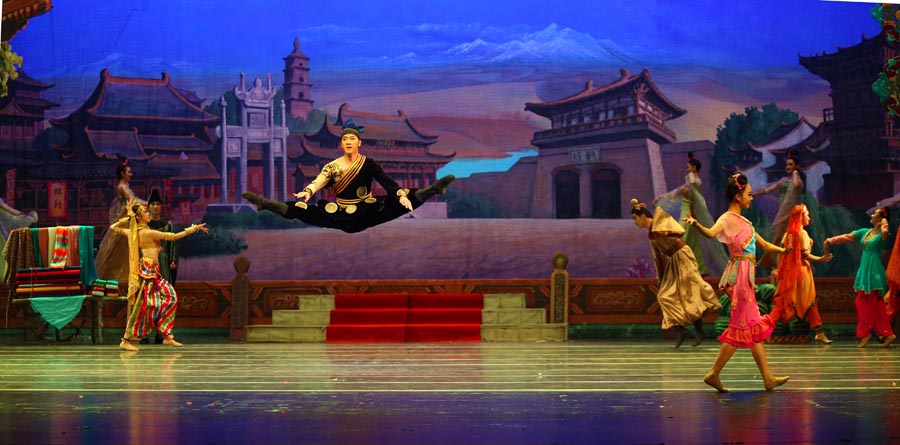 A stage photo of Silk Road, Flower Rain. [Photo provided to chinadaily.com.cn]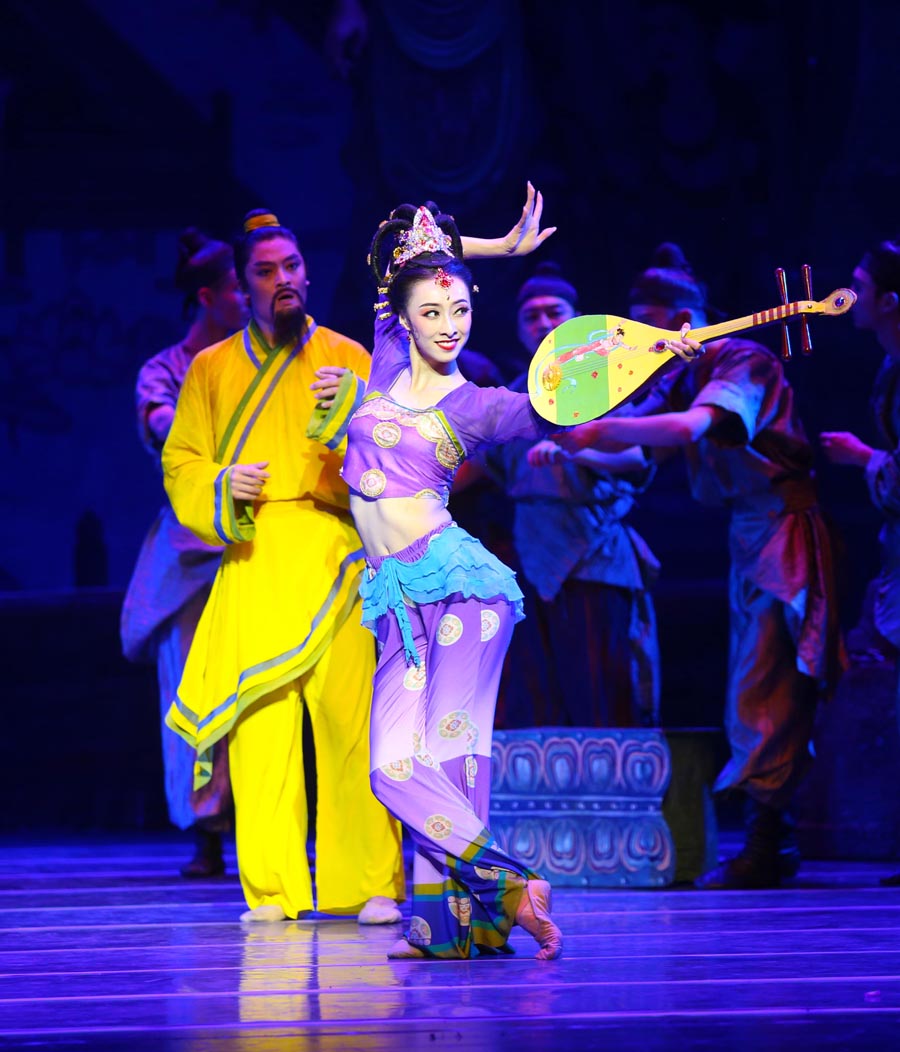 A stage photo of Silk Road, Flower Rain. [Photo provided to chinadaily.com.cn]