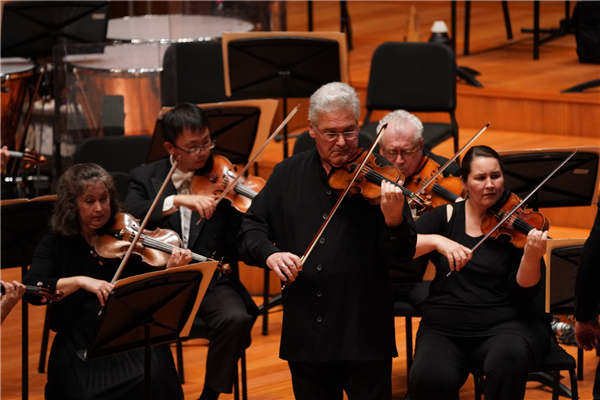 Israeli-American violinist Pinchas Zukerman plays at the NCPA in Beijing. [Photo By Wang Xiaojing / For China Daily]
The Pacific Symphony recently concluded its first China tour with a grand gesture. It performed My Motherland, one of the most famous Chinese songs, at the National Center for the Performing Arts in Beijing on Tuesday, as it signed off.
The tour, which ran from May 9, covered five Chinese cities - Shanghai, Hefei in Anhui province, Wuxi in Jiangsu province, Chongqing and Beijing.
The 39-year-old Pacific Symphony, one of the largest orchestra in the United States, is based in Orange County, California.
Orange County has the third largest Asian American population in the US. And the Chinese community there in particular has seen explosive growth.
Speaking about how the symphony has tried to boost its links with the Chinese in Orange County, Pacific Symphony's president John Forsyte says: "Since 2013 we have been devoted to engaging with the Chinese communities of the region (county area), and building on their enthusiasm for symphonic music. We are proud of the role we are playing as cultural ambassadors for Orange County and the community.
"Crossing the Pacific Rim to perform for the Chinese on the mainland is the logical extension of the work we've been doing in Orange County."
The Pacific Symphony toured Europe in 2006 and made its Carnegie Hall debut on April 21, 2018. Earlier, in 2017, the orchestra relocated its headquarters to the city of Irvine, a city of Orange County.
Forsyte says that the orchestra is supported by board members, including Chinese-American members. And three years ago, the orchestra launched a lantern festival event to celebrate the Chinese New Year, introducing traditional Chinese musical instruments, dance and art activities.
Speaking about increasing Chinese involvement with the symphony, Forsyte says: "There are about half a dozen musicians in the orchestra from China, and you can often hear Mandarin backstage.
"By coming to China, our musicians have a better understanding about Chinese culture, which is also important for our audience at home."
Chinese-American violinist Shelly Shi joined in Pacific Symphony in 2009.
Shi, who was born in Beijing, studied at the high school affiliated to the Central Conservatory of Music in Beijing from the age of 9.
She was awarded a scholarship to go to the US to study violin in Santa Monica after she turned 16.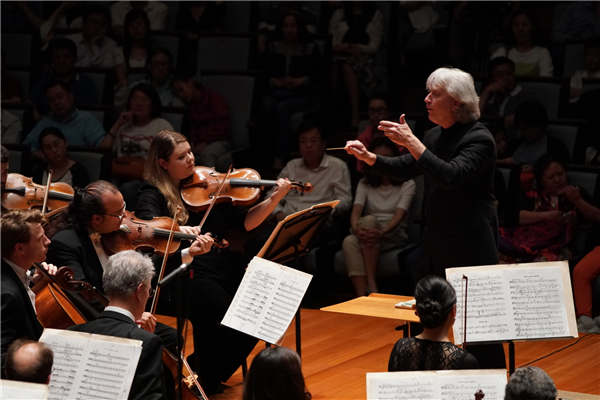 Pacific Symphony performs under the baton of conductor Carl St. Clair in the capital on Tuesday, wrapping up the orchestra's China tour. [Photo By Wang Xiaojing / For China Daily]
Speaking about her experience with the symphony, Shi says: "The orchestra has built a good relationship with the Chinese-American community by introducing various educational programs."
Giving details, she says one program is called Strings for Generations, and it teaches Chinese families to play instruments and perform together.
Meanwhile, Carl St. Clair, 66, the music director of Pacific Symphony since 1990, was invited to be a guest conductor for the Beijing Symphony Orchestra, Hangzhou Philharmonic and Guiyang Symphony Orchestra.
During their China tour, Pacific Symphony performed repertoires that include three short pieces from Leonard Bernstein, to mark the composer's centenary this year.
Besides, they have also performed works by Mozart, Mussorsky and Ravel.
Separately, Israeli-American violinist Pinchas Zukerman accompanied the orchestra during the tour, playing as soloist, performing Mozart's Violin Concerto No. 3.
At the NCPA in Beijing, Zukerman also performed the theme of the 1993 film Schindler's List by John Williams and invited the audience to sing along with him on Johannes Brahms' Lullaby.
Giving details about how he chose the music for the tour, St. Clair, a friend of Chinese conductor Chen Zuohuang since 1978 when they met at the University of Michigan, says: "I carefully selected the repertoire to show off Pacific Symphony's energetic spirit and warm sonority."
St. Clair, who was mentored by the late American composer and conductor Leonard Bernstein, first met Bernstein in the summer of 1985, when St. Clair was a conducting fellow at Tanglewood, studying conducting under his teacher Gustav Meier, who headed the program there.
St. Clair then became a student of Bernstein, who called him "cowboy" since St. Clair was born in Texas.
In 1990, Bernstein conducted his last concert, leading the Boston Symphony to perform Beethoven's Seventh Symphony at Tanglewood. But Bernstein was not able to conduct the premiere of his newly orchestrated final work, Arias and Barcarolles, so he turned that over to St. Clair, then a 38-year-old assistant conductor of Boston Symphony.
Speaking about that experience, St. Clair says: "I will never forget each lesson he gave me. It's hard to imagine that he has been gone for 28 years. For every piece I play onstage, I remember what he told me: to keep the flag of creating music flying and to give back.
St. Clair says when the orchestra toured China, they selected repertoires they enjoy and shared music with the audience.