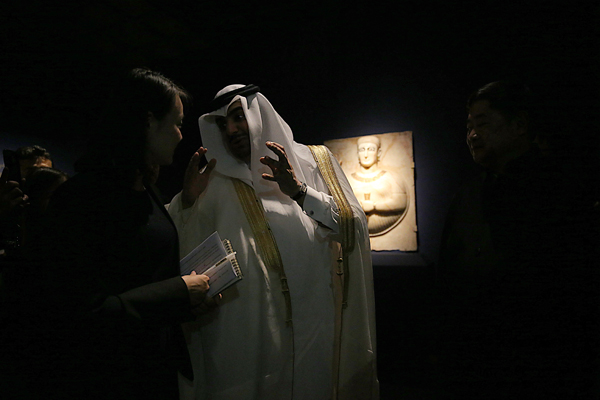 Sheikh Hamad bin Abdullah Al Thani, a Qatari royal family member, brings his abundant collection to Beijing for a major exhibition at the Palace Museum [Photo by Jiang Dong and Yao Ying/China Daily]
Rare items from a Qatari royal collection of ancient and modern artifacts are on display at the Palace Museum in Beijing. Wang Kaihao reports.
A kaleidoscopic collection of Sheikh Hamad bin Abdullah al-Thani, a Qatari royal, is on show at Beijing's Palace Museum, also known as the Forbidden City.
The two-part exhibition, Treasures from the Al Thani Collection, began on April 17 and is showcasing some 280 rare artifacts and more than 270 jewels and gems from different places.
"Many people asked me why I began this collection," Al Thani said at the opening ceremony. "That is rooted in my devotion and love for history and beauty."
He says the exhibition will help deepen people's understanding of fine craftsmanship.
He would like people to know about the rare characteristics of different cultures as well as the common spirit they shared, he added.
Starting with a few items that are both enthralling in appearance and of historical value, according to Al Thani, his collection of artifacts has grown to more than 6,000 items. And an individual pursuit has turned into an educational program for people through such exhibitions.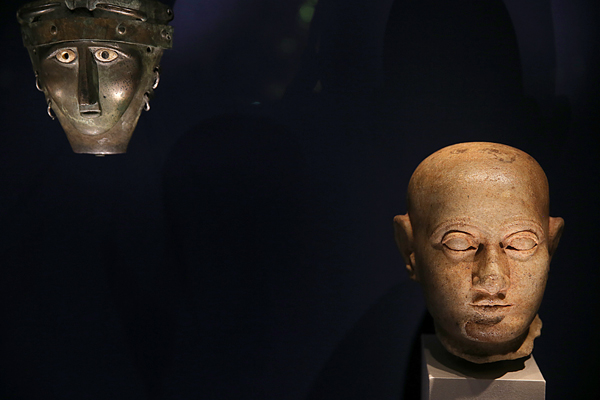 A 21st-century BC head sculpture of a man from Mesopotamia. [Photo by Jiang Dong and Yao Ying/China Daily]
Ancient times
Masterpieces from a Royal Collection, the first of the two-part show, takes visitors on a 5,000-year journey.
Beijing marks the debut of this section for Al Thani's collection outside Qatar.
Several exhibits unveil glimpses of early civilizations.
They range from a 21st-century BC quartzite head sculpture of a man from Mesopotamia, a red-jasper statue of an ancient Egyptian royal figure created between the 15th and 13th centuries BC, to a stela with a high relief portraying a female priest produced between the first century BC and the first century AD in the south of the Arabian Peninsula.
A bronze mask of Silenus from Ancient Rome, a Mayan jade mosaic mask and a terracotta sculpture of a man's head thought to be at least 1,500 years old from today's Nigeria are on show.
Amin Jaffer, the exhibition's main curator, says the collector likes human engagement via precious objects, which explains the many faces and images among the exhibits.
The exhibition showcases the "finest human artistic creation and expression over a period of time", Jaffer adds.
Religious artifacts include a standing statue of the Buddha from sixth-century India, a curtain made in Egypt during the Ottoman rule for Kaaba, which is Islam's holiest site in Mecca, and an enamel church-altar piece from Barcelona.
The criteria of selecting items for this exhibition was strong visual impact and rich history.
"Many pieces in the exhibition have already been in many important collections (before Al Thani's), and we've known so much about their patronage," Jaffer says.
Some displayed objects originated from the Faberge, a studio serving imperial Russia's rulers, while some others were once owned by the legendary Rothschild family, who are originally from Germany.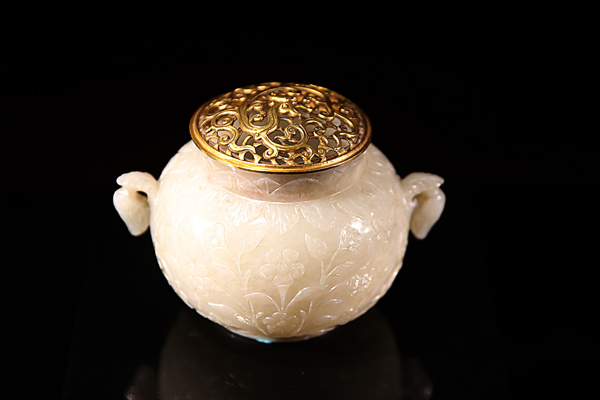 A jade censer made in northern India with a Chinese gold lid (a Palace Museum collection). [Photo by Jiang Dong and Yao Ying/China Daily]
Chinese treasures are also highlighted.
A blue-and-white ceramic plate thought to have been produced in the 1420s in Jingdezhen, China's "porcelain capital" in today's Jiangxi province is exhibited. It has Persian inscriptions and was first owned by a princess. But it was looted in war and later owned by many people. The Mughal ruler Shah Jahan, known for the Taj Mahal, also left inscriptions on the plate.
A tiger-shaped gold garment hook from the Warring States Period (475-221 BC), a gilt-bronze bear sculpture from the Western Han Dynasty (206 BC-25 AD) and a jade cup inlaid with bronze and gold from the same period are part of the exhibition.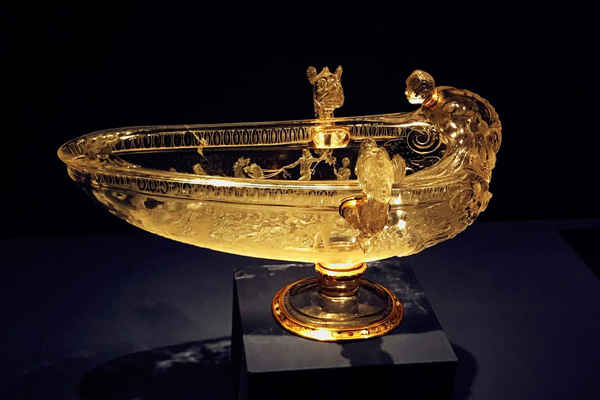 A late 16th-century crystal cup from Milan. [Photo by Jiang Dong and Yao Ying/China Daily]
Indian dazzle
Gems and Jewels from India, the other part of Treasures from the Al Thani Collection, presents a rare journey into the dazzling world of Indian jewelry, which dates from the time of the Mughal Empire (from the 16th- to the mid-19th centuries) to the present day.
Perhaps, no one can remain calm in front of the Nizam of Hyderabad Necklace, which is made of eight diamonds, each weighing between 10 and 15 carats.
Various turban ornaments, bracelets, brooches, rings, armbands and other accessories tell of the luxurious years. European styles gradually mix into designs in more recent works.
Jade articles compose another highlight of this section.
"There was shared tradition between Mughal and Chinese (royal) courts," Jaffer says of the importance of jade in both cultures.
He points to a displayed alcohol cup owned by Mughal ruler Jahangir that was inspired by Chinese ceramic cups.
For Mughal rulers, jade went beyond decoration to weapons, as is shown by a Shah Jahan's dagger.
The Palace Museum picked some items from its own collection for the exhibition. For example, a cup made in northern India, which is carved with a poem written by Emperor Qianlong (1711-99), is similar to some items owned by Shah Jahan.
"The inclusion of pieces from the Palace Museum conveys an important message," says Wang Yuegong, the exhibition's Chinese curator, adding that it shows the legacy of the Chinese civilization.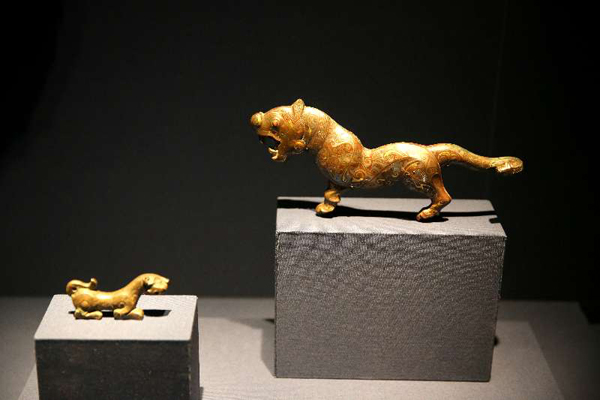 Tiger-shaped garment hooks from China's Warring States Period (475-221 BC). [Photo by Jiang Dong and Yao Ying/China Daily]
Big picture
Treasures from the Al Thani Collection is among the first exhibitions at the Palace Museum that presents relics from such diverse regions and periods.
The Al Thani collection and the Palace Museum first intended to cooperate four years ago.
Wang recalls they initially wanted to hold the Gems and Jewels from India part in China as it was an established exhibition, displayed at the Metropolitan Museum in New York, Victoria and Albert Museum in London, and other institutions around the world.
They finally decided to create a new section giving a broader view of Al Thani's collection.
"It will also provide valuable experience for larger and comprehensive exhibitions in the future," Wang says.
For the Masterpieces part, Wang says he suggested that objects from Africa and South America, which the Chinese public is less familiar with, be added.
The Al Thani collection and the museum are expected to work together in the future.
For Al Thani, such cooperation has taken on a greater significance under the Belt and Road Initiative. During the opening ceremony, Al Thani compared the exhibition to the "fine-art version of the (ancient) Silk Road".
It helps people see the ancient world, "going across Central Asia, Egypt, Greece and the Mediterranean", he says.
The deepening bilateral relationship between China and Qatar is a crucial part of the Belt and Road Initiative, and the global debut of the Masterpieces exhibition in Beijing has "extraordinary meaning", he adds.
Contact the writer at wangkaihao@chinadaily.com.cn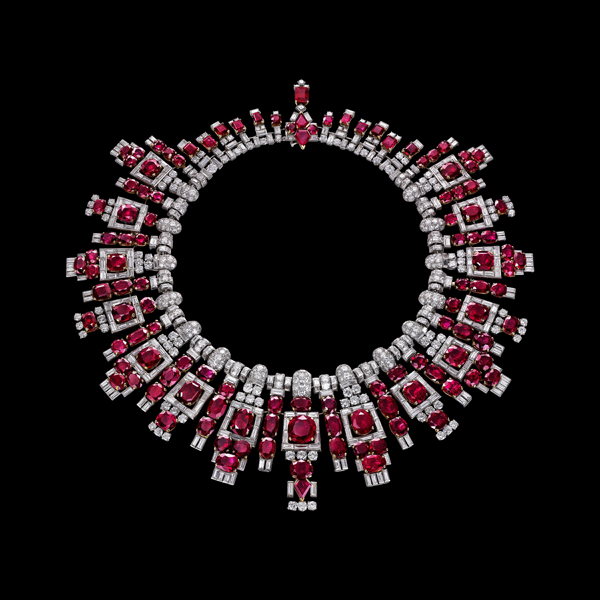 A ruby necklace commissioned by an Indian ruler in 1937. [Photo by Jiang Dong and Yao Ying/China Daily]
If you go
Treasures from the Al Thani Collection
In two separate parts-Masterpieces from a Royal Collection (western wing of the Meridian Gate Gallery) and Gems and Jewels from India (eastern wing).
8:30 am to 5 pm, closed on Mondays, through June 18. 4 Jingshan Qianjie, Dongcheng district, Beijing. No extra fees for the exhibition. For more information, visit en.dpm.org.cn