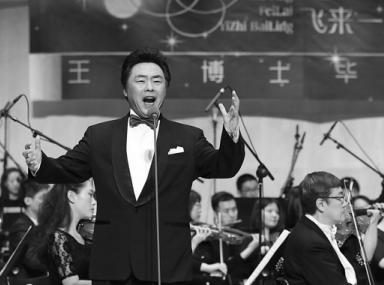 Chinese tenor Ding Yi performs at China Conservatory of Music in June 2017. [Photo provided to China Daily]
Ding Yi performed as Alfredo Germon, the lead male role in Giuseppe Verdi's opera La Traviata, at the Sydney Opera House in 2002.
As the first Chinese tenor known to have sung at the cultural landmark in Australia, the role also led him to other performances there, such as in masterpieces Tosca, Rigoletto and Faust.
Today when Ding looks back upon that time, he not just recalls his excitement and pride but also the contribution of his teacher, Shen Xiang, the late tenor and vocal music educator, from whom he had learned opera in the late 1980s.
"La Traviata was the first opera I learned with Shen. It brought back lots of memories of him when I performed in Sydney," says Ding.
In early 1980s, when Ding, now 56, was a teacher at the Xi'an Conservatory of Music in Shaanxi province, Shen was teaching at the Central Conservatory of Music in Beijing.
"Shen was a famous teacher and I didn't expect I would become his last student," Ding says.
"He not only trained me to use my voice to sing but also corrected my diction, because he spoke four languages-English, French, Italian and German."
During Spring Festival in February, Ding visited Shen's 95-year-old widow, Li Jinwei, a veteran soprano and music educator, and they talked about bringing together other students of Shen for a concert in tribute to their teacher on the 25th anniversary of his death this year.
On Friday, some 54 singers, including veterans such as Yin Xiumei, Yu Junjian and Yan Weiwen, and young students from the choir of Beijing-based China Conservatory of Music, where Ding teaches, will perform at the concert, with repertories of popular Chinese folk songs and classic arias from operas, including Carmen and La Traviata.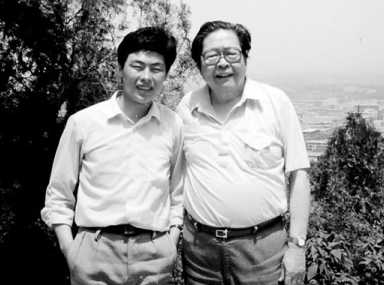 Ding Yi and his teacher, Shen Xiang. [Photo provided to China Daily]
Ding will perform at the concert, too.
"I hope the concert will not only commemorate Shen but also inspire young music students in general," says Ding.
Born in Tianjin, Shen enrolled to study English language and literature at Yenching University in 1940, and also learned music there. In the following year, he went to study English literature at St. John's University of Shanghai and was also admitted to the Shanghai National Music Academy to learn vocals. In 1944, he was expelled from the school because he refused to sing in a fund-raising concert for the Japanese army, which had then occupied Shanghai. Later the same year, at age 23, Shen held his first solo concert in Shanghai, which was a success.
Shen was among those who laid the foundation of vocal music education in China and helped Chinese singers get international exposure. In 1984, he led a delegation to the Finnish Miriam Hailin First International Vocal Competition, where his student, mezzo-soprano Liang Ning, won the first prize in the women's group.
Then, in 1985, at the second BBC Cardiff Singer of the World Competition, bass Liu Yue won the third place.
Shen's other award-winning students include baritone Cheng Da, who won the third place in the International Vocal Competition held in Chile in 1989, and tenor Hei Haitao, who won the first prize in the Verdi International Vocal Competition in 1991. Shen himself also got called to judge international vocal competitions.
Speaking about his teacher, mezzo-soprano Guan Mucun says: "He has said that emotions should come first for a singer and then techniques, such as breathing, resonance and pronunciation.
"It is a valuable idea that we should share with our young singers today."
If you go
7:30 pm, May 4. Poly Theater, 14 Dongzhimen Nandajie, Dongcheng district, Beijing.