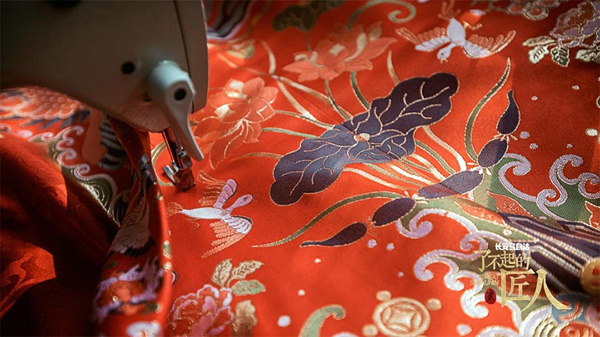 A close shot of hanfu,a traditional type of Chinese clothing, as featured in The Great Shokunin 2.[Photo/Official Sina Weibo account of The Great Shokunin]
2017 was a year worth celebrating for Chinese documentary investors and producers.
Annual Report on the Development of Chinese Documentary (2018), released on Tuesday at the eighth annual Beijing International Film Festival, offered an inspiring roundup of the achievements of the documentary industry in the past year.
In 2017, both the number of screened documentaries and the box office takings set new records. A total of nine domestic and foreign documentaries hit the Chinese big screen, up 50 percent year-on-year, and raked in 260 million yuan ($41.35 million) at the box office.
Thanks to this phenomenal success, the direct economic benefits generated by the documentary industry surpassed 10 billion yuan ($1.59 billion) last year.
The latest data shows that about 20,000 hours of television documentaries were produced in 2017, an increase of 5.8 percent year-on-year. In addition, more than 3.8 billion yuan, excluding both human resource and technical costs, was channeled into TV documentary production through TV organizations at all levels and relevant government departments, according to He Suliu, project manager of the report and also director of the China Documentary Research Center.
In 2017, 44 film documentaries passed the scrutiny of the national film authority, a rise of 37.5 percent year-on-year.
Apart from noting that film documentaries are expected to grow into a significant power in the entire domestic documentary industry, the report also pointed out several problems facing the industry.
Film documentary producers, shackled by administrative thinking, usually are not market-oriented enough. As for product positioning, marketing and the industry chain, there is still much room for improvement. Also, a mature and tolerant theatrical release and screening system needs to be established and enhancement of moviegoers' understanding and viewing habits regarding documentaries also is highly necessary.
It's reported that 2,631 documentaries were most actively watched by internet users during 2017. In the new media era, many documentaries have abandoned their low profile and some even have sparked heated discussions on social media platforms. Furthermore, more documentaries are making their way to barrage video websites to attract the younger demographic.
The boom of the documentary industry in the past few years, besides copyright revenues, has generated far more indirect economic and social benefits through many other means and greatly fueled the development of cultural industries in some areas, the report said.