Cultural ministers of China, Uruguay meet in Beijing
Updated: 2018-04-18 11:36:45
( Chinaculture.org )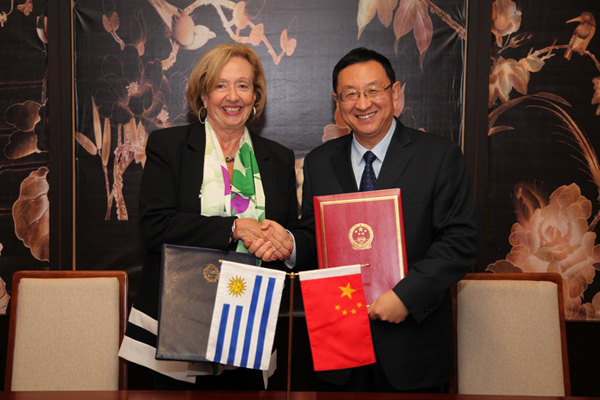 Luo Shugang (right) and María Julia Muñoz signed a memorandum of understanding between the government of the People's Republic of China and the government of the Eastern Republic of Uruguay for the establishment of a China Cultural Center in Uruguay on April 16, 2018. [Photo/Chinaculture.org]
China's Cultural and Tourism Minister Luo Shugang met with María Julia Muñoz, minister of Culture and Education of Uruguay, in Beijing on Monday.
Luo expressed a warm welcome to Muñoz. He pointed out that China and Uruguay established a strategic partnership in 2016 when Uruguayan President Tabarez Vazquez visited Beijing.
Looking back, the China-Uruguay relationship has been one of the most active in China-Latin American and Caribbean relations.
2016 was the China-Uruguay Cultural Exchange Year, and both countries celebrated 30 years of bilateral diplomatic ties with a series of cultural events.
Uruguay also was one the first Latin-American countries to support the Belt and Road Initiative.
Luo said that China is willing to enhance cultural cooperation with Uruguay under the framework of the Belt and Road Initiative. That includes expanding cultural and art communication platforms, improving people-to-people exchange, deepening cooperation between art agencies, and reinforcing marketing on travel resources to build a solid, humane foundation for bilateral strategic friendship and cooperation.
Muñoz agreed with Luo and spoke highly of efforts made by the Ministry of Culture of China for cultural exchanges on both sides, and said that Uruguay is willing to continue its various bilateral visits and communication with China for cultural agencies, enterprises and artists in both countries.
She also expressed support for the establishment of a China Cultural Center in Uruguay, promoting bilateral cooperation to a new level.
After the meeting, Luo and Muñoz signed a memorandum of understanding between the government of the People's Republic of China and the government of the Eastern Republic of Uruguay for the establishment of a China Cultural Center in Uruguay.


Presented by Chinadaily.com.cn Registration Number: 10023870-7
Copyright © Ministry of Culture, P.R.China. All rights reserved