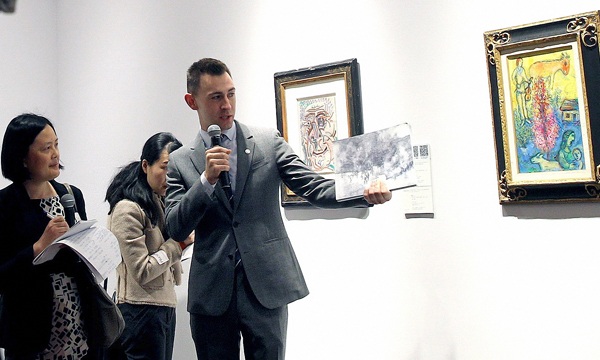 A member of staff displays a work of art at London-based auction house Christie's auction preview held in Shanghai. [Photo/Xinhua]
Art exports from the United Kingdom to China rose more than 350 percent in 2017, according to newly released figures from the UK tax authorities.
In 2016, exports were valued at 25.5 million pounds ($36.2 million); last year, that figure surged to 115.9 million pounds.
The figures measure the value of goods crossing UK borders rather than sales, so can include works of art being moved for exhibition.
The recent Global Art Market Report co-published by the Art Basel contemporary art show and UBS found that in 2017, China became the second-biggest art market in the world after the United States, accounting for 21 percent of $63.7 billion worth of global sales.
The report noted that one reason was because of the rise in the number of wealthy Chinese individuals.
There is also greater activity in the sale of Chinese artifacts. Auction house Christie's sale of Chinese art in London last November achieved a total amount of $11.1 million. Also in London last November, Sotheby's Important Chinese Art sale made $10.7 million, and Bonhams took in $15 million during their Fine Chinese Art sale.
Many of the art buyers were Chinese but because the buyers are anonymous, it is impossible to know how many of the artifacts sold were exported to China.
Meanwhile, UK export figures reveal an overall decline of 2.2 percent to 4.84 billion pounds.
Import traffic from the UK's main European Union trading partners was down almost 60 percent year-on-year.
According to Ivan Macquisten, an art market consultant and writer who analyzed the figures from the British government's taxation department Her Majesty's Revenue and Customs, this could be the "result of simple reluctance to send art and antiques there for sale" following Britain's decision to leave the European Union.
He said the fall in sterling, especially in the first half of 2017, could also be a factor.