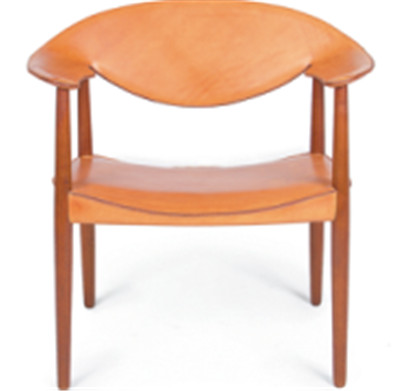 Metropolitan Chair (1959). [Photo provided to China Daily]
In 1960, when John Kennedy and Richard Nixon participated in one of their televised presidential debates, two chairs present in the recording studio wasn't of much value to the viewers.
But a year ago, the same chairs designed by Hans Wegner were hailed by the Museum of Modern Art in New York as among the best designs of the 20th century. Denmark-born Wegner, who died in 2007, was a leading figure in the world of furniture design. He had once said: "A chair is to have no backside. It should be beautiful from all sides and angles."
The chairs Wegner designed reflected his words. The one used in the Kennedy-Nixon debate has been considered by many art historians as being perfect. It is made of teak and can be easily lifted with one hand. Its back, seat and legs are connected by mortise and tenon joints.
Chairs constitute a notable part of Wegner's oeuvre. A selection of his designs from the 1940s and '50s, including the Kennedy-Nixon debate chair that was designed in 1950, are on display at The Art of the Chair, an ongoing exhibition at the Danish Cultural Center, in the 798 art area of Beijing.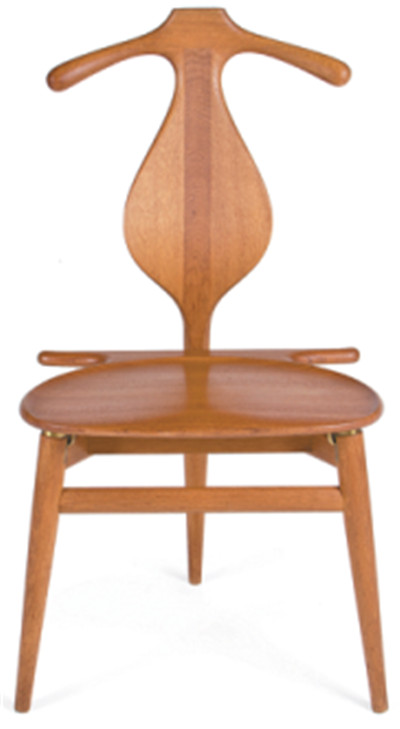 Valet Chair (1953). [Photo provided to China Daily]
The exhibition, which runs through April 22, also displays many other vintage chairs designed by nine prominent Danish artists. The theme centers on a continuous, mind-racking task-seeking new combinations for simple elements, such as the legs, arms, seats and back of chairs.
The Danish Cultural Center's director Eric Messerschmidt tells China Daily that the shown chairs were tailor-made for royal families earlier or had belonged to artists and company executives. Over recent years, they have been transferred through auctions to private collectors in East Asia.
The exhibition brings together many classic designs that offer a glimpse of how Danish furniture design gradually became an ambassador of Danish culture after World War II, and promoted Denmark's art and culture internationally.
Featured artists at the Beijing show include the late architect and designer Finn Juhl, known to have heralded the emergence of "Danish design" in the 1940s.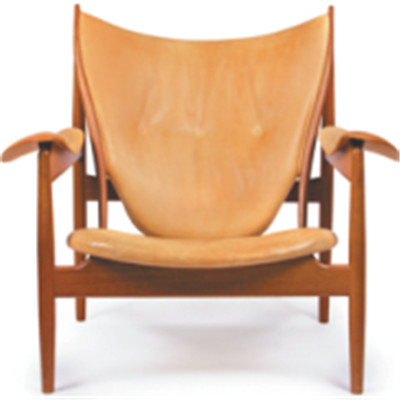 Chieftain Chair (1949). [Photo provided to China Daily]
His designs on display include the Cheiftain Chair, which is often referred to as the "Mona Lisa chair" because of its breathtaking beauty; the Spade Chair, which is so popular that it appeared in Dr. No (1962), the first James Bond film; and the Elizabeth Chair, named after the British monarch who bought it as part of a furniture set while visiting Denmark in 1958.
Messerschmidt says modern Danish designers have attempted to free furniture designs from rigid traditions. They believe the designs of articles such as chairs should be creative and functional, so that they both enliven people's daily lives and are useful.
When his parents married, Messerschmidt says, they went to designers for a customized collection of furniture, which he enjoyed during his youth. It is not uncommon in Denmark for people, not just the rich but even middle-class families, to acquire furniture and pass them down over generations.
He says people can say Danish design celebrates the beauty of simplicity, but an object as common as a chair can be an assembly of smart ideas.
The exhibition also displays Wegner's Valet Chair, the back of which was crafted into the shape of a hanger and the seat can be used as a container. His Chinese Chair is also displayed. Wegner borrowed the elements of classic Ming-style furniture, such as the broad, arched back of chairs.
The chairs on display in Beijing are placed on wooden shelves.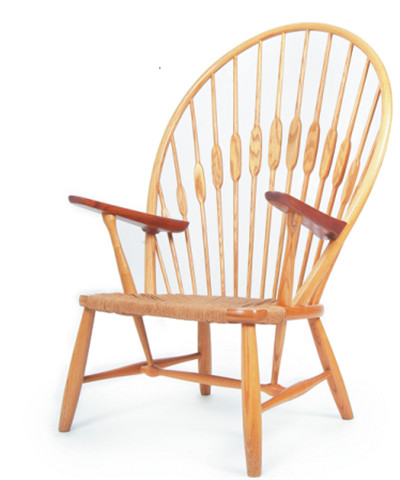 Peacock Chair (1947). [Photo provided to China Daily]
"It shows the audience an interesting comparison between wood as a raw material and the possibilities it can achieve," Messerschmidt says.
The exhibits have the names of both designers and artisans, conveying a message that a quality product can not be made without the concerted effort of creative and skilled people.
Messerschmidt says one reason for the rise of Danish design is the equal respect it pays to artisans.
Several artists shown at the exhibition were first trained as woodworkers or hail from artisan families. Messerschmidt says the audience and collectors value the contribution, too.
If you go
10 am-6 pm, through April 22, Mondays closed. 706 Bei Yi Jie, 2 Jiuxianqiao Road, Chaoyang district, Beijing. 010-5762-6100.