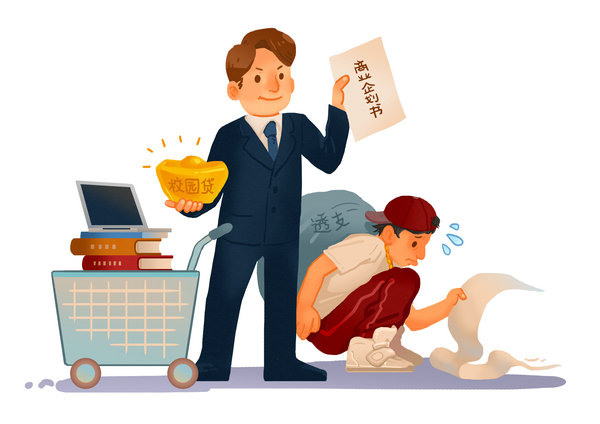 LIANG LUWEN/FOR CHINA DAILY
Sun Yukun finally put the lock back on the Pandora's box she had opened after an impulsive shopping spree, which landed her in debt and deprived her of financial freedom for more than six months.
It all started when she used a pay-by-credit service, a virtual credit card that gives users a consumption quota to fulfill their spending impulses.
Last summer, Sun received from her mother a pair of cream-colored Puma sneakers designed by singer Rihanna as a gift. She loved them, but she also longed to own a pair in black so that she could wear both colors on her college campus.
"I shop for instant gratification," says the 20-year-old Chinese language and literature major at Northwest University in Xi'an, Shaanxi province.
Reluctant to ask her mother for money, Sun resorted to trying Huabei, or Ant Credit Pay, a loan and installment service that is affiliated to the top Chinese Alibaba Group. She splurged about 800 yuan ($126) to fulfill her desire.
Unlike previous generations, who are more used to tapping into their savings, the younger generation is increasingly jumping onto the buy-now-pay-later bandwagon. They are a large group in China's burgeoning consumer-credit landscape.
"People born in the 1990s constitute 47.3 percent of our platform's registered users," Hu Tao, Ant Financial's vice-president tells China Daily. "That translates to 45 million young adults using the 'money of tomorrow' to pay for discretionary purchases."
Sun thought she could pay the money back without much effort. Unexpectedly, she set Huabei as her primary method of payment and continued to make daily purchases as well as buying expensive products, including a Sony noise-cancelling headset via the virtual credit. In a visit to Beijing from her hometown, she emptied her 3,000 yuan savings account and borrowed 1,000 yuan from Huabei to buy food and drinks in the city.
"Ant Credit Pay is convenient, as it allows buyers to purchase a variety of things both online and in physical shops," she says. "Plus, I don't need to pay the interest in the following month."
Lacking self-restraint, the cost of using this kind of service turned out to be painful. For seven consecutive months, Sun had to spend about 1,000 yuan-half her monthly living costs supplied by her parents-to cover the Ant Credit bill.
"It was a vicious circle," she says about the online purchases. "After paying the bill, I didn't have much left, which drove me to deficit spending for long."
Sun says it compromised her living standards and put her under immense pressure. She continued to keep the debt a secret from her parents. She thought about finding a part-time job to cover the debt, but as a senior student, her busy school life pre-vented her from doing that.
"I never imagined a pair of shoes could lead me to such a situation," she says. "The only way to end this vicious circle, in my view, was to stop using the credit option."
After Spring Festival, Sun used some of her "lucky money" to clear the debt. She then disabled all her pay-by-credit services.
"I will never live beyond my means again," Sun says. "For people like me who don't have an income or a sense of self-control, and lack financial management skills, these types of services really are like opening up a Pandora's box."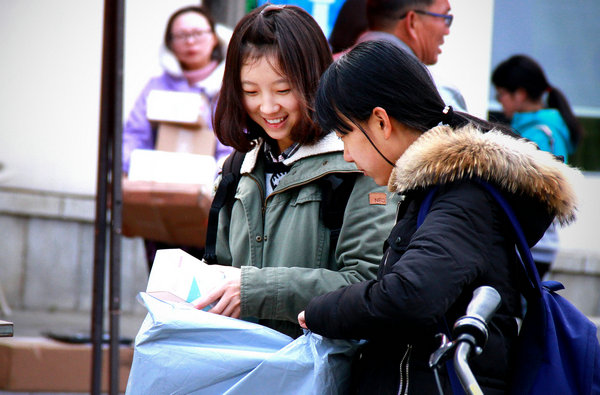 College students in Weihai, Shandong province, get the goods they paid for online delivered by courier. [Photo provided to China Daily]
Timely help
Over the past few years, China has witnessed a surge of mobile payment users with the number exceeding 520 million, according to Ant Financial. In the second quarter of 2017, Chinese banks dealt with 8.6 billion payments from mobile services, a 40.5 percent increase from the previous year, according to the People's Bank of China.
Since 2014, Chinese tech giants started to focus their attention on millennials. Alibaba and JD launched their pay-by-credit services Huabei and Baitiao in 2014 and 2015 respectively. One in four of those aged between 18 and 27 in China use credit services offered by Ant Financial, according to the company.
Zeng Gang, director of banking research at the Institute of Finance and Banking under the Chinese Academy of Social Sciences, says the development of technology and financial services in the country has been reshaping people's concept of consumption. The pay-by-credit service has been widely embraced by consumers, especially the younger generations.
"The younger generations are no longer satisfied with traditional consumption patterns," he says.
"They tend to be more open-minded toward online credit services."
Younger people are used to online shopping and usually don't meet the minimum wage requirements to apply for credit cards. These service can help see them through the rainy days.
Even though three years have passed, Li Wei remembers how pay-by-credit services helped him with his budding media business in 2015.
The 24-year-old graduate from the University of International Business and Economics has been an entrepreneur. In his freshman year, he opened an online shop, and later became the owner of an e-commerce business and a gaming studio.
"What's interesting about being an entrepreneur is the opportunity to solve challenging issues," he says.
Li mastered his English skills by watching TV shows from the United States. In his senior year, he spotted the English language learning values behind such shows, so he decided to launch a startup recommending high-quality US dramas on Chinese social media.
But then, Li's gaming business went bankrupt, which left him almost penniless. As a student, Li found it difficult to get a credit card. However, he ruled out borrowing money from his parents through his desire to remain financially independent or cause them any worry.
Unlike traditional credit lines, where Li would have needed a series of documents to support his financial status, to qualify for Huabei, he was only required to present a good record of his financial activity on Alipay.
This record mainly depended on Li's Sesame Credit (Ant Financial's credit-scoring system) ranking, which includes his credit history, social network and ability to abide by the contract in general. Users can spend up to 50,000 yuan over 41 days with the option to pay it back over a period of three to 12 months at different interest rates.
In May 2015, Li was granted 7,000 yuan by Huabei. He used the money to turn a basement into an office space. The most expensive item he purchased was a 2,000 yuan wooden table, to provide his team members with a good environment to work. He relied on his virtual credit for about three months to help support the startup.
With a surge of followers in a few months, Li's media business turned out to be a big success. In December, his startup was acquired by Shanghai Liulishuo Information Technology Ltd, an "artificial intelligence plus education" company. Li joined the company as a product manager.
Li says for young people who have entrepreneurial dreams but face financial hurdles, such pay-by-credit services can be crucial in helping their new businesses to take off.
"It brought me opportunities," says Li. "Without Ant Credit Pay, I really don't know how I would have secured my startup funding."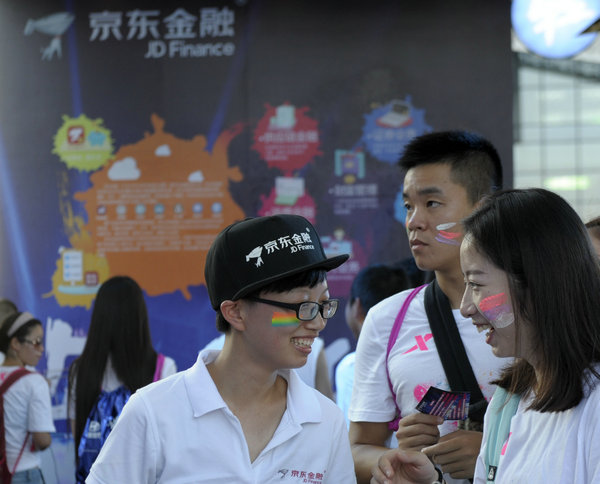 People take part in a promotional event organized by JD Finance to attract young entrepreneurs to the company's pay-by-credit services in Nanjing, Jiangsu province, in 2016. [Photo provided to China Daily]
Consumption upgrade
According to Beijing-based iResearch Consulting Group, the size of China's online consumer finance market surged from 6 billion to 437 billion yuan over 2013-16.
Credit loan products that offer deferred interest-free payments for a certain period of time have been attracting more young consumers to the shopping frenzy, which in turn has contributed to the nation's consumption upgrade.
From 2015 to 2016, credit loan product sales surged by an average of 41 percent per client after a number of retailers adopted Huabei, Zou Liang, vice-president of the Alipay Business Unit at Ant Financial says.
The company has also been offering incentives such as raising temporary credit limits for most of its users to encourage more spending during shopping festivals.
JD's Baitiao, which offers loans of up to 15,000 yuan has witnessed a surge in customers. The number of people who used Baitiao during the 2015 Singles Day online shopping event increased by 800 percent compared to the previous year.
In the past two years, Huabei and Baitiao have been the main credit loan products for Lu Kefei to upgrade his lifestyle. He spends most of the money on entertainment, healthcare and technology products rather than using the loan to purchase daily necessities.
During China's Singles Day sales in 2017, Lu's regular credit was raised from 25,000 yuan to 50,000 yuan. He spent 9,800 yuan on a nasal ventilator and the latest GoPro camera.
He found deals that allowed him to pay for his GoPro and ventilator over a year without charging interest. These incentives allow him to pay off the bill by spending just a few hundred yuan every month.
He uses the camera to capture his travels and diving trips, while the purchase of the ventilator was prompted by Lu's concern about the quality of his sleep. He has been using other kinds of products such as a fitness band to monitor his sleep patterns as well.
"Unlike our parents' generation who spent most of their income on daily necessities, we are more likely to buy things to improve the quality of our lives," says Lu. "The credit loan service has significantly improved my living standards."
Lu also says since technology products are upgraded almost every year, he would have no option but to rent these devices if he didn't have access to pay-by-credit services.
At the same time, business owners also find that credit loan products help them boost sales.
In August, US luxury brand Michael Kors entered into a partnership with Huabei to allow customers to book preorders and make purchases at its online boutique using Huabei's installment plan.
From Aug 15 to 18, the fashion house offered consumers the option to reserve via Huabei its new range of Selma handbags inspired by global skylines like New York. As a result, 150 bags were sold within the first 300 seconds of the promotional event, according to Vogue China.
Zeng says internet loan and installment services fit in with the trends of mass consumption in China and are in line with the growing demand for diversified financial products. Such services are adding to economic growth.
On the other hand, consumers should also be aware of its drawbacks. For some individuals, these kinds of services can also fuel excessive borrowing due to irrational consumption, he adds.
Contact the writer at zhangzefeng@chinadaily.com.cn