Chinese ink paintings on display in Paris
Updated: 2018-03-26 17:08:54
( Chinaculture.org )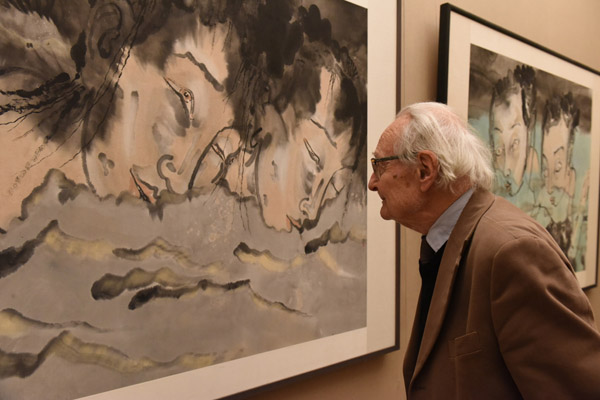 Sinologist Leon Vandermeersch looks at one of the Chinese ink paintings on display at the China Cultural Center in Paris, March 14, 2018. [Photo/Chinaculture.org]

A new exhibition underway at the China Cultural Center in Paris offers a glimpse of Chinese ink paintings - one of the oldest artistic traditions in the world.
Titled, Chinese Style - Ink Painting of Human Figures, the exhibition features more than 30 ink pantings by 16 Chinese painters, including Yang Xiaoyang, Zhang Jiangzhou, Zhang Lizhou and Liang Zhanyan.
The exhibition runs until April 5. It's sponsored by the Chinese National Arts Fund, and co-organized by the China Cultural Center in Paris and China National Academy of Painting.
Li Shaoping, cultural counselor at the Chinese embassy in France, said he hopes the exhibition will help further enhance communication between artists from China and France, and help locals have a better understanding of traditional Chinese culture and its modern development.
A special lecture on contemporary Chinese ink paintings was also held at the Chinese Culture Center. Zhang Jiangzhou, vice-dean of the China National Academy of Painting, and painter Liang Zhanyan, were invited to brief the audience on the age-old Chinese art form, including its traditions, new styles and innovation over the past decades.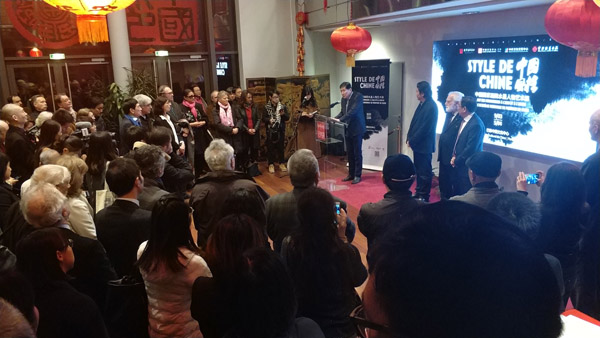 More than 200 guests from both China and France attend the opening of the Chinese ink painting exhibition at the China Culture Center in Paris on March 14, 2018. [Photo/Chinacutlure.org]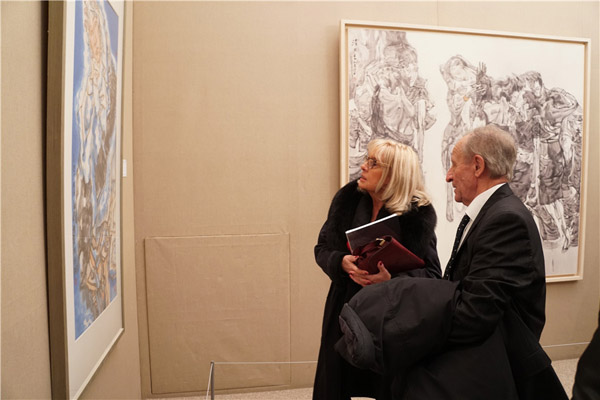 Local visitors gaze at Moonlight, one of the paintings in the Chinese ink painting exhibit at the China Culture Center in Paris, on March 14, 2018. [Photo/Chinacutlure.org]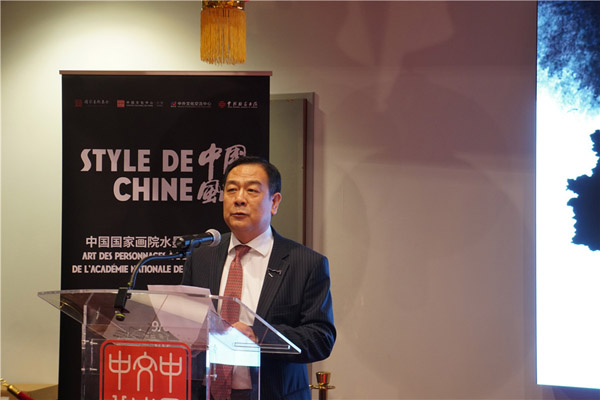 Li Shaoping, cultural counselor at the Chinese embassy in France, speaks at the opening of the Chinese ink painting exhibition at the China Culture Center in Paris, on March 14, 2018. [Photo/Chinacutlure.org]


Presented by Chinadaily.com.cn Registration Number: 10023870-7
Copyright © Ministry of Culture, P.R.China. All rights reserved