New version of Liu Sanjie story debuts in Guilin
Updated: 2018-02-13 09:38:22
( chinadaily.com.cn )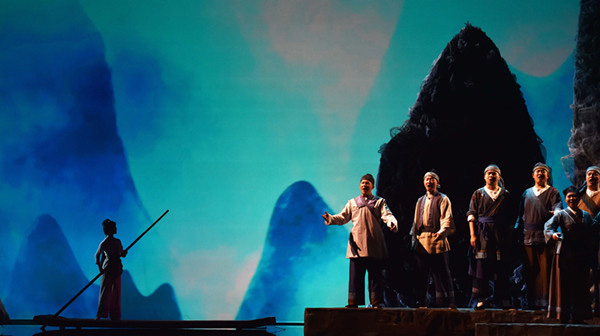 The stage recreates the picturesque scenery of Guilin. [Photo by Tang Yanlan/chinadaily.com.cn]
Liu Sanjie, a legendary singer of the Zhuang ethnic group reputed for singing antiphonal songs, was celebrated in an all-new theatrical interpretation of her lifelong story in front of some 1,500 spectators at the Guilin Grand Theater on Feb 10.
The film Liu Sanjie was already a classic and a household name in China. It was the first and most influential musical scenic film, which integrated diversified folk song elements and picturesque landscapes of Guilin, Southwest China's Guangxi Zhuang autonomous region.
It has been 60 years since the film was shot and the changes over time have been deeply engraved on society and the people. The China National Opera & Dance Drama Theatre has joined hands with the Bureau of Culture, Press, Publication, Radio, Film and Television of Guilin to retell the story and blend it with what time has given us.
Instead of a simple retelling, the play is about how to inherit cultural treasures and dress them in contemporary apparel by using changes in background music and artistic expressions. Integration of modern acoustic, lighting and electricity technologies also further enhances the visual impact, said Tao Cheng, chief of the China National Opera & Dance Drama Theatre.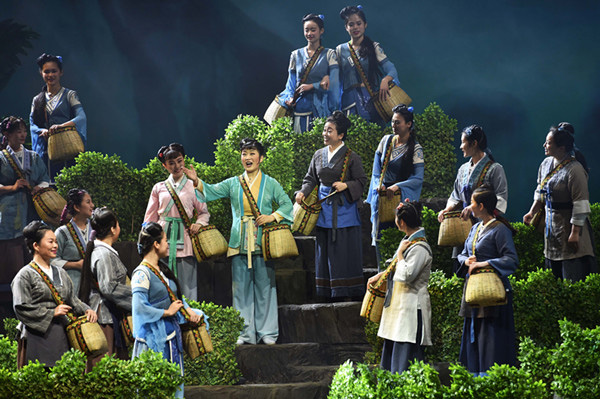 A stage photo shows that Liu Sanjie sings a folk song while picking up tea leaves. [Photo by Tang Yanlan/chinadaily.com.cn]
The performance not only puts the sweet and feminine side of Guilin on stage but also shows the magnitude of its scenery and its profound folk song culture. Everything in the play, from its theme, artistic expression and music to presentation has been endowed with new vitality. When the familiar Guilin landscape and singing of Liu Sanjie were unveiled, the theatre burst into loud applause.
"What the story tries to convey is Liu Sanjie's kindness, sincerity, diligence, and love for life. Not only should we bring the performance to a national audience, but also it is well worthy of being taken to the international stage to display the charm of Guilin culture," said Zhao Leqin, director of the Standing Committee of the Guilin Municipal People's Congress, after the performance.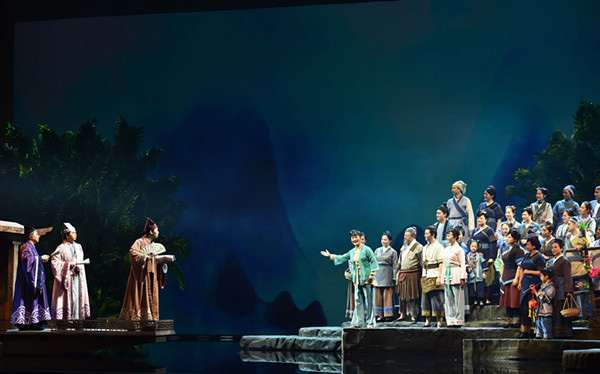 Liu Sanjie sings with three xiucai, people who have passed the county-level ancient imperial examinations, or keju, in antiphonal style. [Photo by Tang Yanlan/chinadaily.com.cn]


Presented by Chinadaily.com.cn Registration Number: 10023870-7
Copyright © Ministry of Culture, P.R.China. All rights reserved