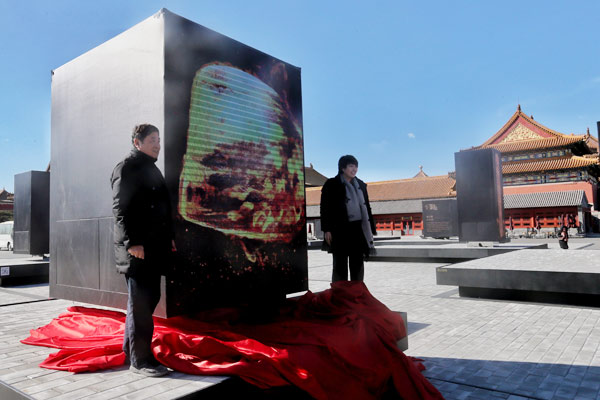 Shan Jixiang (left), director of the Palace Museum in Beijing, unveils the National Treasure exhibition on Monday together with television director Yu Lei. [Photo by Jiang Dong / China Daily]
Beijing's Palace Museum unveiled a unique exhibition on Monday-one without any artifacts.
National Treasure, which runs until Feb 25, includes nine large cubes, each installed with a LCD screen showing video of one of the ancient relics featured recently in a popular TV show of the same name.
The 10 episode show aired on China Central Television and focused on key collections at nine major museums nationwide, telling their histories through short dramas performed by well-known actors.
Viewers and a panel of experts were asked to vote for nine artifacts from a selection of 27 to be displayed in the Palace Museum exhibition.
The treasures on display on the video screens include a 5,000-year-old jade vessel from Zhejiang Museum in Hangzhou, a 3,000-year-old bronze jar from Hunan Museum in Changsha, and inscribed stone drums dating back to the Qin Dynasty (221206 BC) from the Palace Museum's own collection.
The items are also on show at their respective museums.
Shan Jixiang, director of the Palace Museum, also known as the Forbidden City, said the success of the TV show proves that entertaining programs can help "enliven" artifacts and communicate their cultural value to a wider audience.
He added that shows like National Treasure also tell touching stories of the people who are committed to the study and protection of ancient relics.
"Museum workers have long been unsung heroes. They receive little attention compared with the exhibits, which always grab the limelight," he said.
"The show reveals how these workers devote their lives and utilize their wisdom to our museums. It hails their professional attitudes toward cultural heritage and visitors. Thanks to their endeavors, visiting museums has become an important part of people's lives."
Yu Lei, the TV show's director, said many people feel lost at museums unless they have a qualified, knowledgeable tour guide who knows how to clearly explain the information embedded in the exhibits.
"We hope the show will become the best tour guide for museum visitors," she said, adding that a second season of National Treasure is in the planning stage.