Inheriting folk art: Chinese dancer Yang Liping's art session in Singapore
Updated: 2018-01-23 13:58:01
( Chinaculture.org )
Chinese dancer and choreographer Yang Liping speaks at her lecture on Impression of Yunnan at the China Cultural Center in Singapore, Jan 16, 2018. [Photo/Chinaculture.org]
An art session on the charm of Chinese folk dance was held at the China Cultural Center in Singapore on Jan 16, attracting more than 300 audience members, including Que Xiaohua, cultural councilor of Chinese embassy in Singapore, and Ma Hongying, director of the Chinese cultural center.

Famous Chinese dancer and choreographer Yang Liping shared stories behind her dancing piece Impression of Yunnan - a large song and dance collection that re-integrates folk songs and dances in Southwest China's Yunnan province with other ethnic Chinese dances. More than 70 percent performers of the dance show are from ethnic groups across Yunnan villages.

Sharing her motivations of choreography, Yang said, "After I returned to my hometown Yunnan from China Ethic Song & Dane Ensemble (years ago), I visited many villages to look for inspirations of new choreographies but [was sad to] find that many traditional songs, dances and musical instruments were on the verge of disappearing." She added it was regrettable that the folk cultures were gradually lost during the process of urbanization.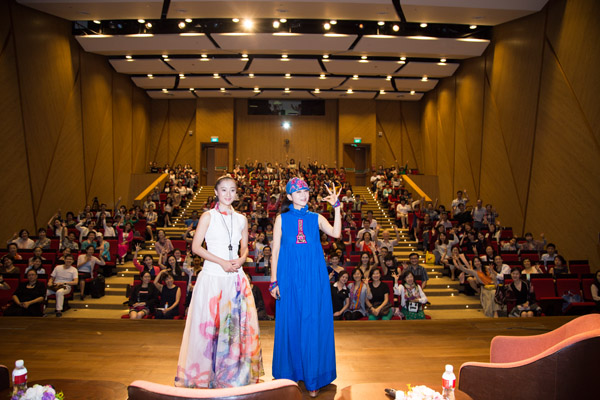 Chinese dancer and choreographer Yang Liping (right) teaches audience members about the iconic hand gesture that imitates peacocks during her lecture at the China Cultural Center in Singapore. [Photo/Chinaculture.org]
"Dancing is a charming form of performing arts. It came from life and is above life," said director Ma Hongying. "Dancing itself contains multiple social meanings, which helps demonstrate a region's social outlook and customs. The province of Yunnan is hailed as China's hometown of singing and dancing because of the singing and dancing abilities of local people."
The lecture was part of the China Cultural Center's Discovering China series, which invites experts from all areas to decode Chinese culture from different perspectives.


Presented by Chinadaily.com.cn Registration Number: 10023870-7
Copyright © Ministry of Culture, P.R.China. All rights reserved