Chinese and Mauritian watercolor paintings on display in Mauritius
Updated: 2017-11-21 13:55:48
( Chinaculture.org )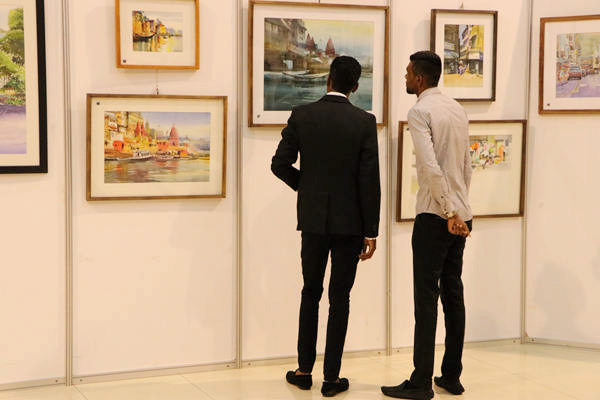 People look at watercolor paintings on show at the China Cultural Center in Mauritius, Nov 17, 2017. [Photo/Chinaculture.org]
A new exhibition opened Friday at the China Cultural Center in Mauritius to promote artistic exchanges between Chinese and Mauritian artists and enhance cultural cooperation between the two nations. The exhibition is co-hosted by the International Watercolor Society in Mauritius (IWS) and the Chinese cultural center in the island country in the Indian Ocean.
Titled Across the Oceans - Watercolor Exhibition by IWS Mauritius Members and Chinese Artists, the exhibition shows 80 watercolor paintings created by three Chinese painters and 10 of their counterparts in Mauritius.
The Chinese artists have added Mauritian flavor to their creations by portraying the natural landscapes of Mauritius, in addition to paintings centered around traditional Chinese culture.
An art co-creation event was held Saturday at the center to interact with visitors, with artists from both countries participating. The exhibition runs until Dec 2.
Guests cut the ribbon at an opening ceremony for the exhibition, Nov 17. 2017. [Photo/Chinaculture.org]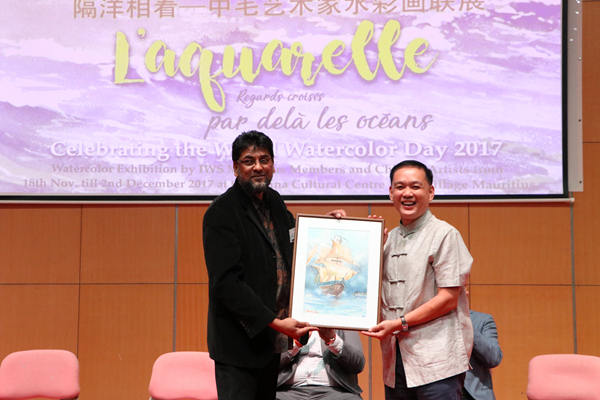 The International Watercolor Society (Mauritius) presents a painting by a local artist to the China Cultural Center in Mauritius. [Photo/Chinaculture.org]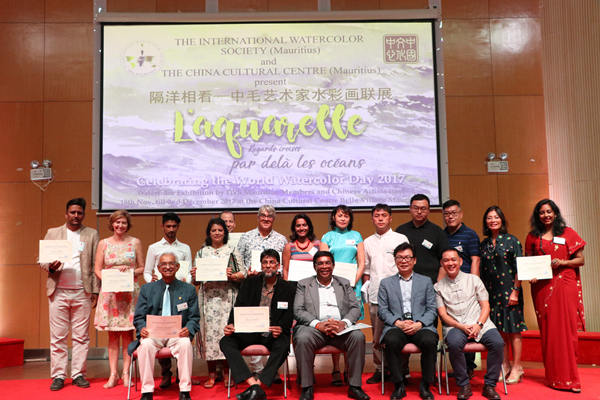 Guests and artists from both China and Mauritius take a group photo at the opening ceremony of the exhibition Nov 17. 2017. [Photo/Chinaculture.org]


Presented by Chinadaily.com.cn Registration Number: 10023870-7
Copyright © Ministry of Culture, P.R.China. All rights reserved