Taylor Swift's new album, Reputation, was released via QQ Music online. [Photo provided to China Daily]
For years, China's music industry was seen as chaotic with record companies seemingly unable to come up with digital business models which could fight online piracy.
However, the Chinese music market is now seen as having enormous untapped potential, thanks to the country's online user base of more than 650 million people and a growing number of licensed digital services.
"It's clear that China's music industry is on the road to recovery after years of battling rampant piracy," says, Xu Wentong, the vice-minister and chief executive of the State Administration of Press, Publication, Radio, Film and Television, at the China Music Industry Forum, an annual music event, which is jointly organized by the State Administration of Press, Publication, Radio, Film and Television, the Communication University of China and the Music Industry Promotion Committee.
A recent report released at the forum, the China Music Industry Report 2017, says that the total size of China's music industry exceeded 320.5 billion yuan ($48.33 billion) in 2016, growing by nearly 8 percent year on year.
It is the first annual official music industry report in China, covering 10 branches, including the physical record industry, the digital music industry, the music performance industry and music copyright. It says that the total revenue from music copyright was 184 million yuan based on statistics from the Music Copyright Society of China, an increase of 8.2 percent year on year.
Separately, the total revenue from music and video copyright was 183 million yuan based on figures from the China Audio-Video Copyright Association, an increase of 18.06 percent year on year.
Meanwhile, the report says: "Of all the emerging markets, where licensed streaming services are engaging fans and growing the legitimate industry, China tops the list for record companies."
It also notes that recorded music revenue grew 20.3 percent in China last year, driven by a 30.6 percent rise in streaming.
One of the main driving forces in the market taking a turn for the better is Tencent Music Entertainment, China's leading online music streaming platform, which brought music streaming providers KuGou and Kuwo under its banner QQ Music.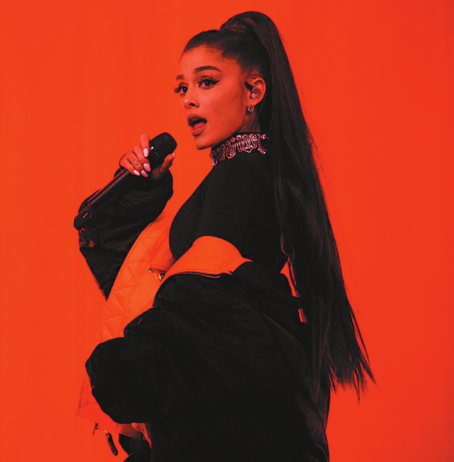 Ariana Grande made her debut tour in China for the first time this August. [Photo provided to China Daily]
Now, QQ Music has more than 100 million active users daily.
Since 2013, Tencent Music Entertainment has worked out partnerships with more than 200 music labels, including major companies such as Warner Music, Sony Music and Universal Music, as well as independent labels, according to Andy Ng, the vice-president of China's leading streaming platform.
The move allowed the company to become these labels' sole distributor in the Chinese market and helped them fight piracy.
In 2014, Tencent Music Entertainment began working with record labels to release digital albums, and within 18 months its revenues hit 100 million yuan.
For starters, it released Taiwan pop icon Jay Chou's album, Aiyo, Not Bad, in December 2014.
And, so far, it has released digital albums by many Chinese singers, including Dou Jingtong and Lu Han, as well as South Korean boy group Big Bang, and Western artists such as Adele, Rihanna and Taylor Swift.
As for how Tencent Music Entertainment has managed with foreign stars, you have look at 2016 when it released the digital album of Anti, the eighth studio album by Barbadian singer Rihanna.
The album sold 160,000 copies and topped the Asian music market then.
Later, the same year, American singer Ariana Grande's third studio album, Dangerous Woman, which sold in the digital format via Tencent Music Entertainment's online music streaming companies, went platinum within 48 hours.
American singer-songwriter Taylor Swift's latest album, Reputation, sold 750,000 yuan in 24 hours on QQ Music.
While Tencent Music Entertainment has played a big role in reviving the music industry, official regulation has also played a part.
The 2015 China's National Copyright Administration notice that online music-delivery platforms had to remove all unauthorized songs by July 31 that year, is also seen as a major move in the fight against rampant piracy in the industry.
As for how international music companies see the future in China, Universal Music Group's Senior Vice-President Jonathan Dworkin, says: "We already have a long-standing investment in Chinese repertoires, and we want to see a great platform for our international artists.
"I think that the ability to communicate and kind of engage consumers across multiple touch points in the Tencent ecosystem is remarkable. And we are seeing this explosion of interest in streaming music and an explosion of consumption of legal music."