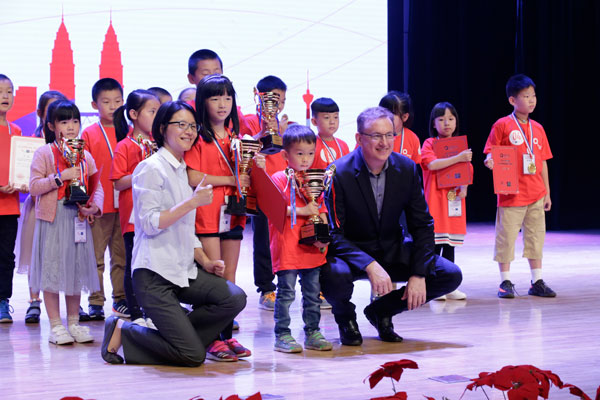 Young winners of the beginners' group of the Qooco Asia Spelling Cup 2017 China Final receive awards from Qooco CEO David Topolewski (first right, front row) and CTO Mou Hong (first left, front row). [Photo provided to China Daily]
English learning apps are growing in popularity as a complement to traditional classes. China Daily reports.
Using mobile devices to learn English has become popular in China, not only for medium-level and advanced learners, but also for beginners.
And various mobile learning apps are available for children to complement school English classes.
The Qooco Asia Spelling Cup 2017 China Final, which was held on Sept 24 at a youth activity center in Beijing, is evidence of Chinese youngsters' zeal for learning English using such mobile applications.
Ninety students, selected from 100,000 participants from all over the country, competed for 18 places in the Qooco Asia Spelling Cup finals, which will take place on Nov 12 in Kuala Lumpur, Malaysia.
The competition was divided into three groups for beginners, intermediate and advanced learners.
Zhu Weizheng, the winner of the advanced group, is studying at Hongwen Middle School in Dalian, Liaoning province.
He says he used the Qooco Talk app-designed by a Beijing-based company to provide kids aged from 3 to 13 solutions for English learning-half an hour a day for four years.
"The tasks on the app, from spelling words to practicing speaking, are quite interesting," says the 13-year-old.
"I can get instant feedback from the app that will rank my performance after I say English sentences, which is conducive to improving my pronunciation and intonation."
Canadian David Topolewski, CEO of Qooco, says that mobile English learning is now burgeoning in China as it allows students to improve their English speaking skills anytime, anywhere.
"We have adopted the online-to-offline teaching method to increase the frequency with which learners of English practice the language," Topolewski explains.
"Students, teachers and parents can be motivated by checking their progress record on the app."
Studying with the app and studying in the classroom are complementary to each other.
According to him, over 200,000 students in 500 schools across the country use the app.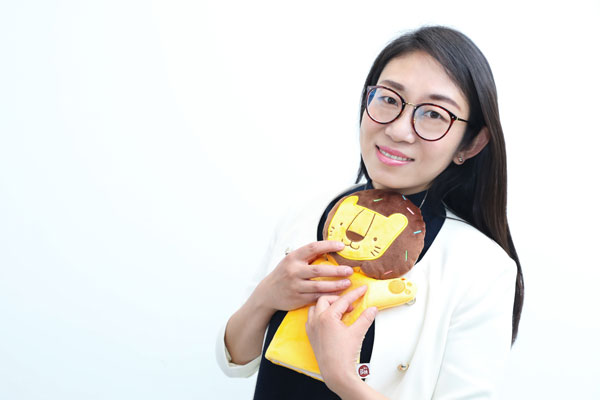 Chen Wanqing, general manager at New Oriental's online education brand, Koolearn. [Photo provided to China Daily]
Tao Yingwen, the mother of a girl who has studied with the app for six years, explained the reason why she chose it.
"I liked the scientifically designed curriculum, and its lessons, designed like games, can help my daughter become more interested in learning," Tao says.
"Sometimes she can use the app to practice English while I drive her home so that short periods of time can be made use of for English learning."
Chen Wanqing, general manager of Kids Education Product Business Department in Koolearn, an online education brand of New Oriental Education & Technology Group, says parents play a vital role in kids' mobile education.
In 2012, Chen and her team launched the English education app Donut for kids aged from 3 to 7.
"Should kids use a mobile education app? Which apps should kids use? Parents are actually the decision-makers," says Chen, who is the mother of a 6-year-old.
"A popular education app will cater to the tastes of parents and kids."
Based on analysis of a user's data, an education app can provide the learner with an individualized study plan and courses that are accessible on mobile devices.
Mobility in education is an inevitable trend in this internet era.
Other than apps, WeChat and live videos also emerge in the mobile learning field.
"The key point for going further along the mobile education path is to respect the nature of children and the rules of education," Chen says.