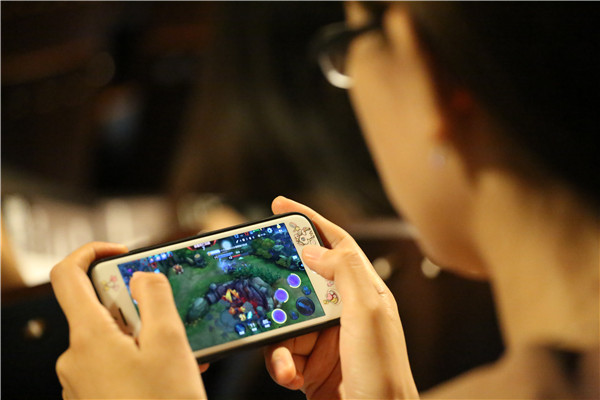 A woman plays the same game on her smartphone in a theater. [Photo by Li Sanxian, Yin Ming and Wang Gang/For China Daily]
A multiplayer, cyber-battling game is creating waves among young Chinese. Xu Lin reports.
Bi Yalin, 22, stares at the screen of her mobile phone and stabs furiously at it with her fingers. She is completely engrossed in an online, multiplayer battle game.
Her on-screen incarnation is Donghuang Taiyi, an ancient Chinese god clad in traditional costume and portrayed as a handsome man sporting the lower body of a dragon.
"When I sit together with my classmates, we don't talk anymore, we just hold our mobile phones to play the game. I am so into it that I have little time for meals or homework," says Bi.
Bi is one of 200 million registered users of King of Glory, a wildly popular game developed by Chinese internet giant Tencent Inc.
As of June, Tencent's WeChat online social network platform boasted 963 million monthly active users. That dominance over Chinese social media helps the game attract players, who can easily use their WeChat accounts to do battle and win cyberspace glory.
The game has also become a new way of socializing for young Chinese.
"It's difficult to keep up with my Chinese classmates if they talk about the game and I have no idea what it's about. We have fewer things in common if I don't play it," says Bi, who went to the United Kingdom for a one-year exchange program last year and graduated from university in June.
"It really relieved my stress and loneliness abroad," she says. "We had to pull all-nighters to complete our large amounts of homework. We would play the game to help us rest and maintain a clear mind to continue writing our thesis."
Bi also played the game with her friends in China and that encouraged them to communicate more.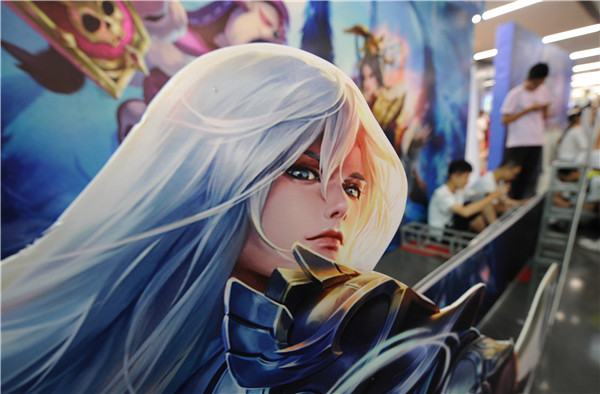 People gather at a department store to watch and play in a King of Glory challenge held by the store in Shanghai. [Photo by Li Sanxian, Yin Ming and Wang Gang/For China Daily]
Entertainment trend
The number of active users of the game increased dramatically this year. The number in May was more than double that in December 2016, according to a report released by online data-analysis company Jiguang.
The game lured about 1.75 million new users a day on average. About 54 percent of the users were females and half had a bachelor's degree. About one-fifth were aged between 15 and 19, and 27 percent between 20 and 24.
About one-quarter of them also had a monthly salary of more than 8,000 yuan ($1,170) and close to half had between 3,001 and 8,000 yuan.
The players liked music, books and livestreaming. They were also interested in ACG (animation, comics and games) and campus community involvement.
Zhao Yun, 21, was curious about the game because many of her classmates were hooked to it.
A classmate once joked that Zhao was behind the times by not playing it, so she downloaded the game on impulse. She was quickly drawn to the game and had to exercise significant self-control to spend less time on it.
The sophomore in Fuzhou, capital of Fujian province, used to read online romance novels in her spare time, but soon found the game to be a new form of entertainment.
"It's really fun to play with classmates and friends. It's like a whole new world to me, because I was not so into games. But this is easy to operate. The characters and their costumes are also very beautiful," she says.
"I used to cling to my boyfriend quite a lot, but I started to enjoy the game, spending less time with my boyfriend. He noticed that and volunteered to join me online."
Luo Juan, 32, from Wuhan, capital of Hubei province, first played the game because her husband wanted them to have a common hobby.
At night, they would play it together when their 19-month-old daughter was asleep.
"It's a good way to kill time, especially when it's hot and I only want to stay in an air-conditioned room," says Luo.
"It feels awesome to defeat others in the game because it's something that needs wisdom and tactics. You need to comprehend the overall situation."
The game also encourages cooperation among teammates, she says.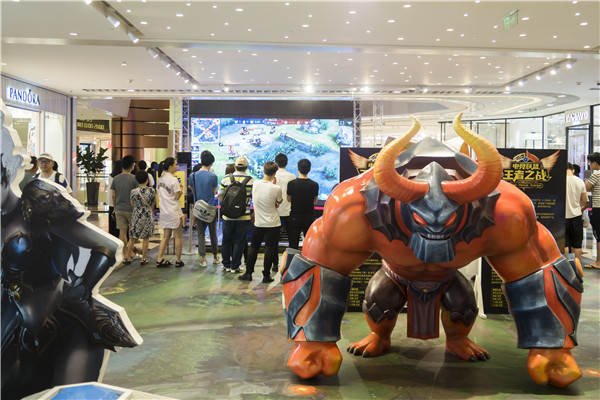 People gather at a department store to watch and play in a King of Glory challenge held by the store in Shanghai. [Photo by Li Sanxian, Yin Ming and Wang Gang/For China Daily]
Playing options
The game charges users for trimmings such as more elaborate costumes, but Li Xin, 34, a State-owned enterprise employee from Xuzhou, Jiangsu province, says that, compared with many other mobile games, "you can still have fun playing King of Glory even if you don't spend any money on it. What matters most is your skill".
Li started to play the game about two years ago, when it was still in its initial development.
He joined a group of players together with his girlfriend and would go online every night.
Two characters in the game cost money-the one based on Ying Zheng, or Qin Shihuang, the first emperor who unified China in 221 BC; and Wu Zetian (624-705), the only female ruler of the country.
Li has collected and consumed 70 characters in the game except for the Wu Zetian persona-it costs more than 1,900 yuan ($284) in a lottery draw to get the character, depending on one's luck, and its costume costs 288 yuan.
"Each character has its own attributes. It's enjoyable when you really like the one you pick," he says.
The game's popularity has spread online and offline among the youth and other social groups, says Tian Feng, deputy director of the juvenile and social issues department at the Chinese Academy of Social Sciences.
"In Chinese culture, such petty or trivial forms of entertainment may be seen to affect the pursuit of more important activities and objectives," he says.
Many Chinese children, for example, used to read kung fu and romance novels as well as visit internet bars and games halls, but their parents would frown upon these activities and get them to focus on their studies instead, he says.
"It's human nature to seek entertainment and each generation has its own way to go about it. The issue here is whether mainstream society approves."
Contact the writer at xulin@chinadaily.com.cn