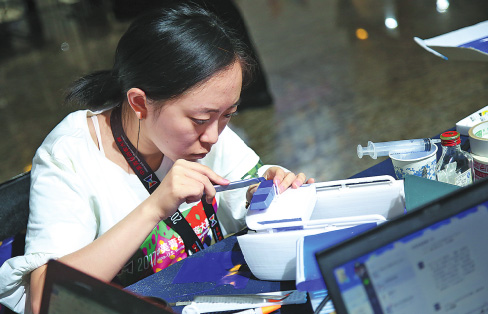 In an effort to "co-making the future", a total of 6,300 young people from the United States and China take part in the 2017 China-US Young Maker Competition, with its finals held in Beijing over Aug 7-11. [Photo provided to China Daily]
In January, when Zheng Xuefen visited his grandmother, in her 70s and suffering from diabetes and hypertension, he noticed how difficult it was for her to remember to take her medication, let alone differentiate the various pills.
"I wanted to design a machine to help," says Zheng, a 20-year-old freshman from Zhejiang Industry and Trade Vocational College in Wenzhou, Zhejiang province.
His answer: a "Domestic Automatic Medicine Machine" that helped his grandmother take her pills properly. Seven months later, Zheng, together with his team, decided to enter his machine in the 2017 China-US Young Maker Competition.
His team didn't make it to the top 10, but they won an award for excellence.
"It's a bit of a pity, but I'm satisfied with the result. I've learned a lot," says Zheng, an electronic information engineering student.
Launched in 2014, the competition is now in its fourth year. Themed "Co-making the Future", this year's event rolled out in May in Chengdu, capital of Sichuan province. It attracted more than 6,300 participants from China and the United States. The finals were held in Beijing from Aug 7 to 11.
This year's projects focused on sustainable development in fields such as education, environment, health, energy and transportation.
Sun Hongbin, the chairman of the judging panel, expressed his delight at seeing such a variety of projects created by young makers, and their concern for global issues.
About 300 finalists formed 70 teams and competed in the 24-hour hackathon in Beijing.
Chinese college students plunge into the maker culture together with their US counterparts at the annual Young Maker Competition, gaining experience in communication, coordination, and putting ideas into real products. [Photo provided to China Daily]
Getting ideas to work
Zheng says the experience he gained from the competition, such as improving his product and communicating with other teams in the finals, has sparked his interest in the academic field and he plans to further his studies.
He is also determined to "upgrade" his prototype machine into a product, so that his grandmother and many other patients are able to benefit more from it one day.
Samuel Kuhns and his team "Purdue MIND" from Purdue University became the only US team to make it to the top 10.
"The result is minor, compared to the information you've learned, to the relationships you've built, and to the culture you've experienced here," says Kuhns, who was in China for the first time.
The concept of a "maker" originated from Europe, before spreading to the US and the rest of the world.
A "maker" is someone who has ideas and brings them to fruition, and "to actually make something is key", says Fu Zhiyong, judge of this year's competition and director of the Service Design Institution, Academy of Arts and Design at Tsinghua University.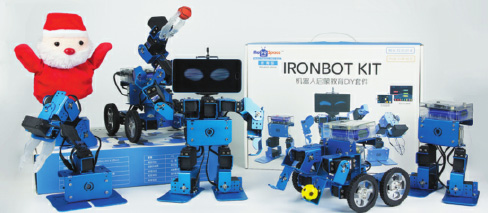 Chinese college students plunge into the maker culture together with their US counterparts at the annual Young Maker Competition, gaining experience in communication, coordination, and putting ideas into real products. [Photo provided to China Daily]
Some of the participants have actually kick-started their businesses after winning in the competition. They include Qiu Binghui, CEO of robots company Xiamen Jorn-Co Information Technology.
Qiu, 26, shared his experience from being a maker to an entrepreneur at the event's Innovation Forum.
His journey started when he won the third prize in the competition two years ago.
Qiu used to be a fan of robots, but buying one was too expensive for him. Two years ago, he came up with the idea to use smartphones as the "brain" in building a robot. He brought that idea to the competition.
His team had decided that once they won a prize, they'd put the product on the market. "Luckily, we won the third prize. So I became an entrepreneur from a maker right after the competition," says Qiu.
The competition provides a good platform and valuable opportunities for young people to start a business, he says.
But it's not easy at the beginning. "My team spent three months developing our product, but when it was completed, nobody wanted it," he recalls.
"We knew later that we had to start by researching a new product before designing one."
His company has finally found its focus-making DIY robots for children.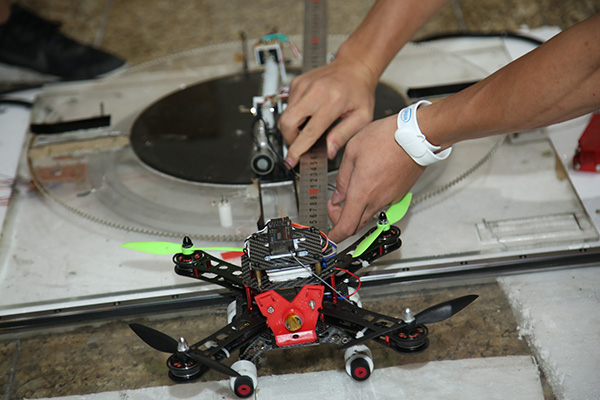 Chinese college students plunge into the maker culture together with their US counterparts at the annual Young Maker Competition, gaining experience in communication, coordination, and putting ideas into real products. [Photo provided to China Daily]
Starting them young
The competition has had a growing influence on youth because it has helped promote the spirit of being a "maker" and provided a platform for them to showcase their creativity, says Fu.
"We'd like to see more 'makers' start their businesses. We expect more of them to apply what they've learned here to their future work," says Fu.
Shen Yipei, an administrator of the Tsinghua Institute for Advanced Study in Humanities and Social Sciences, at Tsinghua University, led a team that won the competition in 2015.
Their product, Nut Fitness, is an "intelligent patch" on fitness machines. It can record information from the machines and provide feedback to help users with their fitness plans.
Most of the team members were about to graduate from Tsinghua University when they won the competition. But they have not started a business because they feel it is early days yet.
"I might start my own business in the future, but now I need to gain experience," Shen says.
"Besides communicating with people from different backgrounds, I've also learned about leadership, like how to find people and persuade them to aim for the same goal together."
Shen's project was suspended due to a lack of funds and technical support. But the seed of entrepreneurship was planted in Shen's teammate Cao Guang's mind.
Cao, an industrial design major, decided to accumulate experience at large enterprises with solid funding and production techniques, to maximize his design skills after the competition.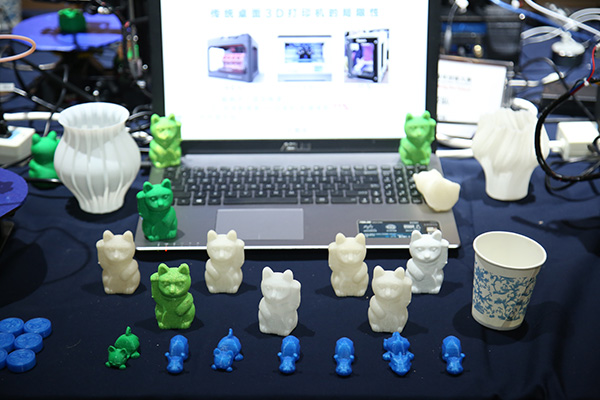 [Photo provided to China Daily]
He worked for multinational Huawei Technologies as an industrial designer after his master's studies at Tsinghua University in June 2016.
He is now involved in the designing, modeling, producing, promoting and other aspects of developing a new mobile phone.
"It's the same process as what we did to make our product in the competition," Cao recalls.
Another team member, Zhao Hansen, a chemistry major who was responsible for hardware development in the competition, also gained inspiration and confidence from the event.
The biggest problem Zhao encountered during the competition was to upgrade the button on their product to a touch-sensitive one. "From the engineering design to the production, I had to solve the problems one by one. But I actually enjoyed the process."
The competition also inspired Zhao in interdisciplinary fields.
Last year, he started on his master's degree, including data analysis and math modeling in his studies.
"Before the competition, when I saw something that was inconvenient or served as an obstacle, I might just have talked about it," says Zhao.
"But ever since I became a maker, I'd think of ways to resolve these problems, to try and make something to change the situation and help society."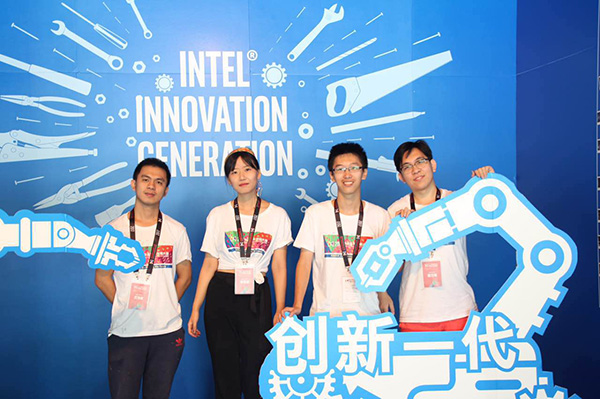 Shan Siqi (second from left) from Tianjin Academy of Fine Arts, and her team, champion of the Young Maker Competition. [Photo provided to China Daily]
Shades of success
Shan Siqi, sporting a tie-dyed hair band, wide black pants and a midriff T-shirt, walked up the podium at the 2017 China-US Young Maker Competition in Beijing on Aug 11.
She was there to receive the championship trophy, clinched by her team, Red Planet, with their "Semi-automatic Plangi Machine".
"Who says women in the fashion field can't be 'makers'?" says Shan, 23, a fresh graduate from the Tianjin Academy of Fine Arts. "I'm happy but also surprised that I won. I've seen many talented competitors and excellent projects in the final."
Her team's machine boasts intelligent color modulation, dyeing at a constant temperature and recycled liquids. It aims to innovatively revive the traditional craftsmanship of tie-dyeing, a technique which has been included on the national intangible cultural heritage list.
"As a textile design major, I fell in love with tie-dyeing the first minute I learned the skill. But it often took me four hours, standing in front of the pot, to mix the colors," Shan recalls. "That's why I want to design this machine. I believe innovation is the best way to pass down our heritage."
Shan's idea of using science and technology to keep traditional culture alive went on to impress the judges.
Other prize-winning projects included a "smart" artificial limb, colorful clay 3-D printer and "one-button, intelligent floor drain". The prosthesis, with its multifunctional rehabilitative capacity for lower limbs, won the popularity award.
"The interdisciplinary projects were another highlight of this competition, and the tie-dyeing machine is an example of combining art and technology," says Sun Hongbin, chairman of the judging panel and professor of electric power systems and automation at Tsinghua University.
With her 100,000 yuan ($15,000) prize money, Shan plans to continue upgrading the machine with her team. "With this machine, the threshold for designing tie-dyed fabrics will be much lower. Everyone can be a designer then," she says.