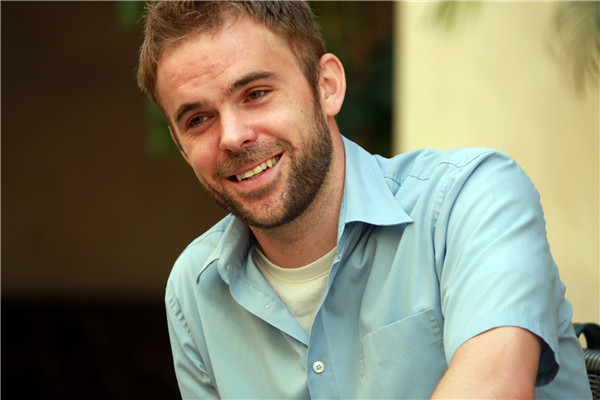 Greg Fountain has become a celebrity online due to his short videos on China's politics, culture and economy. [Photo by Du Lianyi/China Daily]
China Daily's Greg Fountain has become a social media celebrity as the host of the 'Good Luck China' series of short videos. Andrew Moody reports.
Greg Fountain has had more hits than even the biggest pop stars would dare to dream of.
The 30-year-old Briton is the presenter of the "Good Luck China" series of short videos, which have been a Chinese social media sensation.
Of the series of videos-all produced by the China Daily new media team-one alone received 50 million hits.
The video journalist has now also made the national news, appearing on the main evening news program on CCTV 1 and a documentary program on the same channel.
It is, however, the light and informal style of the films in which Yingguo Xiaoge, or English little brother as he's known, which has captured people's attention.
"I think the key word is accessibility. A lot of the time-especially with politics-the language can be very dry and it is quite difficult to relate to," he says.
Fountain, unassuming and modest despite his new fame, was speaking in the lobby of China Daily, where he has worked for just over 18 months.
He was initially employed as a copy editor on the national news desk on arriving in China from Bahrain, where he was deputy news editor of the Gulf Daily News.
Very early on in his time at the paper, he was assigned to make a video for the annual sessions of the National People's Congress, the national legislature, and the Chinese People's Political Consultative Conference, the top political advisory body, in Beijing.
"We did this in Tian'anmen Square with me holding a selfie stick reading from a bit of paper taped behind the phone. I was trying my best to look into the camera," he laughs.
Nonetheless the film proved an enormous success receiving 10 million hits in total on a number of platforms, including China Daily Weibo, WeChat and Facebook.
It came out at a time when there seemed to be an appetite for light but informative films, with one, Song of Shisanwu, a government video about the 13th Five Year-Plan (2016-20), especially attracting a lot of publicity.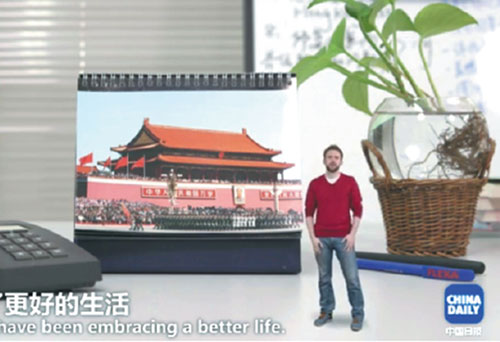 Fountain appears in a mini size in the video about the two sessions in March, which received 50 million hits. [Photo provided to China Daily]
Star appeal
Fountain has made a number of films since including ones on Chinese tea culture, China's railways, telecommunications, the 90th anniversary of the People's Liberation Army and most recently about China's attempts to fight back against desertification in Saihanba on the Hebei province-Inner Mongolia autonomous region border, for which he was recently interviewed by CCTV.
"I was standing on this watch station and there was just trees to the horizon as far as the eye could see. The forest was about the size of Hong Kong in terms of land coverage."
His video with the most hits so far, was the one of this year's two sessions, which deployed green screen technology showing a seemingly diminutive Fountain walking along a desk.
"The mini me got a mention on the BBC and other media outlets," he says. "In terms of production standards it was much more sophisticated than the first one we produced, which was a lot more rough and ready."
The success of the films means that Fountain now often gets recognized on the streets.
"A couple of times I have noticed, even going into a supermarket, people taking pictures on their iPhones so I am pretty sure they recognize me from the videos," he says.
Unlike many broadcasters from the United Kingdom, Fountain does not speak in Received Pronunciation but in his native Yorkshire accent of the north of England.
"From what I have read-there have been studies in the UK-the Yorkshire and Scottish accents are among the most trusted British accents. My accent is actually a lot broader when I am speaking to my mum on the phone or if I am in a pub back home," he says.
"It is not popular with everyone. People have left comments saying they would prefer to hear an American accent since they say it would be easier for them to understand."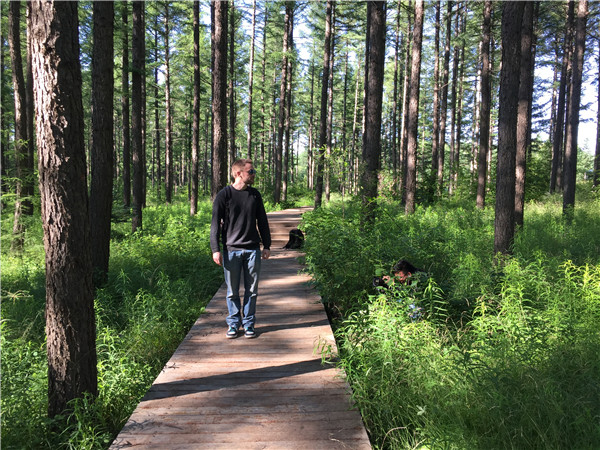 His latest project is to cover the fight against desertification in Saihanba on the Hebei province-Inner Mongolia autonomous region border. [Photo provided to China Daily]
New experience
Fountain was brought up in Birdwell, a village near Barnsley in South Yorkshire. After attending Wath Comprehensive School, whose most famous old boy was the former Conservative party leader and foreign secretary William (now Lord) Hague, he studied English and history at Reading University.
Wanting to follow a media career, he then did a master's in print journalism at Sheffield University.
"It was then that I first did a little bit of video, working with some broadcast guys who came into teach us," he says.
His first job in journalism was in Falmouth in Cornwall in the south west of England, where he worked as reporter on a weekly newspaper.
"It was a fantastic experience. Apart from the bread and butter stuff like covering courts and council meetings, we had crazy things like dolphins being beached and we would go and watch them being rescued and report on that."
His first experience of working abroad came when he joined the Gulf Daily News in Bahrain in 2011.
"The place was simmering after the 'Arab Spring'. I spent the first eight months wearing out shoe leather as a reporter covering the funerals of policemen who had been killed by roadside IEDs (improvised explosive devices)," he recalls.
He went in to become the paper's deputy news editor, where he was on call until midnight every other night, before accepting an offer to come and work for China Daily.
"The day before leaving Bahrain, I was sitting in the sun in shorts, T-shirt and sunglasses. When I arrived in Beijing, it was -17 C. We arrived in the absolute bitter cold of winter. It was quite a shock."
 Before he started at China Daily, Fountain had never been to China.
Home from home
He has since settled in. He and his 29-year-old partner Maria, a former chef and now yoga teacher, have an 18-month-old mongrel rescue dog called Ponyo.
"People think it is named pengyou (the Chinese word for friend) but it is named after the Japanese animation film. The vet said there is a bit of corgi in her and something else."
Fountain says he and his partner are currently studying Chinese online.
"We are both struggling along. It is probably the least effective way of studying. We are desperately trying to save up for our wedding in the UK in November so we don't have the money to pay for lessons at the moment."
Apart from being a video journalist, Fountain is also a columnist for China Daily and has made his views known on a number of subjects, including the UK's decision to leave the European Union in last year's referendum.
"I never thought there should have been a vote in the first place. I believe it is damaging for the future of the country I would love to be proved wrong but I have seen nothing yet that contradicts that. I am glad not to be in Britain right now but let's see."
For now, Fountain wants to carry on making films and explaining China to his following of fans.
"I love working at China Daily and in Beijing. I came here from Bahrain, a place with 1.3 million people and here there are 1.3 billion. You could live in Beijing for a decade and still find things you haven't seen or done," he says.
"Anyone who takes an interest in the news has to take an interest in China because it's now a huge player in so many ways."
Contact the writer at andrewmoody@chinadaily.com.cn