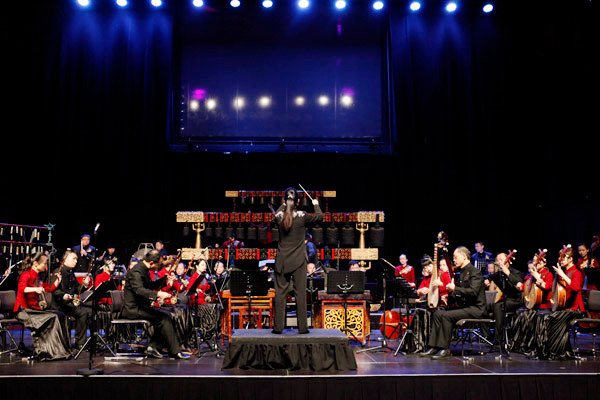 The Hubei Chime Bells Orchestra performs at Auckland's Victory Convention Center, July 26, 2017. [Photo/Chinaculture.org]
Following their debut show in Australia, the Chime Bells Orchestra from Central China's Hubei province enchanted over 2,000 in the audience at Auckland's Victory Convention Center on Wednesday.
Led by conductor Zhou Wen, the orchestra transported the audience back in time to some two centuries ago, with a performance on various traditional Chinese instruments, including chime bells, the guzheng (a Chinese zither), erhu (a two-stringed bowed instrument) and pipa (a four-stringed plucked instrument).
According to Qin Desong, head of the orchestra, the chime instruments used in the concert were made based on the ancient Zenghouyi Chime Bells, which date back to over 2,400 years ago.
"The bells were popular in the pre-Qin Dynasty (c. 21st century -221 BC)," Qin said. Aside from creating the sounds of modern pianos, the chime bells are also visually attractive with exquisitely crafted patterns on them, including dragons, phoenixes and flowers.
Qin quoted US musician Yehudi Menuhin as saying, "We can no longer hear any sound from ancient Greek instruments. Only these Chinese bells can still recreate the music back to 2,400 years ago."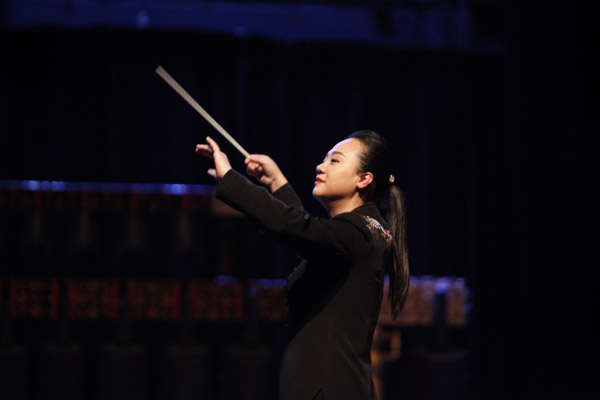 Conductor Zhou Wen leads the Hubei Chime Orchestra. [Photo/Chinaculture.org]
In their encore song, the orchestra performed the famous Auckland love song Pokerakara Ana, using both Western and traditional Chinese instruments, such as cellos, erhu and pipa.
Talking with local media, many New Zealanders said they enjoyed ancient Chinese music and culture.
"This is the first time I'd listened to live music of chime bells. The show was stunning and out of expectations," said Colin Foster in an interview with NCTV, a channel dedicated to Chinese communities in New Zealand and those interested in Chinese culture. Foster added that the sounds of chime bells are quite different from that of Western instruments and that the show was a good way of cultural exchange.
Related:
Traditional music salon kicks off Chinese cultural week in Sydney
A singer from the Hubei Chime Orchestra sings at Auckland's Victory Convention Center, July 26, 2017. [Photo/Chinaculture.org]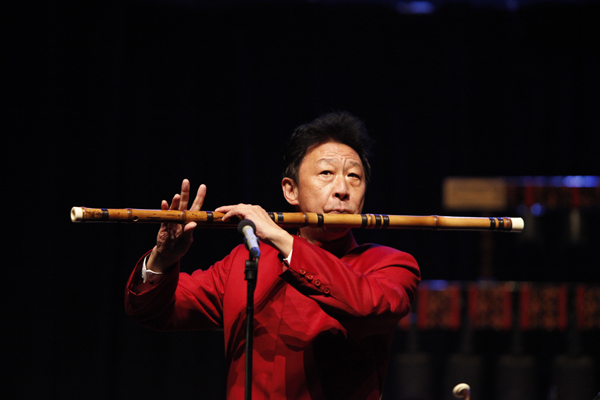 A musician from the Hubei Chime Orchestra performs at Auckland's Victory Convention Center, July 26, 2017. [Photo/Chinaculture.org]
Musicians play the suona, a Chinese double-reed woodwind instrument, at Auckland's Victory Convention Center, July 26, 2017. [Photo/Chinaculture.org]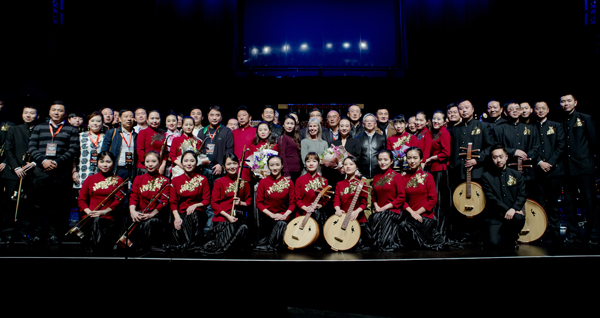 The Hubei Chime Orchestra poses for a group photo, July 26, 2017. [Photo/Chinaculture.org]