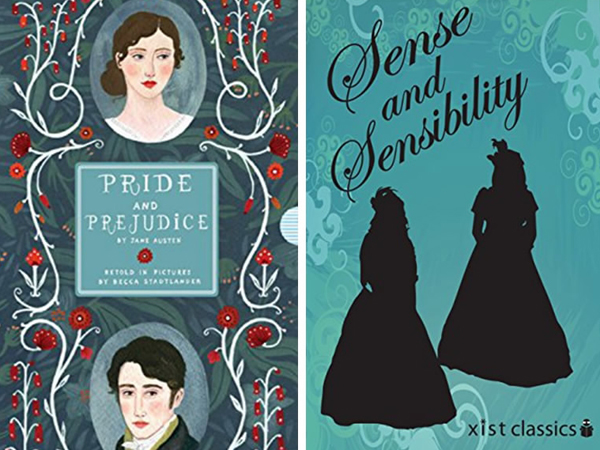 "Pride and Prejudice" and "Sense and Sensibility". [Photo/CGTN]
Jane Austen's oeuvres have been grabbing Chinese readers' attentions for decades now. And as the world celebrated the 200th anniversary of her death earlier this week, Chinese fans recall their first encounter with the English novelist.
Meng Qingtao, a 26-year-old media worker, said his most favorite book of Austen is "Pride and Prejudice". He discovered the author after watching a movie adaptation of the novel in one scorching summer afternoon in 2009.
"At the time, I was busy with studies at high school but I was touched by the female protagonist in the romantic story and I got hooked on Jane Austen."
Later, he was introduced to another work of Austen that made it to the big screen "Sense and Sensibility," which was directed by Ang Lee and starred Anne Hathaway.
Meng said Austen's stories were filled with critical realism and satirized the seemingly insurmountable social ladder barricades for marriage seekers in the British society at the time. Still, those hurdles could give way to love eventually.
"I feel that the most appealing part of her novel is the emotional depiction of the protagonist – delicate and tender such as Elizabeth in 'Pride and Prejudice'. Austen presents the figure as a character of high self-esteem and unwilling to compromise, which is timeless". 
Asked why Jane's books are so popular in China, Meng said a part of the modern Chinese society could not do without "literary youth". Their aspiration for literature and art matches their cravings for daily coffee, indispensable but simple.
"From libraries to bookstores, William Shakespeare, Jane Austen, Virginia Woolf or George Orwell are neatly placed on shelves and recommended for students to read after class. Though Jane Austen was not widely read like Shakespeare, it's a fact that she has been recognized and celebrated by readers." Meng added. 
One hundred years of Jane Austen in China
In 1917, the first Chinese monograph entitled "Brief Profiles of Famous Western Novelists" by Wei Yi, a Chinese translator, mentioned Jane Austen, marking the first notion of the British author in the minds of the Chinese audience.
In 1935, two Chinese versions of "Pride and Prejudice" were published, one by Peking University Press and the other by Shanghai Commercial Press.
In 1996, China joined the World Copyright Treaty, and the unauthorized trslation of modern and contemporary writers ceased while those of classic writers like Jane Austen thrived.
In 2017, a six-volume collection of Austen's literary repertoire was published by the People's Literature Publishing House, with illustrations from Hugh Thomson.
Throughout 41 years of her life, Jane Austen wrote six novels including the prestigious "Pride and Prejudice" and "Sense and Sensibility".
Austen's novels have in a way anticipated the evolution towards modern society, especially as they revealed marriage aspirations from a female perspective.