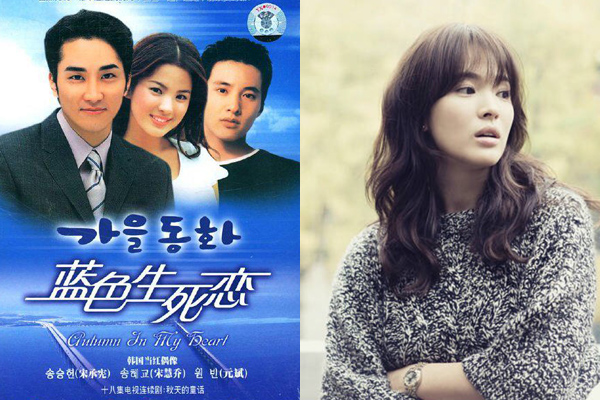 South Korean hit television series, Autumn in My Heart since it went on air, which also pushed lead actress Song Hye-kyo to stardom. [Photo/Mtime]
Seventeen years ago, the South Korean hit television series, Autumn in My Heart, was all the rage in China, marking the beginning of hallyu, or K-pop culture.
There is no denying that South Korean culture, from makeup to fashion style and from music to films, has a huge following in China and Asia as a whole.
However, as many Chinese TV and film makers come up with new ideas and abandon the stereotype of learning from foreign counterparts, a new wave of Chinese culture is sweeping the world, gaining attention from foreign viewers.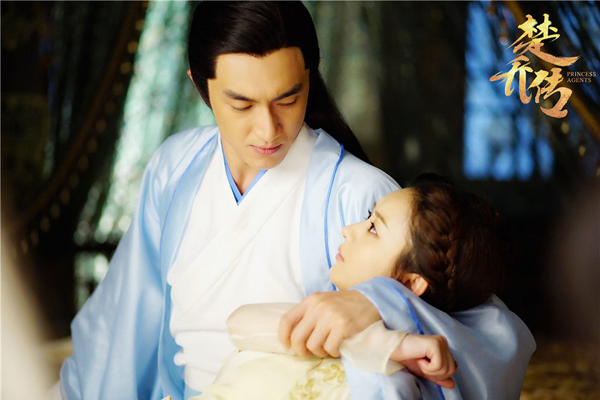 Poster for the TV drama, Princess Agents [Photo/Mtime]
Ancient spy drama attracts foreigners' attention
"I really like this magical drama and I usually only watch Korean dramas or movies but I have to admit the Chinese actors are really talented and the story is wonderful," says Canadian online user Sara Rojas on YouTube.
The magical drama she refers to is Princess Agents, a costume detective drama that first aired on the Hunan TV channel on June 5.
Set against the backdrop of chaotic times during the Northern Wei Dynasty (386-534) when innocent citizens are often kidnapped and turned into slaves, the drama follows a woman, Chu Qiao, as she rises from a lowly slave to a successful military strategist, as well as a female general in the people's hearts.
Princess Agents releases two episodes a day from Monday to Thursday, and foreign online users can watch its English version six hours later on YouTube.
Even at such frequency, quite a few fans complain about the slow updates.
"Oh my Gosh! It is really killing me to wait for the English version. I just love the drama so much that I cannot wait to see the latest episode. I hope that kind Chinese users can quickly translate the Chinese versions in time to ease my pain of waiting," says 23-year-old Sey KompungCham on YouTube. "Also, the actress Zhao Liying is very beautiful and I am a big fan."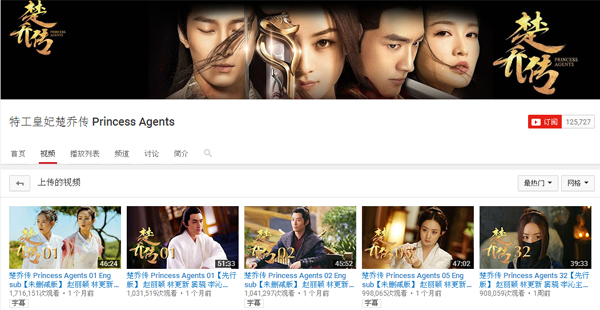 YouTube account for Princess Agents [Photo/Mtime]
To appeal to foreign viewers, producers have set up an official YouTube account that boasts over 15 million views and 125,000 followers by July 12. Each episode attracts over 60,000 hits on average.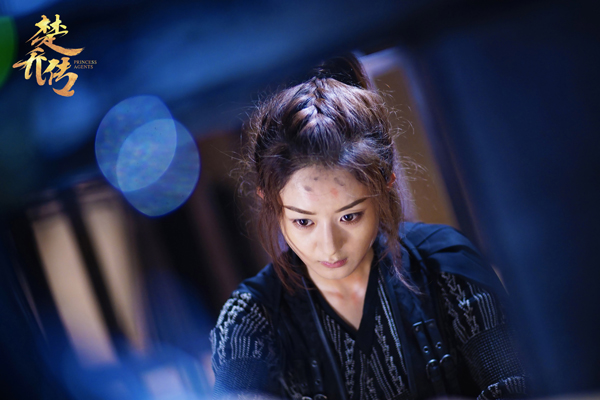 Chu Qiao has risen from rags to riches thanks to her guts and persistence. [Photo/Mtime]
What makes the drama a hit?
First, the timely updates and uploading of English versions contribute a lot to the drama's spreading.
"One of the greatest challenges for Chinese TV series' going global is the language barrier. As there are huge differences between eastern and western civilization, foreign people barely understand the plot without the help of translation," says professor Zhang Jingdong from the Communication University of China.
Since its premiere on the Hunan TV channel, Princess Agents manages to upload the latest episode in English within six hours on YouTube, gradually accumulating a bigger viewer base.
Second, the innovative story content and fantastic visual effects add some glamour.
At the beginning of the drama, the lead character Chu Qiao, together with other slaves, is belittled and preyed upon during a hunt by the aristocrats, solely for fun.
The ugliest nature of human beings is exposed to the fullest extent in the drama and some foreigners who are eager to know about ancient tyrant culture are interested in following the story.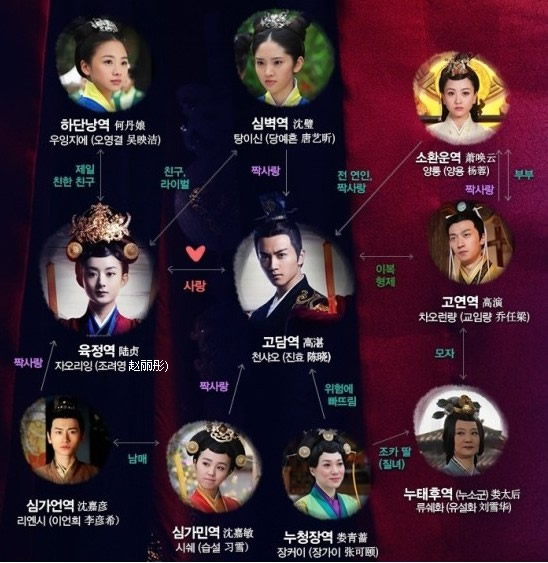 A South Korean fan designed a picture guide to clarify the character relationships in the drama, Legend of Lu Zhen. [Photo/Mtime]
Furthermore, the good-looking appearance of actors has also been credited for the show's success. For instance, the lead actress, Zhao Liying, is not an unfamiliar face to foreigners and Asian people in particular.
She starred in another inspiring historical romance, Legend of Lu Zhen, in 2013, which was also well-received by Japanese and South Korean viewers and led to increased recognition for her in the region.
As China enjoys a long history of ancient civilization, Chinese-style costume dramas have circled the globe more than once.
Two years ago, the historical drama, Nirvana in Fire, generated a wave of interest in South Korea.
According to CJ Entertainment and Media, the largest entertainment company in South Korea, Nirvana in Fire attracted a record high audience share of 15.4 percent to the Chunghwa TV channel when it was first aired in South Korea last year, and became a hot topic on social media.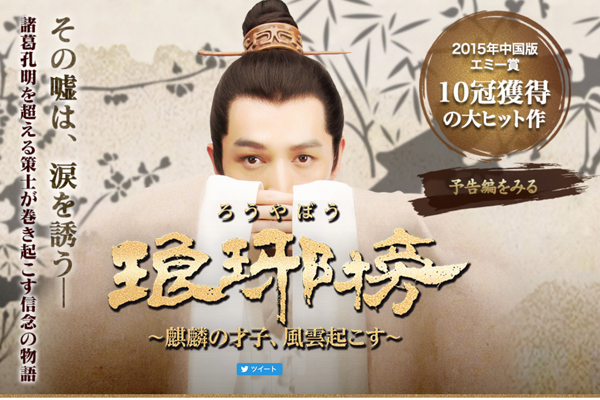 Japanese version of the drama Nirvana in Fire. The Japanese TV producer has compared the lead character Mei Changsu to another Zhuge Liang, one of the most ccomplished strategist in ancient China. [Photo/Mtime]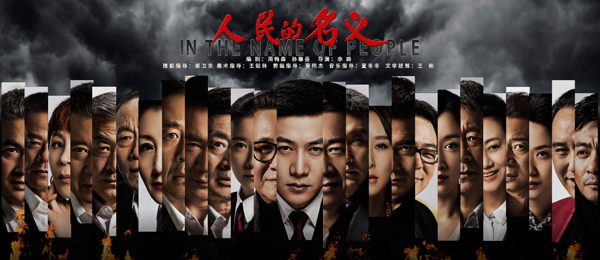 In the Name of People has been considered as the Chinese version of House of Cards by western observers. [Photo/Mtime]
More materials for foreigners to choose
If you think only costume dramas attract the attention of foreigners, think again.
In the first half of this year, an anti-corruption-themed TV series, In the Name of People, made waves both at home and abroad.
The plot revolves around a detective's efforts to unearth corruption within a fictional Chinese city.
The drama has been critically acclaimed with a high rating of 8.3 out of 10 on Chinese TV review site Douban for its ensemble cast of skilled veteran actors and high quality plot.
Due to the popularity of the TV series in China, the drama has also attracted the attention of foreign media and many western observers regard it as the Chinese version of House of Cards.
Poster for Ode to Joy [Photo/Mtime]
Meanwhile, the Chinese popular urban drama, Ode to Joy, and its sequel also appealed to audiences in Vietnam.
In addition to the high audience ratings, the makeup and fashion of the protagonists influenced local people's daily lifestyle.
"While watching stories of family, study, work and the love lives of the five young women, viewers can see themselves in the characters during some part of their lives," says Vu Quynh Mai, 28, a marketing officer at a book company in Hanoi.
"The five girls have their respective strengths and weaknesses. All characters are featured clearly and realistically. While following colorful stories about the five women, we can learn lesson about life, work, study and love."
Zhang Guofeng, an expert from the China Artists Association, said that in the past, most Chinese TV dramas either distorted the War of Resistance Against Japanese Aggression (1937-1945) or blindly copied foreign programs.
As the Chinese government pays more attention to the soft power of the TV and film markets, he says foreign viewers may be surprised more often.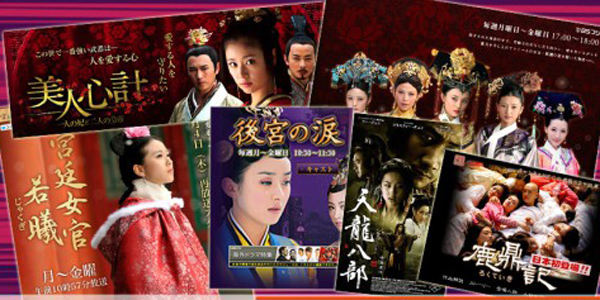 Many Chinese TV dramas have been introduced into Japan in recent years. [Photo/Mtime]