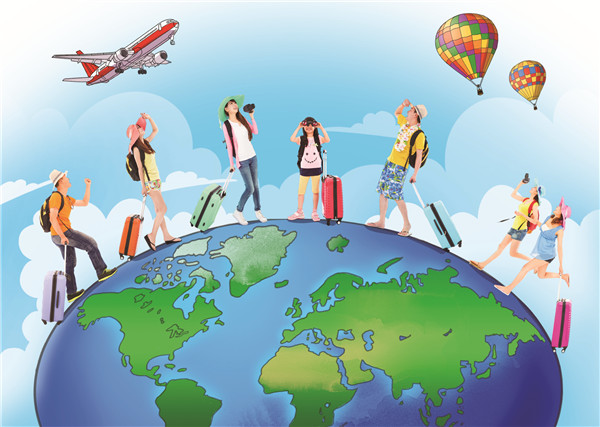 [Photo/China Daily]
Young Chinese are picking travel destinations based on their interests, a new industry survey finds. Xu Lin reports.
It was a breathtaking moment. In her heavy scuba diving equipment, Li Jie was excited to see a school of fish swim toward her. Like a thick wall, they soon surrounded her.
This was in Sipadan, a popular diving destination in Malaysia, where such phenomenon in the Celebes Sea is a big attraction for divers.
"I felt free at that moment," recalls the 27-year-old amateur diver, who works at a tech company in Beijing.
"The deeper I went, the more curious I became and wanted to see the magic of the underwater world-from colorful fish and sharks to turtles."
Like her, many young Chinese are following their passions.
The domestic online tourism company mafengwo.cn recently unveiled a report about the traveling patterns of Chinese born in the 1990s, to delve into their consumption habits.
The survey, based on a questionnaire sent to 1,440 people aged from 18 to 27, shows that young travelers choose their destinations based on their interests. They also like to spend more time in one place to enjoy the local life.
Li fell in love with diving last May, and has since visited Southeast Asian countries such as Thailand for diving holidays due to their low prices and tourism infrastructure.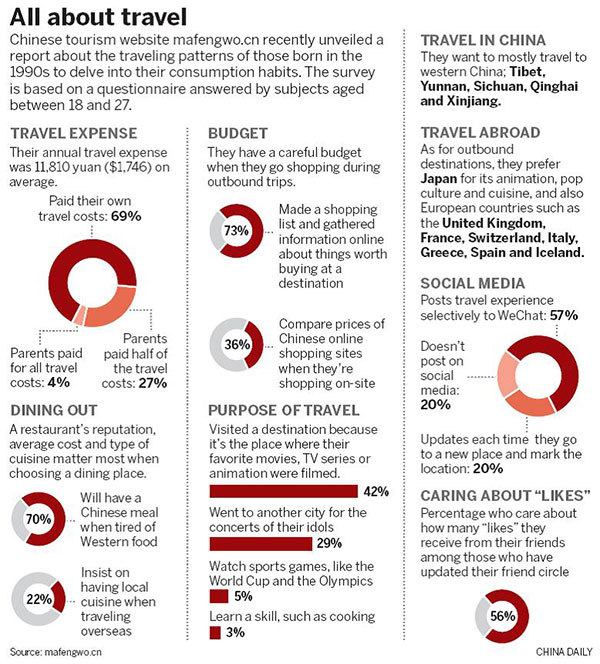 [Photo/China Daily]
According to her, it takes five to six days to get a basic certificate and people need to further their skills by diving deeper. There are many diving schools in popular destinations, where the coaches are "responsible and friendly".
She says many coaches can speak Mandarin as Chinese people are among the main customer groups in such places.
She has also met many Chinese who also go there especially for diving.
"You can interact with other learners for several days in a diving course. It's important to choose a diving company carefully as you can help each other while diving together and make friends eventually," she says.
"If I can choose, I want to be a diving coach in the future, but I have lots to learn."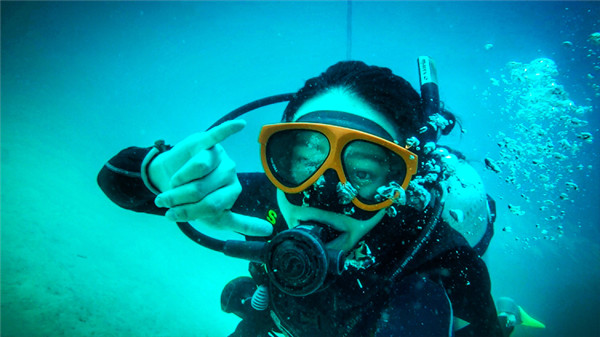 Li Jie dives in Sipadan, Malaysia. [Photo provided to China Daily]
Working holidays
Although young people don't usually have savings, they are willing to fund their travel expenses through volunteer work and working holidays, the report says.
Yang Yang, 23, is currently working in a general store in Melbourne, and tours around Australia and its neighboring countries when he has the time.
After graduation from university last year, he went to Australia with a 12-month working holiday visa and postponed his master's studies in the United Kingdom by a year.
He will leave for the UK in August.
In 2015, Australia started to issue working holiday visas to Chinese aged between 18 and 30, with tertiary education and English skills, with an annual slot of 5,000.
"It's once-in-a-lifetime experience. It's like a long-term in-depth tour-I get to live like a local and interact with them and get an authentic understanding of the country," he says.
"I'm impressed by the lifestyle and attitude of Australians. They care about the quality of life. You have to pursue the life you really want rather than follow something blindly."
Yang says leisure in that country is colorful, with families going to the seaside for fishing or water sports on weekends.
He has also received help from locals, including Chinese immigrants, in his daily life, he says. He enjoys the good weather and often goes to coastal areas to enjoy the sun or to swim.
According to Yang, some holders of working holiday visas work part time in suburban farms, picking fruit and milking cows. The average monthly salary is A$4,000 ($3,039).
"It's a sizeable income but the work is hard and boring. You don't have much to spend on in remote places and can save money over six months, and travel around for the remaining six months," he says.
Yang has worked as a waiter and a cleaner in Sydney, Melbourne and Brisbane.
The income from such jobs is lower and the daily expenses higher than in the countryside, but he says he prefers to live in big cities because he enjoys urban life.
"Many take it for granted that life during a working holiday is all good. Actually, only those with fluent English get office jobs. So, options are limited for such visa holders, and many get only manual jobs," he adds.
As for Yang, his average daily wage was about A$140, which was sufficient to cover his weekly rent. "It takes time to get a good offer and one has to be patient."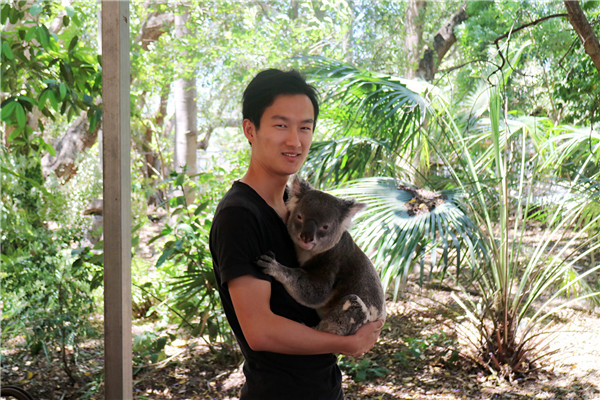 Yang Yang holds a koala at a zoo in Brisbane, Australia. [Photo provided to China Daily]
Experience matters
The generation of Chinese born in the 1990s has created a new trend in the era of independent traveling, says Feng Rao, head of the travel research of mafengwo.cn.
"And as they become key customers, their consumption patterns will affect the development of the business model, and become a driving force in the industry," Feng says.
Zheng Feifei, 27, has never held a nine-to-five job that required her to sit in an office.
After university, she opened a cafe in Chongqing and later, in Lijiang, Yunnan province, a popular travel destination in China.
In the meantime, she tours the country and goes abroad in her spare time.
In August, she shut the cafe to travel. In March, she visited Lhasa, in the Tibet autonomous region, and settled there impressed by the city's natural beauty and Buddhism culture.
Following her previous profession, she became a barista and pastry chef at a restaurant in the bustling Barkhor Street next to the Jokhang Temple in the city.
"It feels good to meet with different people and chat with tourists. Although sometimes, I'm too busy to have lunch, I'm glad to see regular customers as it means that they appreciate my pastries and coffee," she says.
On sunny days, the residents of Lhasa take out their buttered tea and fried snacks to enjoy an outing by the roadside.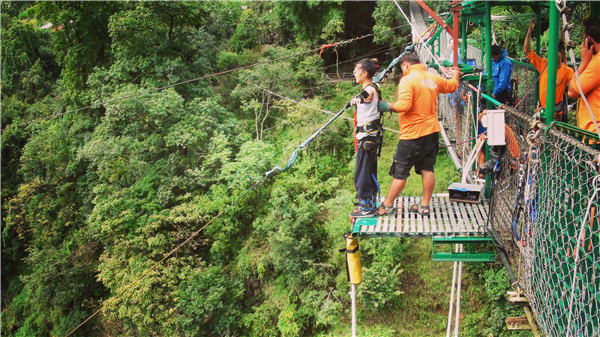 Zheng does bungee jumping in Kathmandu, Nepal. [Photo provided to China Daily]
And when she was in Lijiang, customers would sit in the yard of her cafe and have breakfast, while listening to music.
"You can lead a life of leisure, and enjoy the slow pace in both cities," she says comparing Lhasa and Lijiang.
Zheng is an experienced backpacker and often stays 15 to 30 days in one place.
Once in Nepal, she and other Chinese travelers sang Chinese songs in the streets, attracting other Chinese tourists nearby. All of them then sang the Chinese national anthem together. Also, some foreigners followed them and started to sing songs of their own countries, she says.
In 2013, she hitchhiked to Lhasa.
"I was touched by the mutual trust among strangers and all the help I received. It's difficult to have this kind of trust in big cities, where you tend to be cautious about others."
But hitchhiking in the area was tough and tiring.
"You had to live rough in the wild. You may not be able to get a free ride or a meal for hours. Also, there was too much sun during the day and sometimes I had to camp in heavy rain," she says.
Her tip to youngsters: save money first and then decide on a destination. What matters most is enjoying the trip.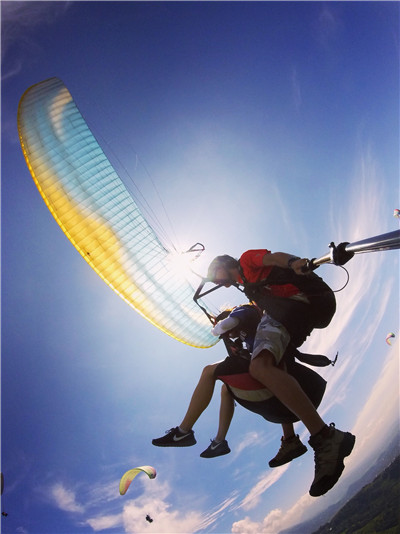 Zheng Feifei paraglides in Pokhara, Nepal. [Photo provided to China Daily]