Exploring Chinese culture in Nigeria
Updated: 2017-06-12 14:52:38
( Chinaculture.org )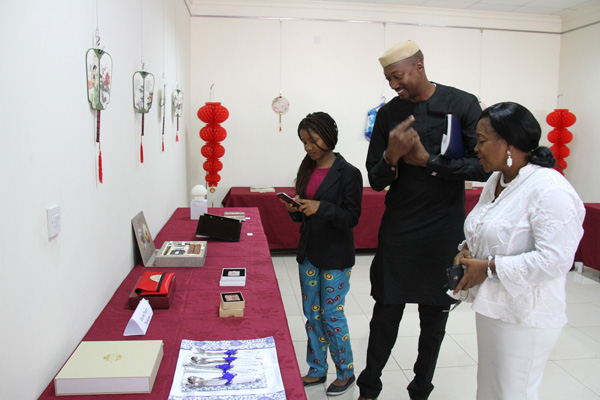 Nigerian people look at creative Chinese cultural products at the China Cultural Center in Nigeria, on June 10, 2017. [Photo/Chinaculture.org]
More than 100 people from China and Nigeria attended the opening of the 2017 China Culture Week in Nigeria on Saturday.
The week-long event, themed Inheritance and Innovation, is held at the China Cultural Center, featuring a range of photo exhibitions, demonstrations of Chinese calligraphy and paper-cutting, as well as lectures on Chinese culture.
Addressing the opening ceremony, Li Xuda, cultural councilor of Chinese embassy in Nigeria and head of the Chinese Culture Center, said China and Nigeria were countries with profound ancient civilizations, and the two countries had many areas for mutual learning in the culture industry.
"We hope to further enhance cultural exchanges between the two countries through this cultural week, " Li said.
On the opening day, the audience members were also enthralled by Chinese shadow puppetry plays.
People watch Chinese shadow puppetry plays at the opening of the 2017 China Cultural Week in Nigeria, June 10, 2017. [Photo/Chinaculture.org]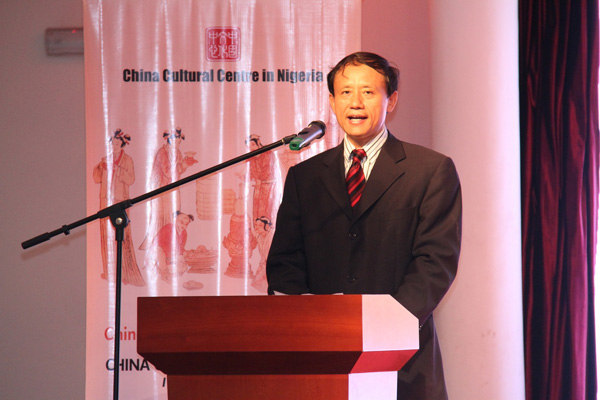 Li Xuda, cultural councilor of the Chinese embassy in Nigeria and head of the China Cultural Center, speaks at the opening of the 2017 China Cultural Week in Nigeria, June 10, 2017. [Photo/Chinaculture.org]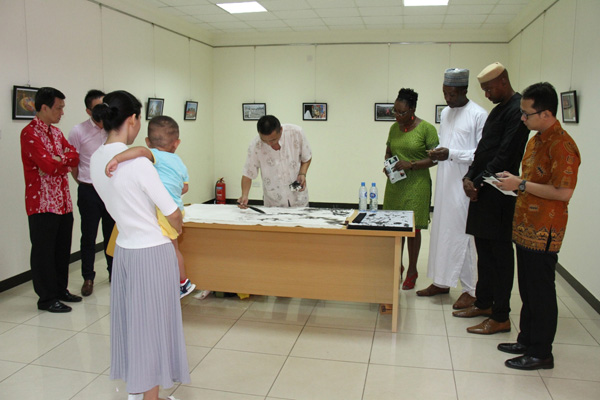 People look at demonstrations of Chinese calligraphy at the opening of the 2017 China Cultural Week in Nigeria, June 10, 2017. [Photo/Chinaculture.org]
Nigerian people try Chinese paper-cutting at the opening of the 2017 China Cultural Week in Nigeria, June 10, 2017. [Photo/Chinaculture.org]


Presented by Chinadaily.com.cn Registration Number: 10023870-7
Copyright © Ministry of Culture, P.R.China. All rights reserved