Traditional Chinese fan paintings on show in Seoul
Updated: 2017-04-17 13:28:22
( Chinaculture.org )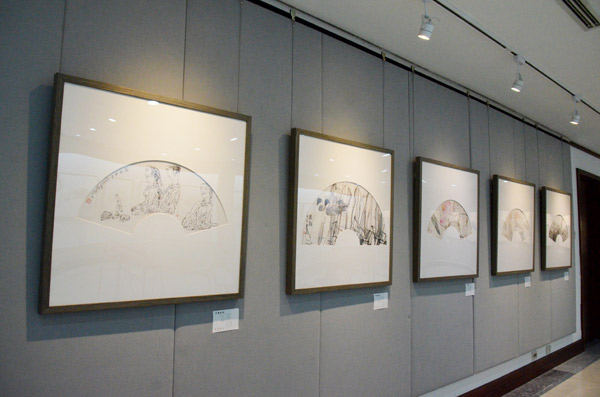 Traditional Chinese fan paintings are shown at the China Culture Center in Seoul, April 11, 2017. [Photo/Chinaculture.org]
A selection of traditional Chinese fan paintings are on display at the China Cultural Center in Seoul, offering a glimpse of the characteristics of traditional ink painting.
Through portraying birds and flowers, natural landscapes and people's daily lives, the charm of painting on fans unfolds in the collection of exquisite artworks created by nearly 40 painters from the China National Academy of Painting.
"Painting on fans is a favored art form of Chinese painters. The works shown in this exhibition manifest the basic situation of China's ink painting nowadays," said Zhang Jiangzhou, vice president of the academy.
"I was also delighted to see some artworks on fans by ancient South Korean artists during a visit to the National Museum of South Korea. It shows the interconnection of art creation among Chinese and South Koreans. I hope this exhibition will help further promote art communication between the two countries," Zhang added.
The exhibition is a major show under the Chinese Culture Center's Modern Art Exhibition Season. It will run until April 18.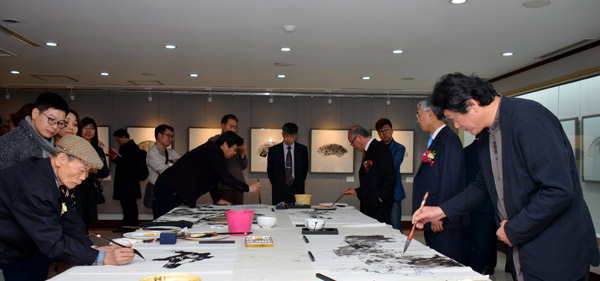 Artists create ink paintings using traditional Chinese ink brushes at the China Cultural Center in Seoul, April 11, 2017. [Photo/Chinaculture.org]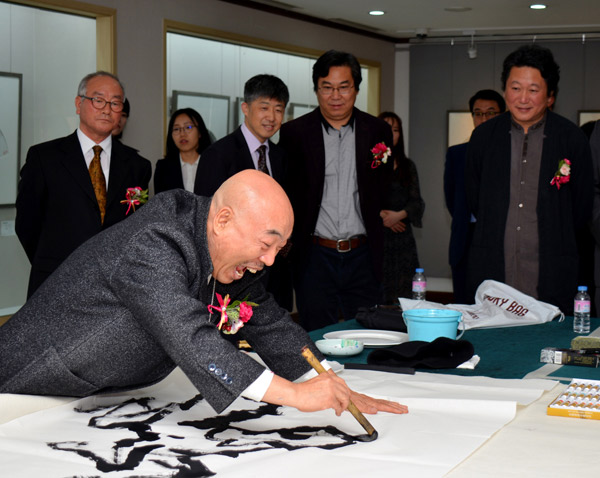 Artists create ink paintings using traditional Chinese ink brushes at the China Cultural Center in Seoul, April 11, 2017. [Photo/Chinaculture.org]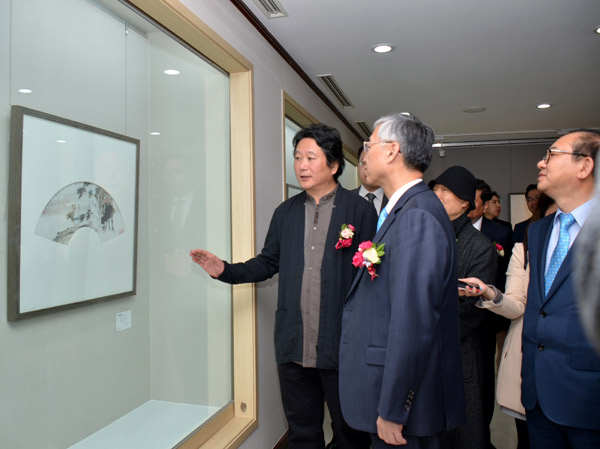 Zhang Jiangzhou (left), vice president of China National Academy of Painting, talks about an ink painting with visitors. [Photo/Chinaculture.org]
Traditional Chinese fan paintings are shown at the China Culture Center in Seoul, April 11, 2017. [Photo/Chinaculture.org]


Presented by Chinadaily.com.cn Registration Number: 10023870-7
Copyright © Ministry of Culture, P.R.China. All rights reserved