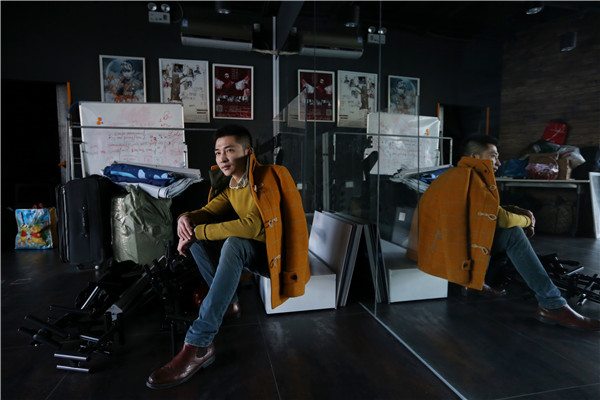 Wang Pengfei and his company, Wonpennon Media, are producing plays tailored for the country's young audiences. [Photo by Jiang Dong/China Daily]
An entrepreneur aims to bring live theater and cinema closer through a history-themed entertainment project. Wang Kaihao reports.
In the eight years since he founded Wonpennon Media, Wang Pengfei has worked toward bringing the stage and cinema closer. His studio in Beijing has backed plays created to appeal to young audiences.
In January, he announced a project that aims to simultaneously prepare a play and a feature film, both titled Kuilong Jade.
Based on the same historical story, the play will be staged in August while the film's shooting is expected to begin in the next six months.
The film, which will see an investment by iQiyi Pictures, will be released in late 2018, Wang says.
"We're prepared in market and technology," the 30-year-old entrepreneur says. "It's a start. I remember my early years when I had to sell tickets for our plays myself. Today, it's not easier."
Based on true events during the Ming Dynasty (1368-1644), it depicts the story of Zhu Qizhen, an emperor, who was captured by Mongols along with his loyal guard, Yuan Bin.
The protagonists are shown as interdependent during their years in captivity, but cracks appear in their bond later when the emperor returns to his throne in Beijing.
"I prefer to do something close to the public's tastes. And today's audience has an extraordinary sense of aesthetics, so we need to produce something in-depth," Wang says.
In the story, a piece of jade shaped like kuilong (a dragon-like deity in Chinese mythology) is given as a gift by the emperor to Yuan in honor of their friendship that crosses social barriers such as status.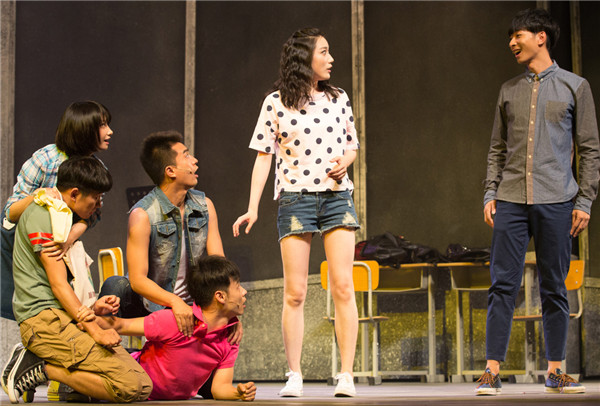 Theater productions adapted from films by Wang Pengfei's company include Forever Young. [Photo provided to China Daily]
Wu Yajun, a professor of the Central Academy of Drama, where Wang studied, will be the project's screenwriter. Wu Yuze, Wang's former classmate and a theater director, will direct both the play and film. Wu Yuze is known for his stage productions but lacks the experience of directing films.
Calling the project challenging, Wu Yuze says audience response will decide which parts of the play are retained in the film.
Wonpennon Media's youth-related production Li Lei & Han Meimei toured the country with more than 100 performances after its premiere in 2010. The play is about the romance between Li Lei and Han Meimei, two characters who appear in English textbooks in Chinese high schools.
The company has been following in the footsteps of Western producers, who have been mixing cinema and stage for some time now. While the trend is relatively new to China, Wang hopes it will pick up soon.
"Some previous plays that were adapted from films (in China) focused mainly on urban or campus life, but we wanted to touch on historical themes, because of the scope of showing grand scenes."
Wang previously participated in the production of large-scale shows for tourism sites in different parts of the country.
He worked on the idea for Kuilong Jade for at least a year before announcing it, he says.
Go Away Mr Tumor. [Photo provided to China Daily]
Since 2014, about 10 Chinese films have been adapted from stage plays, but only two films-the college comedy Goodbye Mr Loser (2015) and the satirical Mr Donkey (2016)-won both commercial success and critical acclaim. Both original plays have received overwhelmingly positive reviews from critics since 2012.
"A film adapted from a poor play will not succeed, even if it has an A-list cast," Wang explains. "On the other hand, some brilliant plays are not suitable for the big screen, because they may have literary or artistic aspects that viewers, especially from smaller cities, cannot relate to."
In 2015, Wang also adapted two popular youth-genre films-Go Away Mr Tumor and Forever Young-into stage plays shortly after they were released in cinemas.
His company now wants to prove that the transition from stage to cinema or vice versa can be shorter, Wang says.
Another major upcoming plan of Wonpennon Media is the Sino-US production Hollywood Casino.
The comedy, based on Chinese students' actual experiences in Los Angeles, will have both a play and an online sitcom version. About 30 percent of the sitcom will be shot in Los Angeles. Four Chinese students and two American students who can speak Mandarin will play the main roles.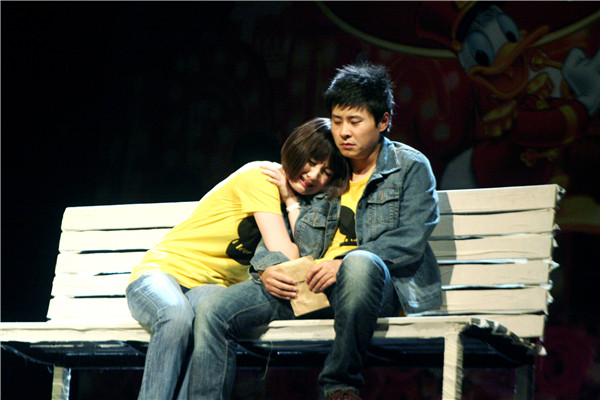 Li Lei & Han Meimei is one of its most successful productions. [Photo provided to China Daily]
But Wang has even bigger crossover ambitions: He is preparing to adapt Hollywood classics into Chinese stage plays, although there is a lack of successful examples in China.
His company is also attracting more talent, he says.
For instance, Jiang Xiaohan, a once-famous child star who became an anchor for film programs on television, recently joined Wang's team. The 35-year-old says this will help her "realize her longtime dream".
Jiang has proved her flair for stage as the lead actress in Li Lei & Han Meimei.
Wang is planning to adapt Revolutionary Road (2008), a British-American film starring Leonardo DiCaprio and Kate Winslet. The story, which was originally set in 1950s New England, will be changed to make contemporary China the focus.
"I get really excited when watching the film, because it reveals many typical issues that we see in Chinese families today," he says.
His company is also considering the possibility of remaking the film in Chinese.
Contact the writer at wangkaihao@chinadaily.com.cn