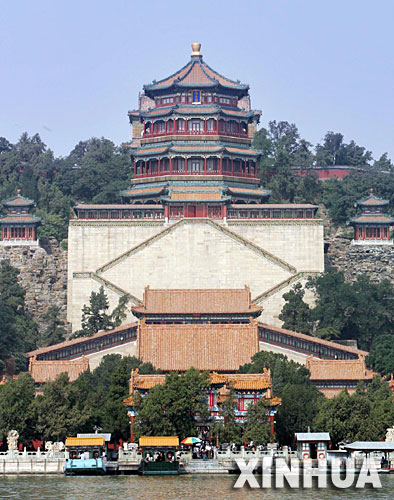 Beijing Municipal Bureau of Landscape and Forestry stresses the importance of enhancing overall protection to historic gardens in a report. It plans to introduce targeted protection regulations to noted historic sites like the Summer Palace. [Photo/Xinhua]
A report by Beijing Municipal Bureau of Landscape and Forestry shows that 1,094 of the city's historic gardens and parks lack of overall protection and are particularly at risk, even facing permanent disappearance.
Although "Regulations on Parks in Beijing" was launched in 2003, and 10 regulations exist to strengthen the protection of historic gardens, these protections concentrate on ancient architecture instead of plant configuration, inscriptions and other landscape elements.
According to the report, there are still obvious blind areas spots in historic garden protection. Until now, overall protection of historic gardens in Beijing was not approved. The actual area of protected historic gardens is 20 percent less than the real need. Several historic gardens and parks are partly occupied by local enterprises for business uses. Some of the world's cultural heritage sites are surrounded by skyscrapers and their view corridors are totally disrupted.
At many historic gardens, the capacity for tourists has exceeded the upper limit, especially on weekends and holidays. Since 2000, there are double the number of parks open to the public in Beijing, but fourfold tourists visiting these sites, which also brings both security and management risk.
Meanwhile, despite repeated prohibitions, undocumented guides and unscrupulous peddlers stray into the parks, bringing disorder. The 2003 "Regulations on Parks in Beijing" states the urban management bureau is in charge of punishing illegal behavior butstaff members at the historic sites can only discourage them.
In addition, there are financial deficits at many parks, especially public welfare parks. Some park managers rent out sections of the sites or host activities with business organizations for a fee, leading to less protection of the historic sites.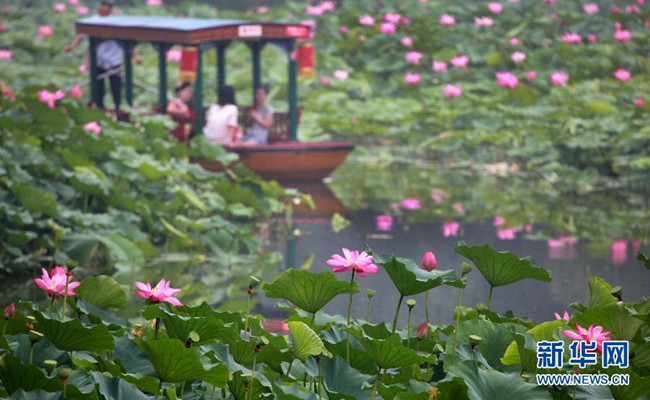 According to the report, 1,094 historic gardens and parks in Beijing lack of overall protection, even facing the danger of permanent disappearance. [Photo/Xinhua]
In recent years, Beijing Municipal Bureau of Landscape and Forestry has taken more steps to enhance the protection in historic gardens and parks. Their staff members dismantled entertainment equipment for children from 274 historic sites and parks, and removed 170 illegal commercial outlets and business items. They also check up on 24 historic park clubs with existing problems regarding in safety and protection. Six of them have been shut down, while 18 are reorganizing.
The bureau decided to introduce more market mechanisms in construction and protection of historic gardens in the future. They will encourage private investment, donations and other funding to participate in the management and protection of the sites.
The bureau plans to take more measures, such as price regulation or reservations on weekends and holidays, to solve the problem of capacity, and give more rights to park and site management to strengthen the fight against illegal behavior.
For world cultural heritage and noted historic sites, like the Summer Palace and Beihai Park, the bureau will also introduce more targeted protection regulations in the future.