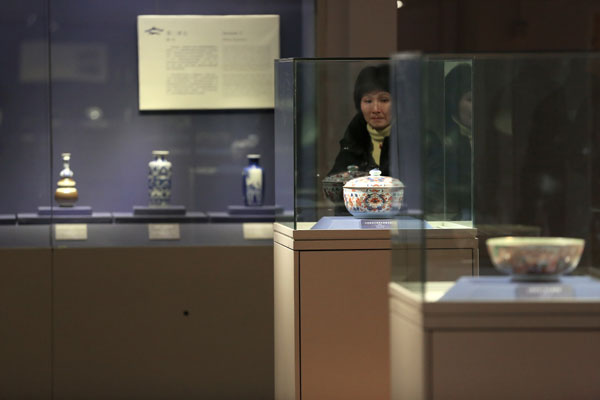 A visitor views an ancient porcelain exhibition in the Palace Museum in Beijing. [Photo by Jiang Dong/China Daily]
A new set of guidelines is unveiled to regulate China's vast museum sector, but experts say more needs to be done, Wang Kaihao reports.
In China, finding museums has seldom been a problem. But other than the big and established ones, many fail to be taken seriously by visitors because they don't have the resources to manage their collections or haven't been officially registered as museums.
However, change is afoot. Last week, Premier Li Keqiang set the course to make the country's museums' sector less chaotic by signing the State Council's first regulation of museums, effective from March 20.
The new rules demand that all museums have collection reservation areas, complete management systems and approval documents.
"The greatest breakthrough is that the new rules give equal status to State-owned museums and private ones," Duan Yong, head of the museum supervision office for the State Administration of Cultural Heritage, says.
"The two are no longer treated differently in terms of duties, qualifications, financial support or supervision."
China had 4,165 registered museums by the end of 2013, according to last year's statistics released by the State Administration of Cultural Heritage on May 18, International Museum Day.
Of these, 811 were privately owned. Together the museums attracted more than 600 million visitors in 2013.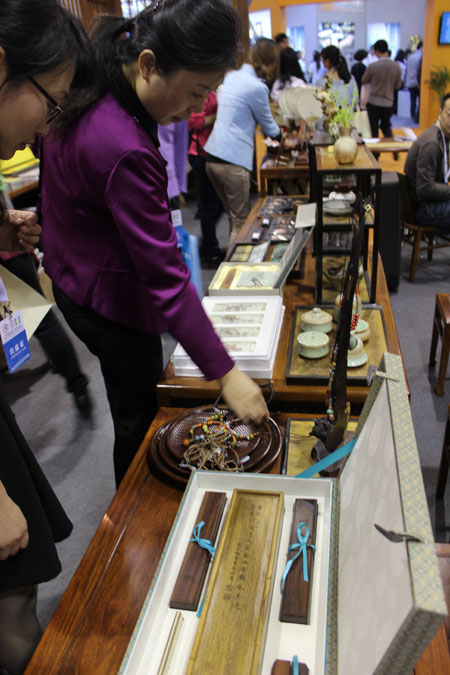 Newly designed museum souvenirs are on display at a fair held in Xiamen, Fujian province. [Photo by Jiang Dong/China Daily]
But at least 20 percent of museums in the country aren't registered with the authorities, 30 percent are unable to make ends meet, and 60 percent do not even have a complete inventory of their collections, according to a report by Xinhua News Agency, citing a source in the State Council's Legislative Affairs Office.
Detailed inventory of collections and identification information of cultural relics will be needed for museums to get their licenses approved, according to the new regulations.
A cultural relic with an "unclear origin" will not be allowed to be collected by museums, it adds.
In order to better identify museum exhibits, a national general survey of cultural relics is underway.
The process will help create a national database of all items that have been preserved in China's various museums.
More than 12 million cultural relics have been assessed.
The general survey will last until the end of 2016, according to the State Administration of Cultural Heritage.
The new rules also suggest that museums give free entry tickets to visitors, and all museums are required to open to the public within six months of getting their licenses.
"Rational business operations", like developing cultural innovation products, are also encouraged.
"Many Chinese museums are public institutions fully supported by fiscal expenditure. It used to be unclear whether they can make a profit, which can be an obstacle to nurture creativity," says Zhang Peng, a member of a national committee for cultural innovation products under the Chinese Museums Association, the industry supervision body.
However, the new rules encourage a museum to explore multiple ways to get financed "so long as basic discipline and its role as an educator" isn't changed.
"Collections are treasures of museums. Making money isn't the priority, but it will help establish a link between cultural institutions and the creative industry through areas like souvenir design," says Song Xiangguang, a museology professor from Peking University.
"It will enhance people's consumption of culture."
China's State-owned museums are public institutions, which generally lack enterprising business models, and many existing management problems are attributed to the institutions' overwhelming dependence on government administration and aid, Song says.
"The private museum boom nationwide in the last decade brought unprecedented challenges and made us realize that people's demand for museums is diverse, and therefore the urgency to promulgate such a regulation," he says.
"It will upgrade management levels and will simultaneously provide the industry with professional guidance that was considered insufficient in China so far."
Though Song feels the new rules are good first steps, he says they have limitations.
For example, popular science institutions and military museums are not included in the regulation.
"The regulation focuses on museums exhibiting cultural relics, and does not pay equal attention to those of folklore, nature science and the fine arts, but a complete museum system should include a wider range," he adds.
In addition, it might be difficult to coordinate efforts of different government departments to implement the regulation because the cultural relics administration is not the only department responsible for museum management.
"Perhaps, a national museum law is still needed to solve such problems," Song says.